Jul 2, 2021 | 6 min read
Momenta's Take #36
PerPLEXed? Rockwell Pays Premium for the Cloud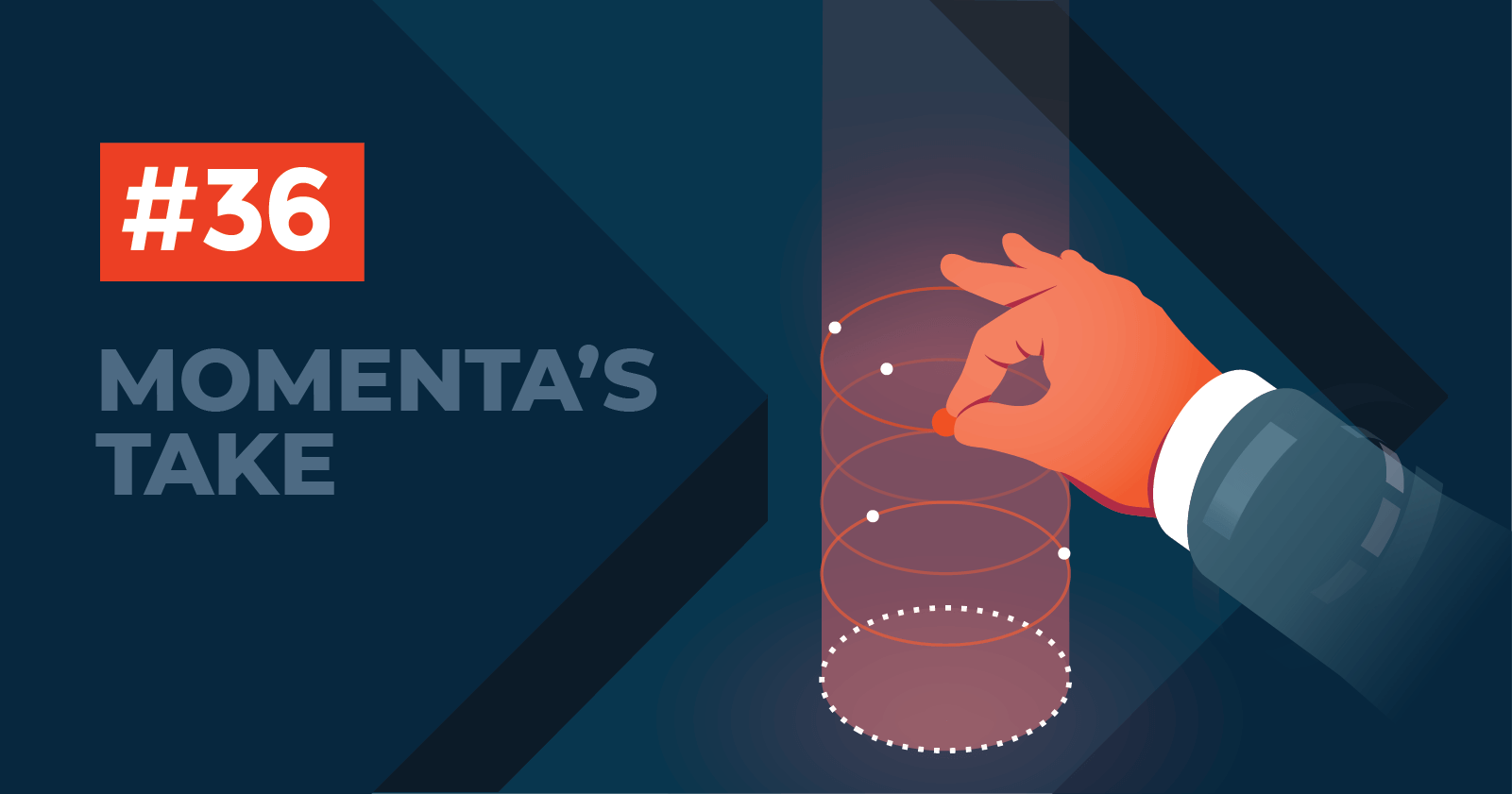 PerPLEXed? Rockwell Pays Premium for the Cloud
Milwaukee-based Rockwell Automation Inc., a provider of industrial automation and control systems, announced the acquisition of Troy, Michigan-based Plex Systems for a total of $2.22 billion. The deal itself will be financed with $300 million of cash on hand and $1.9 billion of new debt, about half of which will be short-term debt.
About Plex Systems
Plex is a provider of cloud-based manufacturing execution software (MES) solutions. Key offerings include the Smart Manufacturing Platform, the company's cloud-based production automation software solution. Based in Troy, Michigan, Plex has roughly 500 employees, with around 200 working on product development. The company was founded in 1995 and raised a total of $186.5 million in funding, according to Crunchbase. Major investors include T. Rowe Price (which led a $50 million round of investment in the company in 2014, when the company was valued at $500 million) and Accel Partners. Francisco Partners acquired Plex from buyout firm Apax Partners in 2012.
In 2020 the company reported that it achieved its 11th consecutive year of double-digit revenue growth in 2019. The DemandCaster business unit for cloud supply chain planning reached a 53% jump in ARR. The company claims nearly 700 manufacturer customers are used in industries such as aerospace, automotive, industrial manufacturing, and food & beverage in 29 countries and manages over 8 billion transactions each day.
Placing the Deal in the MES Landscape
Gartner defines manufacturing execution systems (MES) as "a specialist class of production-oriented software that manages, monitors and synchronizes the execution of real-time physical processes involved in transforming raw materials into intermediate and/or finished goods. These systems coordinate the execution of work orders with production scheduling and enterprise-level systems like ERP and product life cycle management (PLM). MES applications also provide feedback on process performance, and support component and material-level traceability, genealogy, and integration with process history, where required." Essentially MES complements ERP for manufacturing, and the focus on cloud-based offerings is where the most promising growth opportunities are emerging.
Gartner's most recent MES Magic Quadrant places both Plex Systems and Rockwell Automation as "Challengers" – meaning there's solid technology at play but lacking market leadership in terms of scale and innovative offerings.
Magic Quadrant for Manufacturing Execution Systems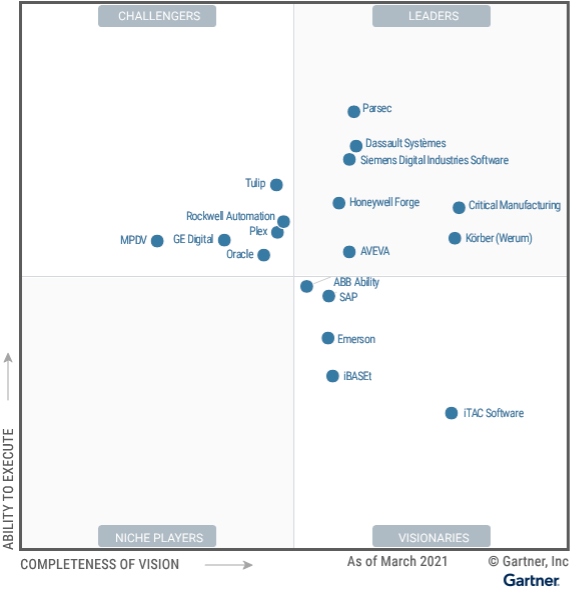 Sources: Gartner, Inc
Momenta's Take
Plex is well regarded as the most established multitenant cloud solution for discrete and batch/process manufacturers, and customers like the ability to support small and midsize operations. With a pricing model based on customer total revenue and the ability to run multiple plants in a layered model, there is a clear path for customers to expand their footprints. There are some limitations around customization capabilities and availability of process templates, but overall the user base is stable and growing. Rockwell has partnered with Microsoft to deliver edge-to-cloud-based solutions and has been focused mainly on enterprise customers with high-volume manufacturing. In 2020 over 50% of the company's MES revenues came from life science applications. The most commonly heard issue that customers have is the complexity – of the UI, the customer experience, and product strategy.
The goal of the deal is to combine the Plex cloud offerings with Rockwell's existing software offerings and to leverage Plex's analytics capabilities. Given the fairly complementary assets and focus markets, the combination appears a decent strategic fit, and the shared Midwestern U.S. cultural roots could smooth the integration processes. Industry analysts so far appear to like the deal and are reacting favorably.
Plex Systems had been widely shopped by bankers over the past several years, notably in 2017 when public news stories suggested that the company was seeking a $1 billion valuation based on a $100 million annual run rate at the time, according to Reuters. There was some skepticism at the time, given prior unsuccessful attempts to sell the company in the wake of a strong deal after General Electric acquired ServiceMax in 2017 for $915 million and Roper Technologies bought software maker Deltek for $2.8 billion in 2016. A lingering question is why Rockwell waited so long to make the acquisition, given that the company had been shopped for several years at a far lower price and premium (10X revenues in 2017).
According to several sources, Plex had over $150 million sales in 2020, valuing the deal at around 14.6X 2020 sales. This valuation is high by historical standards; typically, legacy Software company acquisitions of scale have been valued at 3-5X EV/sales, with Software as a Service companies in growth mode fetching 10-15X EV/Sales (with higher multiples for companies earlier in their lifecycle.). In a sector where there are not a lot of companies of scale, a scarcity premium can often be justified – but there are always risks in paying a high valuation (the "winner's curse"), especially for a company that had been so widely shopped to buyers for so long. For Plex Systems, the deal looks to be a big win; for Rockwell, time will tell whether the premium will be justified.

Momenta encompasses leading Strategic Advisory, Talent, and Ventures practices with over 250 IoT leadership placements, 150 industry clients, and 50+ young IoT disruptors in our portfolio.  Schedule  a free consultation to learn more about our Digital Industry practice and services.