Jul 5, 2023 | 4 min read
John Hart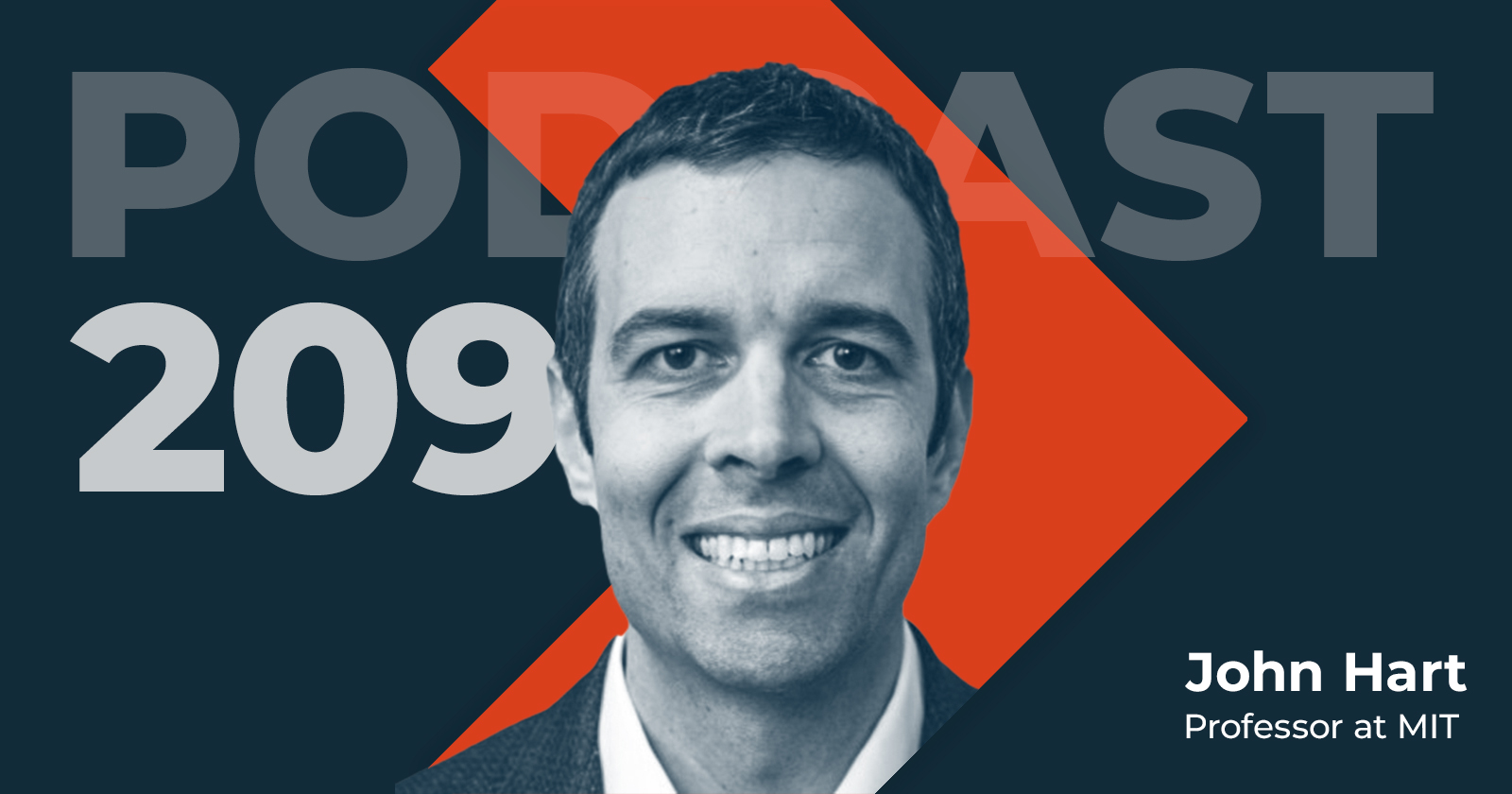 TRANSCRIPT
Ken: Good day, and welcome to episode 209 of our Momenta Digital Thread podcast series. Today, I'm pleased to host John Hart, Professor and Department Head of Mechanical Engineering at MIT. He is also the director of the MIT Center for Additive and Digital Advanced Production Technology at MIT. John's research group aims to advance the science and technology of manufacturing in areas including additive manufacturing, nano-structured materials, and the integration of computation and automation in process discovery. He also teaches undergraduate and graduate courses in manufacturing processes, advanced materials, and research methods. Through various digital channels, videos of his manufacturing lectures have been viewed millions of times, and over 100,000 individuals have enrolled in online courses that he leads. He is also a co-founder of Vulcan Forms and Desktop Metal and a Carpenter Technology Center board member. John, welcome to our Digital Thread podcast.
[00:01:39]
John: Thank you, Ken; it's great to be here. I'm looking forward to the conversation.
[00:01:42]
Ken: As well. I know we've been in a long-time prep for this, so I'm glad we finally found a time to secure the conversation. We call this the Digital Thread podcast; the focus is one's almost personal digital thread that leads them to where they are now. What would you consider to be your digital thread? In other words, the one or more thematic threads that define your digital industry journey?
[00:02:07]
John: Yeah, thanks. It's a very interesting question because I've never considered having a personal digital thread. But, indeed, I've always been interested in both the digital and physical, even though I only recently started thinking seriously about how to put them together. But journey-wise, there are three quick points. First, my career has been touching a lot of fortunate opportunities, and it's been one of organic growth and exploration. I've never had a goal to go to the top of a specific career mountain. Still, it's more of a journey through different organizations, complementary research areas, etc. The second point is- that a theme running through it, however, is how to scale. Manufacturing delivers value at scale, so I've always been interested in taking ideas and exploring how to bring new things to scale through research, entrepreneurship, and other paths. That is the technical side; it's on the education side and more. Lastly, once again, combining the physical and the digital. It doesn't need explanation, especially to this audience. Still, we live in the physical world, and the embodiment of digital technology, especially in production systems, is to accelerate and enhance the physical technologies that drive our daily lives.
[00:03:23]
Ken: I liked the way you answered that. Interestingly, manufacturing is defined as the delivery of value at scale; that's quite astute. When I started to look at your background, I appreciated that you started at General Motors. Working across several engineering groups, how did this early work inspire you to pursue your academic direction?
[00:03:46]
John: I grew up in Detroit and was an undergraduate at the University of Michigan. I can't say I was into cars, nor the automotive industry, but honestly, studying engineering- at that time, starting my undergraduate in 1997, there was a place to go, so I was looking for a summer internship and was fortunate that General Motors offered me a job. I did three consecutive internships there, including one after my first year of graduate school at MIT. I enjoyed the experience; it was great to be working with skilled engineers on manufacturing system design and, actually, one summer largely on the plant floor in Mexico, scaling up the production of the Pontiac Aztek. I was charged with running around the factory floor, looking for defects, or finding lost parts. But it taught me that I wanted to go to graduate school and learn more, especially about the interface between design and manufacturing. In a way, I've come a bit full circle, not necessarily to the automotive industry and mobility, but I feel strongly about working deeply with the industry from my main role as an academic. But in one way, my industry experience nudged me toward a more academic or research-oriented career path for ultimately a Ph.D. and becoming a professor.
[00:05:18]
Ken: What I also appreciate about your background is you've done a fair amount of work in startups. You co-founded three startups: Absolute Nano, VulcanForms, and Desktop Metal. Can you tell us a little bit about each of these?
[00:05:32]
John: Yeah, of course. Absolute Nano was honestly a small business. It's not unfair to call it a startup. Still, Absolute Nano built and sold systems for desktop materials processing, specifically for the growth of carbon nanotubes. This was a topic of my Ph.D. research in mechanical engineering at MIT. We had the opportunity to turn it into a small business because when I published the work with colleagues, there was interest from other universities and some research labs in adopting the equipment. I was fortunate to have some friends outside of MIT and, ultimately, future students when I started as faculty- back at Michigan, they were willing to commit some spare time to build the systems, fielding them, and servicing them. We probably sold a couple of dozen at most, but it was a good experience. I honestly, at that time, didn't consider it a startup as I think of startups or entrepreneurship now, but we also got an SBIR grant, and we ultimately sold the business. Not a huge exit, just a way of transitioning out of it several years later. But it was a lot of fun and showed the importance of physical tools in pushing the boundaries of laboratory research. Now, we think about combining AI with automation and precision engineering and so on, so it's another way that many of the activities I've been involved in have built upon one another, even though the application or domain has changed. Desktop Metal and VulcanForms are two companies focused on 3D printing/ additive manufacturing and digital manufacturing. VulcanForms was founded by me and an MIT graduate student, Martin Feldman. He and I met in his first semester as a master's student in my first semester as a professor, so it's a good story. In that first semester, I ended up somewhat serendipitously deciding to teach an extra course, a small course on 3D printing, because it was an area I was interested in learning more about. I saw it as very connected to my passion, which is manufacturing, but it was a new direction. Martin was in that course as a member of our Master of Engineering program.
One thing led to another: he stayed in my lab, and we founded VulcanForms together in 2015. I should probably roll back and say what VulcanForms does. We have built and scaled a digital production system to create engineered products and solutions. Specifically, that means precision metal components that leverage digital production technologies for performance and a streamlined, efficient supply chain. Through that, we built a core technology for laser-based metal 3D printing that's the cornerstone of this production system. Desktop Metal was founded shortly after VulcanForms. Honestly, I think I was in the right place twice at the right time, but I jumped at the opportunities that came in front of me, and I was one of the seven co-founders of Desktop Metal, led by the CEO, Ric Fulop. That company has built and fielded several 3D printing technologies and continues to grow. It went public in 2020 and is now under agreement. Even though I'm not working with the company daily, it is now under an agreement to merge with Stratasys, which I believe will form the world's largest publicly traded 3D printing/ additive manufacturing company, which is super exciting. All this stuff is at its very early stages, with many challenges. Still, being involved in the industry for the past 5 to 10 years has been such a joy. I feel like I can have a role in expanding the capabilities and creating value for building products- better products that matter.
[00:09:06]
Ken: I find it interesting that you identified yourself a few minutes ago as an academic, and given the track record that you've had both coming from industry but also forming these companies, in some sense, it makes you feel like an entrepreneur that happens to teach versus a teacher or academic that happens to do startups on the side. But I do like the fact that versus pure research, it feels like you work a lot on the development or application side of that as well. I'm curious. What have been some of your key insights relative to founding and scaling deep tech startups? How have you woven these into your courses and research?
[00:09:44]
John: My main insight is that it's a feedback loop, and MIT is a wonderful place to have the opportunity to build teams and intersect with others who want to take a technology to market. I would not be involved with DM or have had the opportunity to co-found VulcanForms if I was not at MIT. That's a testament to the belief as an institution and among our community- faculty, students, staff, and alumni, that you can start with an idea, whether from the lab or just on a whiteboard. You can see the opportunity to take it to market, whatever that path may be. You can bring together the people and the resources, the funding, the complementary technologies, and business partnerships to move to the next stage. In terms of key insights, I think more in the early stages of research about where an idea could go, and it's sometimes a delicate balance because you don't want to constrain first early-stage research too much. I'm not a scientist, so I don't work on basic fundamental questions that are always important. But even at the early stage of engineering, or engineering science research, you want to have a lot of freedom upfront, but it's valuable to think about where an idea could go and how you can shape the trajectory of your research and, particularly, what questions you should answer at different stages to maximize the possibility that it could go forward or determine, "Well, this was an exciting idea. We did some good research, but let's focus on other things going forward." Also, you need and should reach out to give advice and support. Whether that's a co-advisor, a graduate student, a startup co-founder, or your next employee, you name it. Bringing that ramble all together, I feel it's very important, and it's been a valuable feedback loop for me. I hope I've been able to transfer some of that experience to my students and other collaborators.
[00:11:47]
Ken: Clearly, you have. You mentioned earlier you happen to be in the right place at the right time. I think opportunities are largely created, and it feels like you've created the ecosystem and environment to spawn such opportunities and happen to benefit from them as well. Let's talk about that, especially at MIT. In 2018, you founded the MIT Center for Additive and Digital Advanced Production Technology. What's the focus of this program, and what have been some of your wins?
[00:12:14]
John: Thanks for asking. The focus is to bring industry together with us at MIT to discuss the trajectory of additive and digital manufacturing. Broadly defined, but also with a lot of 3D printing and materials and machines, and therefore, to learn as a group and to solve problems collaboratively with the hope that the members take away knowledge and insights that they can deploy internally to grow their strategy and extract more value. Another focus has been to create a community around additive manufacturing on campus. We at MIT have hired more faculty working in different dimensions, materials, mechanics, structural design, optimization, and so on, and additive and digital manufacturing, of course, is such an interdisciplinary field. I hope that this center, or consortium, which is a small effort, to be honest, has been valuable in that regard. One of our biggest areas of impact has been education. We launched Working with MIT xPRO five years ago, an online professional course that has enrolled over 7500 professionals and that's had a great impact. We've got a lot of positive feedback from it. Also, we're in the process of designing and building some new labs with a host of these technologies and a full digital thread from end-to-end that is supported by many of our industry members in terms of in-kind contributions of equipment and donations thereof, as well as a $4 million grant from the state of Massachusetts. That's a perfect example of a partnership between industry and MIT and external agencies. In this case, the state of Massachusetts who are investing in us because they want to see this new technology implemented in the industrial base in Massachusetts, in New England. We're very dedicated to that, as well as educating our students and pushing the boundaries of research that will take a long time to reach the light of day.
[00:14:14]
Ken: Speaking of impactful initiatives, I know you recently kicked off manufacturing at MIT, an MIT-wide effort to stand up a new initiative on the future of production. Can you tell us a little bit about the program and its goals?
[00:14:28]
John: Yeah, of course. Thanks for asking about that as well. Yes, we have a lot going on. But many inputs, including our experience with the Additive Manufacturing Center, which continues to go on, led several colleagues and me about 18 months ago to say, "What could we build at MIT that represents manufacturing across the institute?" We are working to stand up a new initiative at MIT called "Manufacturing at MIT." Not unlike the additive domain, the goal at a broader scale is to bring together the MIT community and partner organizations to study the future of manufacturing, with a big focus on understanding how to bring new production technologies and new production systems to scale and the governing theme is it's not just the technology, but it's the overall system. Of course, some people are in the workforce, and so on. I could say a lot about it, and I don't want to be too long-winded, but one further point is we're organizing our efforts around four grand challenges, or four themes, which are scaling digital technology, building a skilled workforce, rethinking lean manufacturing for resilience, and achieving sustainability and circularity. It matters not just that we're interested in- we have shared interests, but what do we learn? What can we demonstrate in terms of case studies and roadmaps? How can we connect those two- research and technology development opportunities in specific industry areas? Semiconductors, bio-manufacturing, mobility, AI, and production overall. In those domain areas, that's where folks at MIT are excited, and my colleagues are all doing groundbreaking work. We want to bridge that gap and have a front door where we at MIT can contribute to what the country and the world need because the bottom line to me is manufacturing drives daily life. It must evolve, grow, and help address our greatest challenges, including achieving a low-carbon economy and saving the planet.
[00:16:29]
Ken: I'm glad you brought up those points because we've been very involved in the Industry 5.0 initiative. I know we've made some introductions there for you as well. I got a kick that three of your grand challenge themes line up well with the planks for Industry 5.0. But the key there is there's a large impact that you can have an industry on sustainability, certainly resilience and human centricity, as they call it because it is a majority of- usually the population's employ, it generates our energy, it generates our- consumer goods generate capital goods. If there's a place to make a difference, digital typically is the enabler for ESG-style goals. That impact is fairly large that you can have carbon efficiency, as you said, and others. I think it's an interesting tie-in to this. You mentioned 'country' a moment ago. Why is this program needed now in the US, in your mind?
[00:17:29]
John: The US, in my opinion- and I take this from the inspiration of a lot of my colleagues, Professor Suzanne Berger, David Mandel, and others- the US has lost the connection between product and process innovation, full stop. For a long time, we offshored a lot of production. There are good reasons for that, in many cases, especially at the time, but product and process innovation go hand-in-hand. If you do not manufacture enough locally and nationally, it is harder over time to maintain a competitive advantage in developing the next generation of innovative products. As a result, we in the US need to rebuild large parts of our industrial base. We're not going to bring it all back; we're not going to fully de-globalize, etc., whatever the word is. But that's important, and it's important to our sustainability environmentally, economically, and national security and the opportunities we have provided to our people. Having good jobs is incredibly important and an exciting, layered problem to work on. It's not a one-year problem. It's not a 10-year problem. It's a multi-decade, continuous evolution that we have to buy into. All levels of society and government and everything we're discussing today.
[00:18:54]
Ken: I think you've tapped into a bit of a zeitgeist. We may refer to it as reshoring or de-globalization, but I know there have been several books as of late. "Titanium Economy" by McKinsey and "Chip War-" talk about the semiconductor industry and such. It's an interesting time to be having these discussions and for you to be having the impact that you are. I sense this is a global conversation, so I'm curious. How do you plan to work with organizations outside of the US, such as the EU?
[00:19:24]
John: For sure. With respect to the EU, we're exploring a number of formal and informal collaborations with organizations in the EU. Above all, I think we can learn a lot from one another. I've learned recently from the visitors we had at our symposium in May from Loughborough University that the UK faces many similar challenges as the US regarding the decline of its industrial base and has some exciting approaches and programs to cultivate digital transformation of small and medium enterprises. That said, there are also some unique perspectives. I think a much stronger perspective on circularity in the industrial economy in part because the UK has a far less raw material supply than the US. You're turning to Germany. As many folks know, Germany is a leader in manufacturing workforce development, and several of our colleagues recently participated in a trip to visit vocational schools and universities in Germany. The last thing I'll say here is, in my opinion, as putting my research professor hat on, the EU has very effective models for translational research with industry and manufacturing. The Fraunhofer Institutes have been a model for the manufacturing innovation institute/ Manufacturing USA, the network in the US, and I see many exciting EU-funded research projects with basic research and manufacturing, process science, and translational aspects involving companies and startups. Sorry, one more thing. I also feel that the EU is eager to learn more about how the US is entrepreneurial, and how we fund startups and how we scale startups, and so on. Nothing is specific yet, but I'm excited to forge those bridges and collaborations because we got to work together across the oceans and focus on our countries and economies.
[00:21:12]
Ken: Yes, clearly. It's interesting. As you said, there are certainly a lot of lessons the US can teach Europe relative to entrepreneurship. I think one of the benchmarks for labor is the European apprenticeship programs for developing skilled labor. I know the US had much stronger apprenticeships back in the day, but it feels like, as you say, it's a time to consider those as benchmarks for the next generation of manufacturing and digital personnel. Let's go back and talk about reshoring. This, of course, has been a key trend in North America and Europe. What do you and your colleagues at MIT see as a driving force for reshoring? What manufacturing should be reshored?
[00:21:58]
John: Another great question, thank you. In no particular order, what are the driving forces? One national security- and I'm not just talking about defense manufacturing. We saw during COVID the importance of manufacturing to the security of our people and our economy in the face of a pandemic. As COVID hopefully gets a little bit farther away- I'm hesitant to make the COVID analogies because these themes should stand the test of time, but certainly, that was a learning experience.
Along with that comes the need for resilience. We've seen how fragile supply chains are, and back to this theme of manufacturing at MIT, like rethinking lean for resilience. To expand a bit there, the idea is that lean production has been the governing principle of the past 30 years. It's not going away, and it's an operational, organizational principle to be efficient. But we have to ask the question, how do we build more resilient production systems while maintaining lean? It's an area where I think, in general, these digital technologies were monitoring operations for predicting what might be needed, predicting how a supply chain could respond. Connecting members of a supply chain can be very powerful. Third, in terms of driving force, the ability to move fast. If I have a system, it's one thing I could separate, like resilience. Is that system robust to disturbances? If I want to move fast in developing new products, if I can do things, even at a pilot stage of production locally, then I can build the networks that allow me to innovate more quickly.
We can't rely on globally distributed supply chains to do all of that. I think you asked what kind of manufacturing should come back. Well, not all manufacturing, I don't have a complete answer to the question, but I think some key drivers are types of manufacturing that fit the criteria above but also can involve high technology content in the production system and are enablers to and or can be driven by greater sustainability. I am hopeful that a drive toward decarbonization of supply chains can be a positive driver toward more manufacturing in the United States, and in many places, locally and regionally around the world. Because we have to rebuild, and when you have the opportunity to make something more sustainable, maybe you can rethink how to ship your capabilities and your operations as well.
[00:24:25]
Ken: The green field, right? It seems that most manufacturing opportunities, especially on the digital side of it, are pretty much brownfield, and the beauty of a lot of the reshoring initiatives and new matrix supply chains is a chance to create new, and as you say, there's a chance to leapfrog in terms of technologies, but also in terms of sustainability goals, too. I like your term 'rethinking lean.' It could be an interesting topic for a later podcast.
[00:24:54]
John: I'm sure.
[00:24:55]
Ken: How can our listeners get more involved in manufacturing at MIT?
[00:24:59]
John: Number one, follow us on LinkedIn. We only have LinkedIn in social media now, but just search for "Manufacturing@MIT"- manufacturing with the @ sign and MIT right after it. Feel free to reach out to me at jhart@mit.edu. If you're from a company interested in seeing what we're up to or a university, either would be awesome. I welcome interest from many of you.
[00:25:22]
Ken: Great, Momenta's happy to be involved and looking forward to expanding our work with you guys because your work is impactful and meaningful. In closing, I always like to ask, where do you find your inspiration?
[00:25:38]
John: Honestly, I don't have a central source in terms of a book that I loved or methodology to it. But I do what I can to follow a broad set of inputs: New York Times, The Information, various podcasts, and occasional books on management, technology, and personal growth. There are however, two things that I read that inspired me a lot starting in 2020 and have informed all of the thoughts I've shared with you today. The first is a short essay that you can find online called ""It's Time to Build." It was written in the first half of 2020, I believe, by Marc Andreessen, whose- a16z large venture investment firm and back in the day, co-founder of Netscape. It is all about building the physical world in our everyday lives. Second, I stumbled into the concept of architectural innovation, which was advanced in about 1990 by Rebecca Henderson, now a distinguished professor at Harvard and Harvard Business School. She has a fantastic article which maybe we can post below the episode, called "Architectural Innovation in the 21st Century." It is all about building teams and organizations with authentic purposes to tackle hard problems.
It has elements of lean manufacturing in it, it has elements of promoting diversity, and strong communication, but the overall idea of architectural innovation, if you're not familiar, is that most impactful technologies and companies come not from singular innovations or inventions but come from reconfiguring pieces at the system level. That, to me, is a very powerful theme and, looking back, applies to some of the things I've been fortunate to be involved in and accomplish. But also, I think it is imperative for the future, where- I would be willing to bet that most of the solutions to climate change technologically are already in front of us. Many of those we need to bring to scale and solve many great engineering challenges, whether it be fusion or geothermal or better photovoltaics, but we need to implement and build the systems that create different pathways. I also look back at what I consider to be the most impactful companies of the past 20 years, and I think there's an argument. Plus, architectural innovations changed the way we do things, and that's what made them so impactful.
[00:28:22]
Ken: Two excellent recommendations. It's excellent because neither has crossed my radar before, so we will include links on our podcast recording, and I will make sure to read both. Dr. Hart, thank you for sharing this time and these insights with us today.
[00:28:36]
John: Thank you, Ken. All the best.
[00:28:38]
Ken: As well. This has been John Hart, Professor and Department Head of Mechanical Engineering at MIT, and Faculty Director, Manufacturing at MIT. Thank you for listening, and please join us for the next episode of our Digital Thread podcast series. We wish you a momentous day. You've been listening to the Momenta Digital Thread podcast series. We hope you've enjoyed the discussion, and as always, we welcome your comments and suggestions. Please check our website at momenta.one for archived versions of podcasts, as well as resources to help with your digital industry journey. Thank you for listening.
[The End]
Connect with John Hart
What inspires me?
John embraces actively seeks insights from diverse sources, including renowned publications like the New York Times and The Information, podcasts, and books on management, technology, and personal growth. Two recent readings have particularly inspired him. One is the captivating essay "It's Time to Build" by Marc Andreessen, who leads venture investment firm a16; this essay passionately advocates for the construction of the physical world. It is all about building the physical world in our everyday lives. The second reading, "Architectural Innovation in the 21st Century", is by Professor Rebecca Henderson of Harvard University. This insightful piece delves into the importance of building teams and organizations with authentic purpose to tackle the most important problems of our time.
About MIT Center for Additive and Digital Advanced Production Technologies (APT)
The MIT APT Center aims to accelerate the implementation of additive and digital manufacturing and to invent its future. As such, APT convenes its members and MIT experts with a mission to: perform visionary research, continually and critically assess the status of AM technology, develop model-based decision tools and open strategic frameworks, build a vibrant academic-industry network including MIT students, and accelerate critical AM education initiatives for professional audiences. Together, these activities enable APT's members to implement process, product, and business model innovation and leverage AM in tandem with the rapidly changing digital manufacturing infrastructure that includes robotics, advanced materials, and computational intelligence.
To learn more about joining APT, don't hesitate to get in touch with APT Director, Prof. John Hart