Feb 16, 2022 | 4 min read
Jaap Groot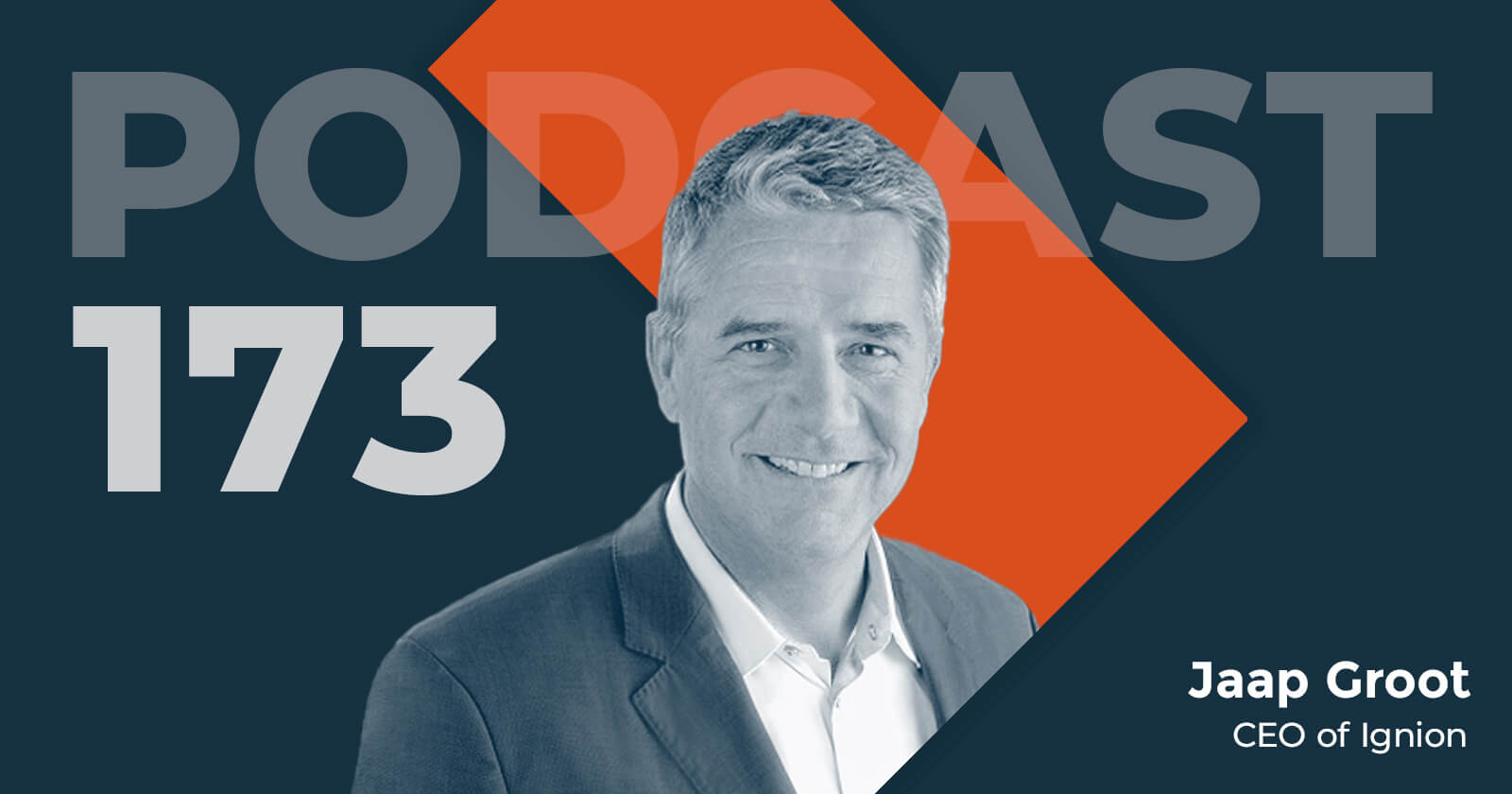 TRANSCRIPT
Ken: Good day, and welcome to episode #173 of our Momenta Digital Thread podcast series. Today, we have a special episode bringing back Jaap Groot, CEO of Ignion, to provide perspective on the recent events in the LPWAN, Low Power Wide Area Network, space. As you may recall, Jaap has a rich experience base in IoT communications, having worked at Qualcomm and MiX Telematics before becoming the first Head of Sales for Sigfox. He went on to play a leading role at Semtech as VP of Business Development for the LoRa team and Vice-Chair of the LoRa Alliance. In mid-2020, Jaap joined Fractus Antenna and helped relaunch the company's branding as Ignion, the leader in virtual antennas.
Jaap, welcome back to our podcast.
[00:01:23]
Jaap: Good morning, Ken. It's wonderful to be back, and thank you for the opportunity. It seems there are indeed a few things happening in the IoT LPWAN industry, which I look forward to discussing with you.
[00:01:34]
Ken: You and I have both been privy to some of the events recently. We last featured you on our podcast in Episode #107 in September of 2020. Since that time, a lot has happened in the space of LPWAN and at Ignion. I thought it would be great to bring you back to talk about both. Let's start with the LPWAN space and, specifically, the recent news that Sigfox has filed for Chapter 11 and is now going through an accelerated auction of the company's assets. Let me ask, did this surprise you, Jaap?
[00:02:07]
Jaap: Who am I to comment? I left Sigfox in 2015. It seems, in hindsight, my instincts were right. At that time, the technology was unproven, and the real IoT wave was in a very early stage. As Thomas Nichols mentioned in one of your podcasts earlier this year, the main issue was that the space first had to be created. That has taken longer than the cash runway of Sigfox allowed. To me, the longtail aspect was clear from the get-go, and under such market conditions it's simply better to focus and prove yourself versus the claims I continue to hear that Sigfox is a company that should be considered a hyper scalar and would be adding an 'S' to the likes of Google, Amazon, Facebook and Apple abbreviations. So no, this is not a surprise to me. It was a matter of time, and it seems there are only three weeks now for potential buyers or investors to act.
[00:02:58]
Ken: Sigfox had raised over 300 million in venture funding and, as you say, had ambitions to build a global communications network. Their statement cited slow sales of their products and challenging conditions in the IoT industry due to Covid-19. As often reported, we've seen the opposite with the use of remote asset management being in great demand as among our 48 portfolio companies. Have you seen their so-called challenging conditions in IoT?
[00:03:29]
Jaap: The explanations as to why Sigfox ended up running out of cash seem not in line with what we see in the IoT market overall. For sure, there is Covid-19, and some companies have delays in revenues due to supply chain issues. In the end, if the components are not available, the IoT sensors cannot be built and that certainly created challenges. However, not all use cases are impacted. For example, smart building solutions measure air quality to limit the risk of the virus spreading too easily. And yes, tracking and location remain the top use case. One would expect companies like Sigfox to benefit from that, given their self-claimed global coverage. If I look at our own business, we have also felt the impact of cellular modules with long lead times. Despite this, the IoT market and Ignion grew well in 2021 while Sigfox booked losses of 90 million. In short, the problem is elsewhere, and time will tell what caused this chapter 11 situation.
[00:04:31]
Ken: You were at Sigfox in 2013, as I recall, leading the sales division when we first met. Knowing what you do now if you could go back to that moment and change three things to have given Sigfox a better chance, what would they have been?
[00:04:45]
Jaap: That's an easy one. As I mentioned in the earlier podcast, there have been very successful use cases with Sigfox. Those customers still use the solution with a good ROI. However, the business model implemented was developed by a guy coming from Orange, hence the strategic mistake of selling exclusive Sigfox licenses to companies. This forced them to enable coverage and buy gateways from Sigfox. They took a major share of their revenue as kickback as a triple whammy. It would have been much more attractive to let market dynamics define where to rollout and reduce the CapEx of these operators so they could spend their cash on developing use cases rather than the 'build the network and customers will come' approach. Second, I believe the focus was global from the get-go. While that is an interesting approach, every marketeer can tell you it's best first to try and hit one pin in the bowling alley in your own country before becoming too self-confident and claiming the world as your playground.
And last but not least, there has always been tension in the leadership of Sigfox. Tom has already mentioned he felt that he had lost 20 years of his life spending five years at the company. And frankly, I concur with him. In my two years, it became clear that the strategy was flawed and the toxic management style unacceptable. In the end, and probably too late, it led to appointing a new CEO last year.
[00:06:07]
Ken: Silicon Valley tends to treat failure with a small 'f' different than the rest of the world. And in this case, many times, the learnings you get out of those situations can be invaluable if you apply them to your leadership efforts in future situations. I completely commiserate with how you and Thomas feel about the situation. Of course, Sigfox was heralded as an example of French and even European tech. Do you see any learnings for France or Europe, given the situation?
[00:06:36]
Jaap: I believe for sure we need to bolster European tech. Dependencies have proven to create risks, so the more resilient we can make European companies by controlling our continent, the better. And the same applies to France. Building a French Tech environment and startup hubs makes total sense. The real question is how far governments should get involved. The learning here clearly is that one cannot push a market to accept the technology. The route taken by others to build open ecosystems and democratize access to technology has proven to be more successful. And frankly, is this not what we see happening in 5G right now for industrial IoT? Local private networks enable fewer dependencies or even keep the data out of the internet.
[00:07:20]
Ken: Let's go on to the separate topic, and that is Ignion and the traction you guys have seen during the time since our last meeting. How have things gone with your virtual antenna and value proposition? And what's been some of the key milestones since then?
[00:07:35]
Jaap: Elite, my current venture, is not depending on any specific wireless technology. As I explained, we focus on horizontal solutions like machine learning and AI also do, or energy harvesting, if you will, which apply to all IoT Edge devices and antennas are no different. We do not have to create demand as every device has antennas. I can only say that 2021 has been a good year for Ignion. We have grown the business substantially despite the pandemic and supply chain issues. We are seeing continued growth into 2022.
[00:08:08]
Ken: I think you've also made some great traction with your cloud-based design capabilities. Can you say a bit more about that?
[00:08:15]
Jaap: Yes. You seem to know a little more than the rest of the market. In principle, the issue for many designers or makers is the capability to ensure optimal antenna performance. Not only is this a difficult domain with many dependencies, but RF is now a limited resource in the AI industry. Moreover, IoT is a longtail market, so many designs are not in very high quantities. Thus, the market asks for off-the-shelf, easy-to-integrate, antennas like Lego blocks. To enable that, Ignion has put our know-how and tools into the cloud together with AWS, and we will launch this during the Mobile World Congress. The value for makers is that they can test their designs for RF viability and performance even before spending any money on prototypes. The initial feedback of our trial customers is great. Getting detailed design recommendations and reliable performance simulations avoids long design cycles, and in the end, improves the ROI overall.
[00:09:15]
Ken: It seems like a large step ahead for what you guys are doing, and it makes a lot of sense given the long lead times. At this point, I believe you shipped over 30 million antennas. Given this vantage point, you could be viewed as a bit of a forward-looking indicator for LPWAN or other protocol adoption. What trends are you seeing relative to this data?
[00:09:33]
Jaap: What we see currently is a clear uptick of cellular designs. The majority of the designs are based on NB IoT and LTM in their different shapes and forms worldwide. And then, we have substantial traction in LoRa, GNSS, BLE, Wi-Fi, and recently, ultra-wideband, as many of the IoT devices have multiple radios. For example, there's also GPS for location and BLE for provisioning a tracker with a comms radio. The future is around multi-radio, which further drives the demand for solid antenna solutions as the complexity of such designs is high. The straightforward high-volume consumer products with Wi-Fi and BLE allow for custom design. The IoT market needs off-the-shelf parts and tools to implement the antenna in a do-it-yourself approach. The unlicensed band solutions, like LoRa, have taken off already. However, I'd estimate an 80/20 split right now.
[00:10:33]
Ken: Wow, that's dramatic. An 80/20 split, so 80% favor licensed spectrum designs versus unlicensed spectrum ones. To what do you attribute this strong bias?
[00:10:43]
Jaap: If we rule out Wi-Fi, and BLE for a minute, as these are more in mobile phone and consumer solutions and less adapted to the low power and long-range required for IoT, the unlicensed space truly became shaken recently by the announcements around Sigfox. And as for LoRa, the reality is that the nationwide networks are limited, and the uptick is with new initiatives like Helium or Amazon Sidewalk. The challenge will remain on coverage, and as I mentioned in the previous podcast, the future of LPWAN is that there is no future. So LoRa gateways, for example, like the ones from Helium, or CareLink, are no longer LPWAN. They are microcells with a much better range than Wi-Fi and allow battery-operated sensors. Still, they only go for a couple of hundred meters. The cellular response exists with offerings from companies like 1NCE in Germany, which have $10 subscriptions for ten years. However, a third party still operates the radio access network in that setup. Many people these days want to take the risk of sunsetting out of the equation and take on the burden of rolling out their network.
[00:11:53]
Ken: Putting your prognosticator hat on, where would you predict this trend going, especially considering the sale of Sigfox?
[00:12:02]
Jaap: That's a difficult one. We just learned there are only three weeks up till the 25th of February to put in a bid now. The question is if it's affordable to invest in this chapter 11 state or wait and buy assets later. In my opinion, the most likely route forward is for a consortium to step in, potentially including the existing so-called Zero-G operators. It might be more interesting to wait and not have to deal with all the restructuring costs and get out of the exclusivity model with the operators and truly democratize the access to the Sigfox technology through opening up the network and letting every operator run and control their ownfuture. As far as technology, it's clear that the overlap with LoRa, especially with this new LRF HSS variant, leaves little value on Sigfox. Most likely, it will fade out over time like WiMAX.
[00:12:56]
Ken: Interestingly, you raised earlier one of the largest issues with the adoption of unlicensed spectrum, LPWAN, was lack of coverage, per se. And you're right. Helium and a couple of other companies are certainly slowly moving that forward. It does seem that Sigfox has an asset the LoRaWAN community could use very well in the sense that you have these Zero-G operators already in place. LoRa potentially could provide at least an equal or better technology base as well. In the future, it might mean that finally, the unlicensed spectrum is on a near-even keel with the licensed spectrum. Although, you've got the large telcos backing the latter for the most part. It could be an interesting next couple of years in terms of how all of this plays out. And at a time when the IoT and industrial IoT market are seeing real upticks in terms of remote access or remote asset management, if you will, use cases. In closing, any hint about what we can expect from Ignion over the next year?
[00:14:00]
Jaap: Clearly, further growth by enabling the next 10 million IoT devices with virtual antenna technology, and more importantly, enabling access to our solutions through the antenna intelligence cloud. Make sure all the makers in the longtail get what they're looking for; long-range, low power, or no power through energy harvesting and antenna solutions that tune to the required frequencies like your phone does. Keep watching this space. It's moving.
[00:14:28]
Ken: Ignion gives you a great platform to observe and perhaps even predict some of the trends we're seeing. I hope to stay close with you on this one.
Jaap, thank you for this insightful interview.
[00:14:41]
Jaap: You're welcome, Ken. Thank you very much for asking me again. Let's put the date on the agenda in 18 months to see.
[00:14:49]
Ken: Absolutely, my friend.
This has been Jaap Groot, CEO of Ignion, the company pioneering the virtual antenna. Thank you for listening, and please join us next week for the next episode of our Digital Thread podcast series. Thank you and have a great day.
You've been listening to the Momenta Digital Thread podcast series. We hope you've enjoyed the discussion. As always, we welcome your comments and suggestions. Please check our website at momenta.one for archived versions of podcasts, as well as resources to help with your digital industry journey.
Thank you for listening.
[The End]
Connect With Jaap Groot via LinkedIn
Good to Know...
LPWAN "Low-Power Wide Area Network" is a wireless wide area network technology that interconnects low-bandwidth, battery-powered, devices with low bit rates over long ranges. Created for machine-to-machine (M2M) and internet of things (IoT) networks, LPWANs operate at a lower cost with greater power efficiency than traditional mobile networks. They are also able to support a greater number of connected devices over a larger area.
LPWANs can accommodate packet sizes from 10 to 1,000 bytes at uplink speeds of up to 200 Kbps. LPWAN's long-range varies from 2km to 1,000km depending on the technology. Most LPWANs have a star topology where, similar to Wi-Fi, each endpoint connects directly to common central access points.
LPWAN is not a single technology, but a group of various low-power wide-area network technologies that take many shapes and forms. LPWANs can use licensed or unlicensed frequencies and include proprietary or open standard options.
About Ignion:
Ignion is a company that is reshaping the world's IoT connectivity. A global antenna innovator with proven manufacturing capabilities to scale and create the new generation of multiband, multipurpose, and ready-to-use, chip antennas. Ignion's mission is to accelerate IoT and empower the ecosystem with off-the-shelf antenna solutions. Learn more at https://ignion.io/.