Apr 13, 2021 | 5 min read
Momenta's Take #30
Hitachi Doubles Down on IoT with GlobalLogic Buy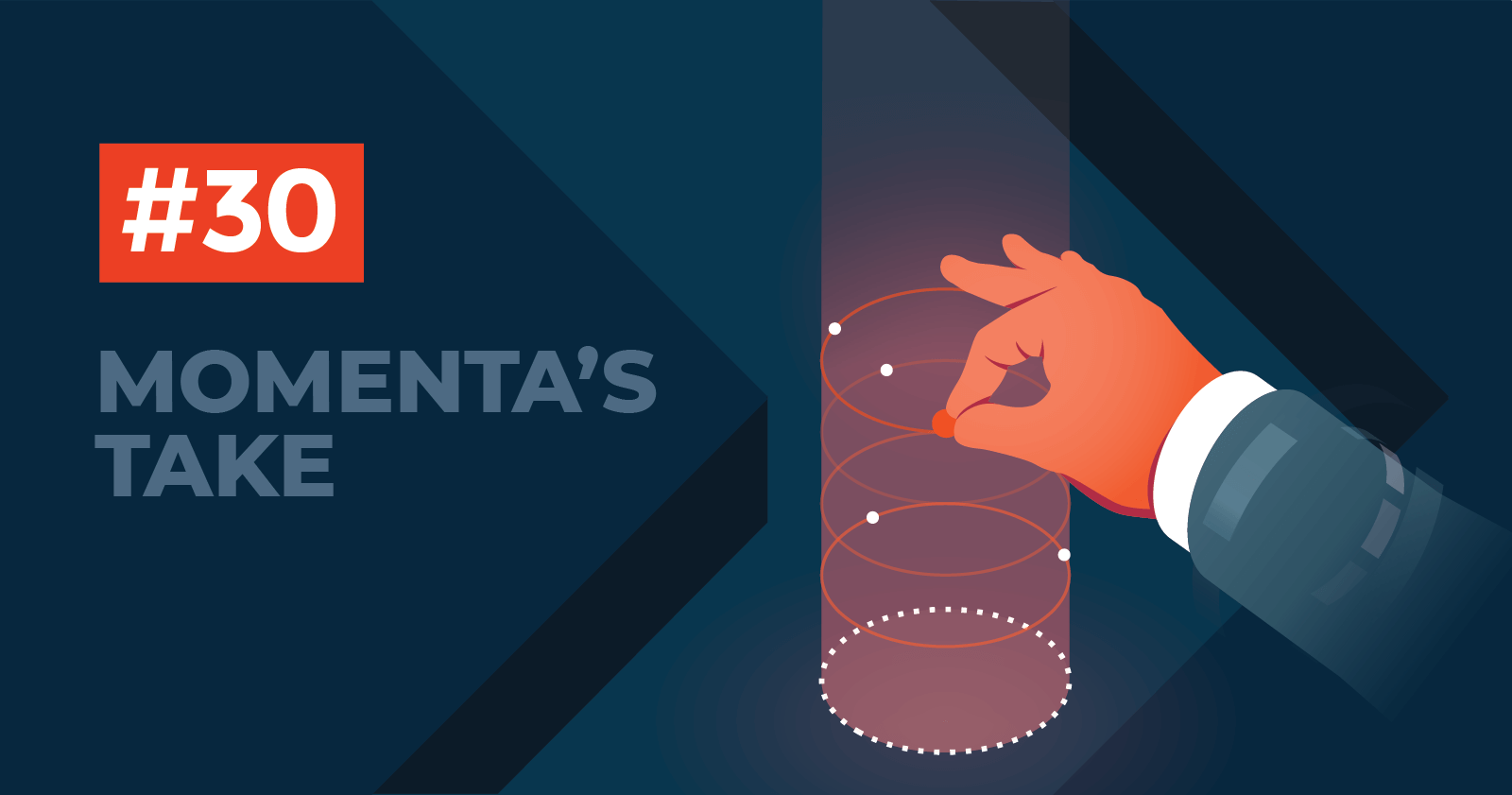 Hitachi to Buy GlobalLogic Inc for $9.5 Billion
Japanese industrial conglomerate Hitachi Ltd. announced a $9.5 billion agreement to acquire GlobalLogic Inc., a California-based software engineering firm focused on developing applications for large enterprises. The deal price includes about $1 billion in debt, and Hitachi plans to finance the deal with a combination of cash and bank loans.
Global VC investment - The first time over $100 billion in a quarter
The merger is expected to close by the end of July. The deal follows a robust quarter of both VC investment and M&A. According to CrunchBase, global venture capital investments reached $125 billion in the first quarter of 2020, the first time over $100 billion in a quarter. The number of acquisitions also rose 26% from the 4th quarter of 2020 and 44% year-over-year to 631 deals.
Hitachi is a major player in multiple industries, making products that range from auto parts, construction machinery, metals, chemical, and elevators, and also has a meaningful presence in information technology via the Hitachi Vantara business. Hitachi Vantara offers data storage hardware, hyper-converged infrastructure appliances, and software products, including its IoT platform and analytic applications. Hitachi's long-term growth strategy is to boost profitability through growth in digital solutions, and its focus on Vantara – and the Lumada platform – are core to that strategy.
IIoT Platform Looking for a Turbo Boost
The company's Lumada platform is highly regarded as one of the leading Industrial IoT platforms. The platform was named a Leader in the 2020 Gartner Magic Quadrant for Industrial IoT Platforms, after being positioned in the Visionaries quadrant for the past two years. Lumada customers like Disney Theme Parks benefit from Hitachi's deep expertise in both operational and information technologies to collect OT data for analysis at the edge.
In the past year, Hitachi announced an IoT platform for buildings developed using Microsoft Azure and Microsoft Dynamics 365, resulting from a recent partnership with the software giant. With growing connectivity in commercial office and residential buildings, Hitachi and Hitachi Building Systems in April 2020 systematized touchless solutions that enable users to move and live without touching. Hitachi also developed a service platform for developers to help office workers interact with smart systems using a smartphone app.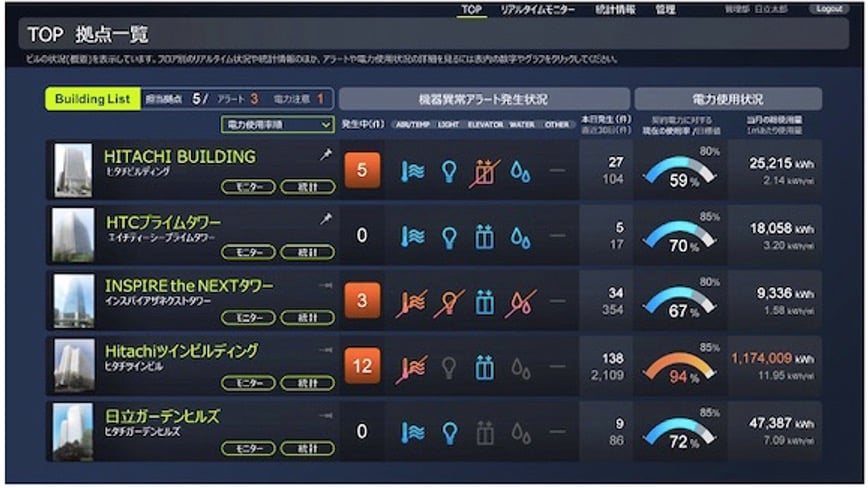 Dashboard of the Hitachi IoT platform for buildings (Japanese version)
Pushing into Consultancy
Hitachi has communicated its vision of infusing all of its business units with digital capabilities, with Vantara, the former storage business, expanding into the data center and now into professional services. Last year, Hitachi Vantara merged with another internal Hitachi organization in order to expand its service profile, joining other industrial tech firms such as PTC, Siemens, and Rockwell Automation which acquired systems integration practices. The reason for diversifying their portfolio reflects that customers are increasingly focused on business outcomes rather than technology itself; this demands increasingly integrated solutions combining custom development, managed services, support services, hardware, and software.
About GlobalLogic
GlobalLogic is on track to generate roughly $1.2 billion in sales this year. Key clients include Qualcomm, Oracle, and other major tech companies, as well as hundreds of other enterprises. The company has been targeting the industrial and auto sectors, where Hitachi already has a major presence. In manufacturing, the firm is focused on helping customers implement digital twins while working on artificial intelligence initiatives as well. In addition to other software offerings, GlobalLogic offers a toolkit that makes it easier to set up cloud-based analytics environments, a set of software components that accelerate the development of in-vehicle applications and other specialized offerings.
Momenta's Take:
What Are the Implications?
Expect Hitachi to focus on cross-selling and upselling GlobalLogic offerings to customers of its industrial products and vice versa. In addition to coding and consulting services, the software business is likely to be an area of focus given the attractive margin profile. Hitachi has messaged the importance of GlobalLogic's profitability in the deal announcement, with the software engineering firm expected to finish the current fiscal year with EBITDA margins over 20%.
It's becoming increasingly clear that professional services – both consulting and technical – are essential to driving Digital Business adoption. Large IoT platform companies like Hitachi, Rockwell, Siemens, and PTC invest in bringing solutions to market. The verticalized nature of Digital Business appears to be the surest path to success, and Hitachi's Platform for Buildings is a harbinger of more verticalized offerings to come. While productizing vertical solutions does resonate as an attractive vision for Industrial IoT, the reality is that domain expertise and skilled software development are critical to delivering the solutions that customers need.

Momenta encompasses leading Strategic Advisory, Talent, and Ventures practices with over 200 IoT leadership placements, 125 industry clients and 40+ young IoT disruptors in our portfolio.  Schedule  a free consultation to learn more about our Digital Industry practice and services.