Dec 15, 2020 | 6 min read
Momenta's Take #20
Dispersion: 2020 Drives Exodus from Power Centers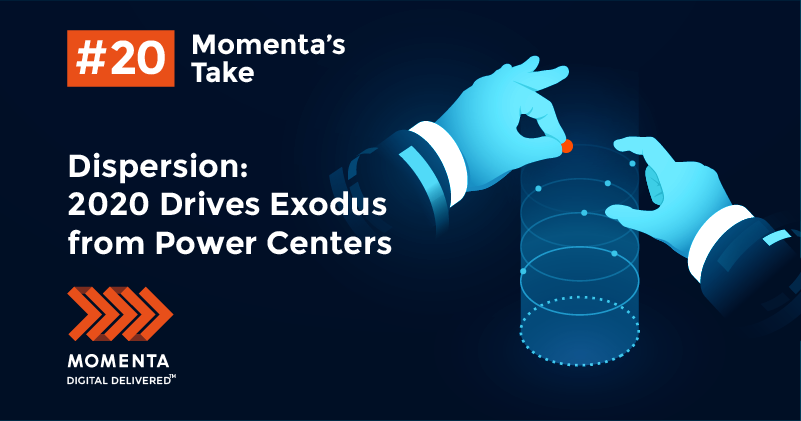 Dispersion: 2020 Drives Exodus from Power Centers


The pandemic of 2020 has accelerated digital business, and transformation across businesses in nearly every sector as organizations of all sizes rushed to embrace remote work, distributed collaboration and e-commerce. While initial expectations held that changes might be temporary, and that life might return to "normal" after a few months, it's becoming apparent that the persistence of the coronavirus challenges is fueling more permanent changes where people live and work. In particular, dense urban environments are less attractive to people given the risks of contracting COVID, and even with vaccines on the way the pandemic is driving companies to re-evaluate their locations, and relocate increasingly to less populated, lower tax regions.
Tech and Finance Talent Leaving Hubs for the Hinterlands
Over the past several decades, we've seen concentration of power centers for tech and finance in the Bay Area and New York City. Silicon Valley's culture of innovation and entrepreneurship has given rise to the most vibrant tech community in the world, spawning countless startup tech firms including many that have grown into the most highly valued companies around the globe such as Facebook, Tesla and Google. New York has always been a financial center, and even with the challenges of 9/11 and the financial crisis, the most influential firms have maintained significant presence in Manhattan. With the persistence of the pandemic, high tax burdens and deteriorating quality of life, both cities are seeing an acceleration of people and businesses leaving the cities permanently – and this is likely to reshape the character of the cities for years to come.

Going (Away from) California
The trickle of businesses out of California has grown to a flood in recent week. On December 11th, Oracle Corporation (which is been based in the Bay Area since 1989) announced it had moved its headquarters to Austin, Texas. This follows the announcement that Elon Musk, CEO of SpaceX and Tesla and second wealthiest man in the world, confirmed that he had moved to Texas from California. This follows other recent departures such as HPE (Hewlett-Packard Enterprise), one of the iconic firms of Silicon Valley, announcing a headquarters move to Houston, Texas. Online broker Charles Schwab is moving its headquarters to the Dallas area, following medical supplies giant McKesson which moved from San Francisco to Irving, Texas last year. Palantir Technologies relocated its headquarters to Denver, while Dropbox' CEO Drew Houston and Splunk's CEO Douglas Merritt have recently bought homes in Austin and plan to work from Texas. Tech titan Keith Rabois says he's leaving California's Silicon Valley and moving to the South Florida's major city Miami. Over 687,000 Californians have made the move to Texas over the last decade, according to an analysis of U.S. Census Bureau data from 2010-2019. Migrants are attracted by Texas lack of state income tax and friendly regulatory environment.
Escape From New York 2020
New York has been a center of finance, but also the arts, fashion and entertainment. The double-whammy of social distancing requirements that have closed restaurants, bars, Broadway theaters and concert halls combined with declining quality of life has caused many die-hard New Yorkers to seek greener pastures, particularly those with broadband connections that support remote work. An article by comedy club owner James Altucher outlined the calculus in stark terms: if there aren't reasons to put up with the high costs and rising crime, there's little reason to stay. While major banks have previously relocated thousands of jobs to states outside of New York in an effort to cut costs, there's growing movement for front office jobs away from the city. Ken Moelis, the CEO of his eponymous investment bank Moelis, has agreed to allow a number of bankers to leave New York City for Florida permanently. Deutsche Bank may move as much as half of its 4,600 Manhattan staff to smaller hubs across the U.S. in the next five years.
What Will this Mean?
The most significant ramifications of the exodus from the cities will be a painful fiscal crunch for city governments. Sales taxes (and income taxes in New York) are critical to support schools and services. Leaders will need to step up to make budget cuts or find innovative ways to attract and retain businesses and residents. While rents are getting cheaper, the overall environment will need to be attractive for living and business.
Smaller Cities to Benefit
The power concentration of the Bay Area and NYC is dispersing, and this opens up opportunities for smaller cities and other regions to attract talent and investment. States such as Texas, Florida and Nevada are seeing record migrations in 2020, continuing a trend that's been ongoing for years. The advantages for businesses and workers is that costs can be lower, quality of life can be better and productivity can continue to improve. 2021 provides way more options for finance and tech talent, and we expect new power centers to emerge as well.

Momenta delivers digital transformational innovation, growth and leadership across energy, manufacturing, smart spaces and supply chain. As deep Digital Industry Practitioners, we help companies grow through one-stop advisory, M&A, executive search and venture capital services. Feel free to schedule a call to explore your company's Digital potential.