Sep 14, 2023 | 6 min read
Momenta's Take: Has 5G Lived Up to the Hype?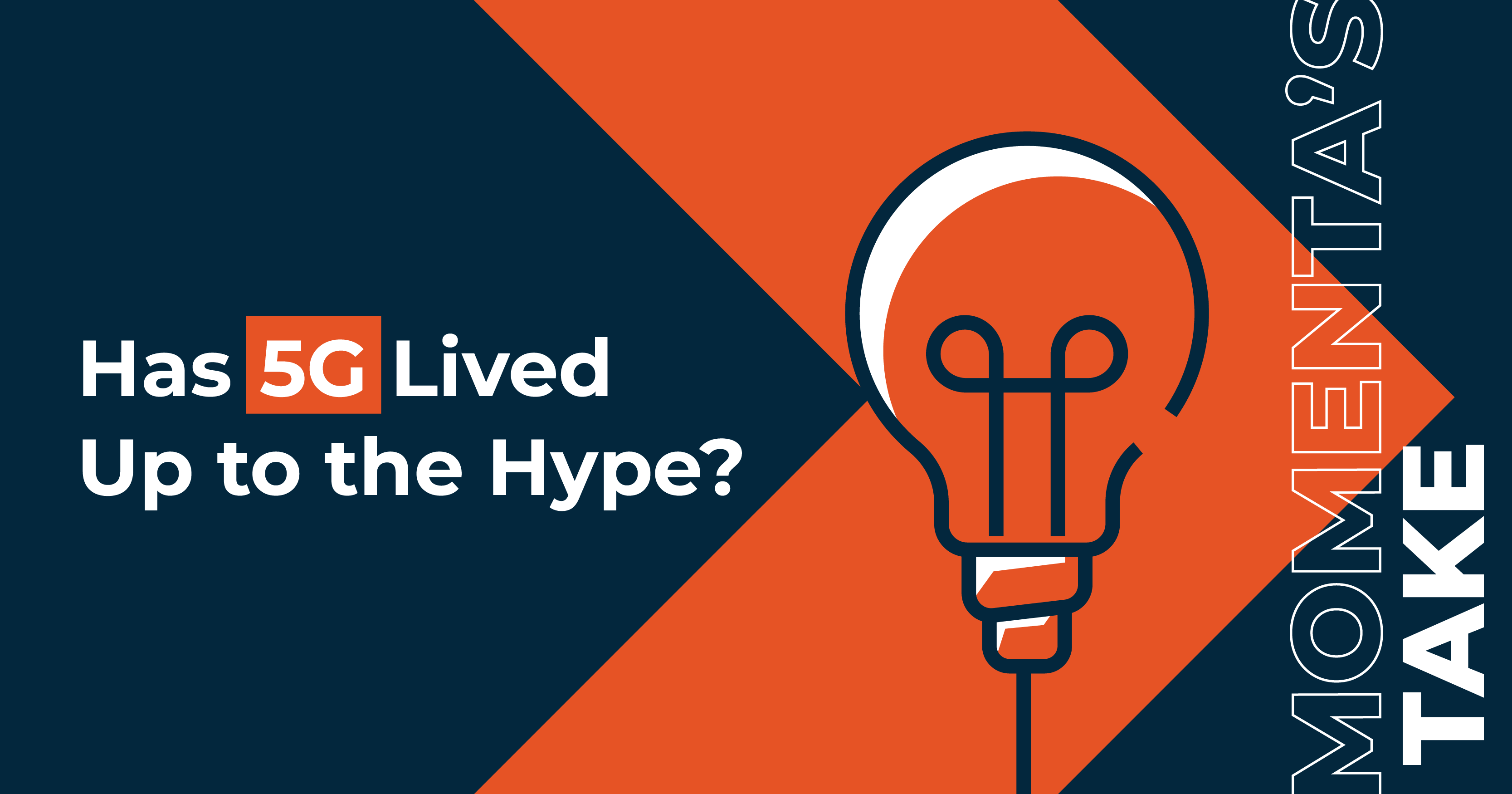 Has 5G Lived Up to the Hype?


5G Rollout expectations were High.
The promotion of 5G wireless technology brought with it a promise of significant advancements compared to 4G/LTE. These included faster data rates, reduced latency, extensive connectivity for IoT devices, and improved mobile broadband services. Carriers from all over the world showed great enthusiasm for this technology, hailing it as a pivotal leap in connectivity that would usher in a new era of innovative capabilities and applications.
One of the major selling points revolved around the potential for millions of always-connected IoT devices to swiftly exchange data, thereby revolutionizing portability for high-bandwidth devices such as Augmented Reality (AR) goggles and surveillance cameras. However, industry leaders now acknowledge that the rollout of 5G has proceeded at a notably slower pace than initially anticipated.
Multiple Reasons for Disappointment
Since 2019, carriers began rolling out 5G service, but the availability and performance have been inconsistent – both delivering and disappointing on early promises. In initial deployments of 5G, service providers used existing 4G core networks with 5G cell sites – and consequently, data speeds from these initial 5G networks were far short of what was promised of 5G. Rollouts were impacted by political tussles and air travel regulators' concerns about landing in low visibility.
Consumer Adoption Tempered, Connection Speed Gains Retreat
Consumer adoption has been modest, with just 61% of U.S. cellular customers accessing 5G networks in 2022, and network speed depends on several variables, including distance from cell towers and whether the 5G is low-band, mid-band, or high-band. 5G was noticeably absent from vendor messaging at the 2023 CES trade show, even as most new equipment supports the new standard. While 5G networks are delivering better and faster service than 4G networks overall, speed-test data from Ookla shows declining 5G upload and download speeds across the globe from a year ago for reasons of network capacity and range limitations of millimeter-wave band frequency.
A Letdown for the Industry, but Carriers Tout Additional Investments
The slower pace of adoption has impacted financial results for providers. In July, faltering equipment sales from Nokia and Ericsson resulted in lowering revenue forecasts. There has been growing anxiety among carriers that investments in consumer 5G capacity may not be recouped. Responding to flagging consumer interest, mobile companies are promoting new investments in "5G Advanced/,5.5G," expected to be rolled out around, 2025 that will help boost connection speeds.
Bullishness for Business and Industrial Uses
For consumers, their may not be a "killer app" for 5G, but IoT applications powered by private networks could provide an awaited boost for corporate adoption. IDC is still forecasting that there will be 187 million 5G IoT connections in the U.S. by 2026, up from 4.4 million connected devices in 2021. According to Dell' Oro Group, private 5G, including industrial uses, comprises less than 1% of the 5G market, but this could be changing.
Analysis Mason forecasts the number of private networks will grow at a CAGR of 65% between 2021 and 2027 to reach 39,000, representing $7.7bn in spending. The proportion of 5G private networks is also expected to approach 70% by 2027.
Split of private network deployments, by technology, worldwide, 2021 and 2027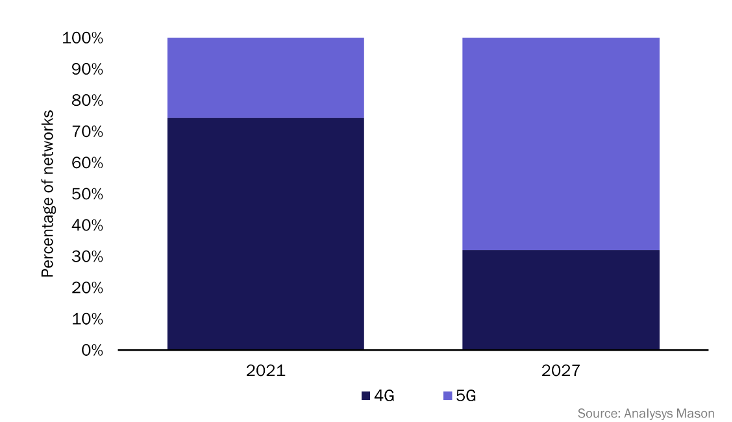 Last November, an EY survey of more than 1,300 businesses found that 57% of respondents planned to invest in 5G within three years. A Gartner survey of 2,203 executives found that 49% of energy executives planned to invest in 5G in the next 24 months, 45% in transportation executives, and 35% in manufacturing.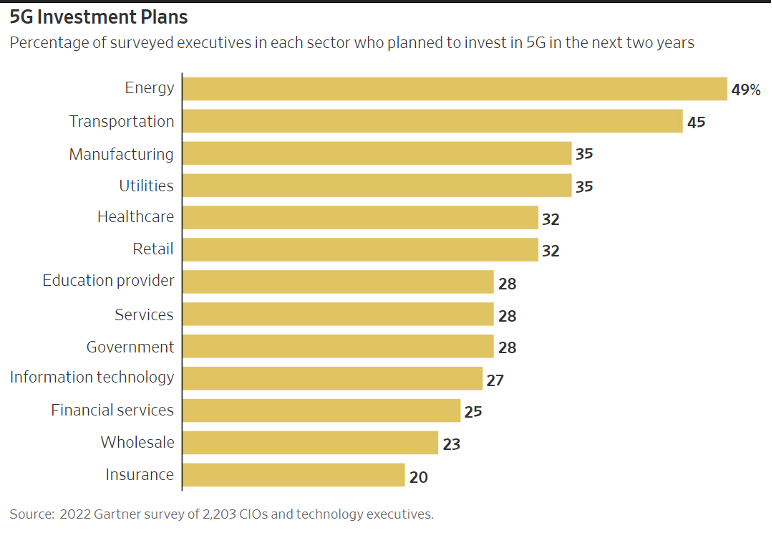 One of the promising avenues of advancement lies in enabling Critical IoT applications through ultra-reliable low-latency communications (URLLC), which is built with near-perfect reliability and extremely fast data transmission rate. Potential use cases encompass manufacturing autonomous vehicles and remote surgery. There's significant promise for private 5G networks to enable automated guided vehicles in manufacturing, mining, and other industrial use cases.
Momenta's portfolio company, Expeto is a good example of companies providing industrial-grade 5G private network infrastructure and applications.
In the last 3-4 years, the global 5G technology rollout has faced obstacles, including slower adoption and decreased consumer interest due to significant investment demands. However, a promising horizon emerges with the potential to fuel innovation and growth in Critical IoT applications through ultra-reliable low-latency communications (URLLC). This technology offers nearly flawless reliability and lightning-fast data transmission rates, opening substantial opportunities. Furthermore, the impending surge in private 5G networks, especially within sectors like manufacturing and mining, is poised to gather momentum, heralding a transformative era for low-latency, highly dependable 'Critical IoT' applications.
In light of these developments, Momenta expresses confidence in the potential for substantial advancements and positive outcomes in the realm of Critical IoT applications, encompassing industries such as manufacturing, autonomous vehicles, and remote surgery. Despite initial challenges and a slower 5G adoption rate, Momenta anticipates that private networks will drive the development of low-latency, highly reliable solutions, ultimately revolutionizing various sectors. This optimism is firmly rooted in the belief that investments and innovations in ultra-reliable low-latency communications (URLLC) will fulfill their promises and shape the future landscape of IoT applications.
Momenta is the leading Industrial Impact venture capital + growth firm. We accelerate entrepreneurs and leaders devoted to the digitization of energy, manufacturing, smart spaces, and supply chains. Since 2012, our team of deep industry operators have invested n over 50 entrepreneurs and helped scale over 150 industry leaders via our award-winning executive search and strategic advisory practices.