Jun 7, 2018 | 5 min read
Insight Vector: Unlocking the Value of Sensor Data Through the Marketplace: Part 1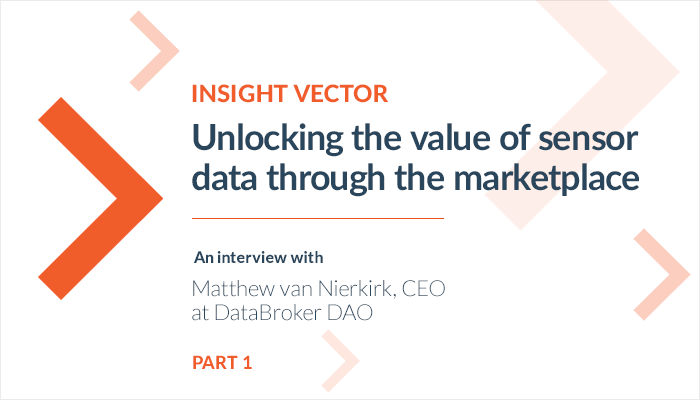 Innovation and market perspectives from leading IoT innovators
Our conversation with Matthew van Nierkirk of DataBroker DAO covered his background in financial services, and how the awareness of the value of data in financial markets could be applied to IoT sensor data. He explains the origins of his new company, and shares how data marketplaces have resonated particularly in the Smart Cities communities.
Matthew van Nierkirk

CEO
DataBroker DAO
Can you tell us about your background and what has shaped your perspective?
I've been working in financial services, particularly in trading for my career working in Belgium and Japan (I'm originally from Canada). I've looked at different types of analysis – technical and financial analysis - and the value of data became very clear to me. DataBroker DAO is my third company. When I look at financial sector and the importance of data in the sector, I was interested in how IoT could provide additional insights for trading. There have been a lot of papers and products related to sentiment analysis in the past few that have been important in understanding how to derive value from data for instance.
What led you to start DataBroker DAO?
SettleMint is the parent company of DataBroker DAO, providing middleware solutions for blockchain applications. We started DataBroker DAO in December 2016 after working with the largest telco in Belgium – Proximus. Proximus was looking for solutions to provide its connectivity clients with a data monetization strategy. They had been exploring how to monetize data from themselves and their customers. The concept was to create a marketplace for clients of the telco to sell data. The first version of the technical solution was completed as a Proof of Concept for them in early 2017. We found new ways to pull data out of silos, from multiple locations into a marketplace to make it available for third parties to purchase.
The first time I demonstrated the marketplace to the public was a conference in early 2017 at a London blockchain and IoT event, and the response reinforced for us that there was real interest in this type of solution as it addresses an acute need in the market. I have demoed this project around 20-25 times at IoT, Smart Cities and Blockchain conferences since. These demos have provided immediate feedback from sensor manufacturers, data providers, telco's and others in the ecosystem and the support has been quite resounding. The product is built and ready to launch and will be deployed on the main net of Ethereum in July.
How does a data broker enable how data is accessible – particularly in cities?
The data broker represents a radical change to public/private partnerships. Typically a city will have an agreement with a hardware manufacturer to deploy sensors around the cities. This creates vendor lock-in, and the data is generally controlled by the sensor owners. This prevents others, like local companies and entrepreneurs from creating value and new businesses from the data. You unleash the possibilities for entrepreneurial connectivity and the community can be far more engaged in the Smart City initiative. A really interesting region is Dubai – we were invited to present to the Dubai Smart City office. They have a clear vision of what they are looking to do with data and there were a few discussions about using a platform to support their smart city initiatives there, in nearby Saudi Arabia, in the UK and Singapore.
How does this compare to Open Data initiatives?
Open Data initiatives have been really positive for the market and are complementary. With the addition of token economics, you can add incentives to fully engage the private sector. If you take the proportion of data sensors globally, Open Data initiatives provide access to no more than 2% of sensors data that is out there. In an ecosystem with incentives, the data broker approach creates new income streams for the private sector (data sellers) and enables opportunities for entrepreneurs to create incredibly value-add services from an open data architecture – unlocking opportunities for data from the other 98% of sensors.
What's the current state of Data Marketplaces, and how is this changing?
Data Marketplaces today enable you to buy data sets of historical (enriched) data. There's a lot of latency from when the data is generated to when it's available and is often a month old at least. Collecting, aggregating and enriching data is a valuable service, but the data is usually at least a month old. DataBroker provides streaming data.
In financial services there are companies like Thomson Reuters and others that sell data that's historical in nature, and they package it in a way that's more digestible - which is valuable. They also sell a wide array of streaming data. There are a lot of parallels to what we are doing with IoT data – DataBroker is adding this real-time streaming component that is missing today. In New York, when I explained to an options trader and commodities trader they immediately got the potential for this type of sensor data to be used to anticipate moves in prices.
How does this apply to what you are doing?
We are providing the base layer to enable a wide array of use cases, not just for financial services, but for weather services, forecasting, enabling modeling and analytics. There are two levels to DataBroker: first is a raw streaming level. Secondly, whoever is buying data can enrich, clean and package raw data and resell it as a customized data set via the marketplace functionality of the platform.
Further Reading:
Part 2: Unlocking the Value of Sensor Data Through the Marketplace

Momenta Partners encompasses leading Strategic Advisory, Executive Search, and Investment practices. We're the guiding hand behind leading industrials' IoT strategies, over 100 IoT leadership placements, and 17+ young IoT disruptors. Schedule a free consultation to learn more about our Connected Industry practice.