Nov 15, 2019 | 6 min read
Pulse Check from the Venture Industrialist: October 2019
Posted by
The Momenta Team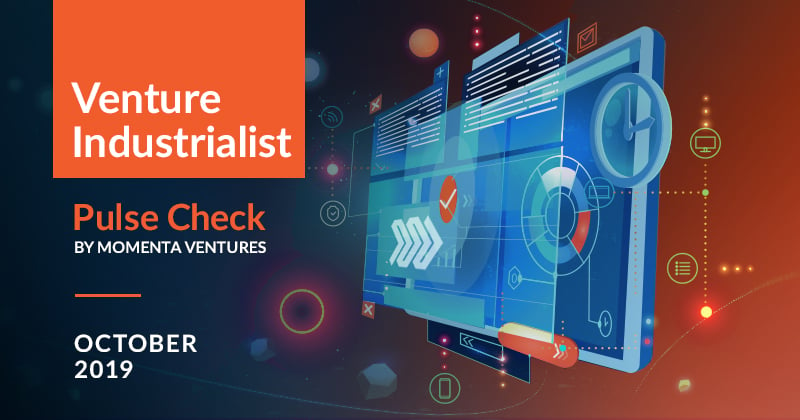 The Momenta Pulse Check series highlights recent developments in the Digital Industry. Pulse Checks are designed to help you keep track of the ever-changing and rapidly growing global Digital Industry. Our weekly Pulse Checks delve into one of four categories: Digital Industry, Emerging Technology, Talent and Ventures. In this week's Pulse Check, we have highlighted recent developments pertaining to Ventures.
This week's Pulse Check is focused on Ventures. Venture capital is integral to technological advancement and overall Digital Industry growth and we want to keep you informed of the latest investment developments. Identifying capital direction trends can provide a solid indicator of what Digital Industry areas are primed for innovation and growth.
In this Pulse Check, we highlight venture developments for enterprise IoT platforms, IoT security, and manufacturing/industrial robotics. We also elaborate on two exciting announcements from Momenta Ventures, Momenta Partners' investment arm.
Connectivity & Platforms:
Particle announces Series C investment
On October 30th, enterprise IoT suite provider Particle announced a $40 million Series C investment raise. The round was led by Qualcomm Ventures and Energy Impact Partners. Particle helps customers build out and launch their IoT infrastructures, offering an array of connectivity (cellular, Wi-Fi, mesh) and software solutions. The company advertises its platform as holistic, providing IoT hardware, connectivity, cloud, and applications.

EMnify receives Series A funding
In early October, Berlin, Germany-based IoT Connectivity management platform provider EMnify announced an investment of €8 million to completed a Series A funding round. Founded in 2014, EMnify provides software-as-a-service (SaaS) solutions for enterprise IoT and M2M, offering global coverage across 180 countries via 540 networks.
Momenta invests in Thingstream
On October 29th, Momenta Ventures announced an investment in Thingstream, a UK-based connectivity solutions provider. Thingstream's solutions support low-power, secure connectivity, with coverage in over 190 countries via 600+ carriers. Thingstream's holistic connectivity approach hastens enterprise operations by reducing costs and easing IoT device data collection, thus unlocking IoT benefits for customers. Thingstream is in the process of adding unlicensed LPWAN technologies including LoRaWAN to their offering.
As enterprises increasingly adopt IoT solutions, utilizing platforms and connectivity solutions that help ease the complex movement towards IoT and enable its efficient use is essential. These types of venture investments signify the growing business need and demand for exceptional platforming and connectivity to help realize IoT's benefits.
Security:
On October 24th, IoT security company Firedome announced a Series A investment raise of $10 million led by Two Sigma Ventures. Firedome provides IoT security software solutions for IoT manufacturers with specific focus on smart home, IIoT, and enterprise IoT. The company advertises that it can offer security prevention, detection, and response capabilities for IoT.
Cybersecurity has become a preeminent concern for IoT and general digital transformation efforts. As attacks become increasingly inevitable, solutions that are able to detect sophisticated threats and respond–like Firedome's–will prove critical to securing the entire IoT ecosystem.
io announces investment to boost secure platform
On October 22nd, Foundries.io announced it had raised a $3.5 million investment round. The funding will be used to further the development of its IoT and edge device secure management platform. Foundries.io provides end-to-end security for IoT devices and its FoundriesFactory offering delivers continuous software updating that helps ensure persistent security.
IoT capabilities and uses are continually advancing and expanding and more sophisticated security solutions are increasingly required. IoT security venture funding should grow as innovators work to develop technologies and solutions that respond to critical, rapidly evolving security needs.
Xage Security named one of the world's top 100 startups to watch by CNBC
CNBC recently released its 2019 Upstart 100 list which highlights what it has identified as the world's top 100 venture-backed startups
. Selected from a pool of 600+ nominees, these venture-backed companies have the potential to revolutionize industries and have raised a maximum of $50 million. Xage Security, a Momenta Ventures portfolio company, was listed in the Upstart list.
Industry:
Osaro raises Series B capital
In early October, Osaro, a provider of manufacturing/industrial AI/robotics, announced $16 million in funding. The Series B round was led by King River Capital. The investment will be directed towards hiring, deployment, and research & development. Through AI/ML-powered software, Osaro helps automate warehouse operations for an array of industrial enterprise types. Osaro uses this software to enable more sophisticated warehouse robotic procedures.
Industry is increasingly embracing advanced technologies and undergoing vast digital transformation. AI/ML-powered robotics can help industrial companies optimize operations as they gradually abandon legacy systems.
Momenta announces funding for Continual
On October 24th, Momenta Ventures announced an investment in connected mobility company Continual. Continual is a leading provider in connected car and subscriber analytics solutions. The company utilizes artificial intelligence (AI) and machine learning (ML) to provides MNOs and Connected Car/Device OEMs with advanced analytic capabilities. Continual's solutions suite helps MNOs and OEMs improve the customer connected journey experience.

Momenta Partners encompasses leading Strategic Advisory, Talent, and Venture practices. We're the guiding hand behind leading industrials' IoT strategies, over 200 IoT leadership placements, and 25+ young IoT disruptors.  Schedule  a free consultation to learn more about our Connected Industry practice.