Nov 5, 2019 | 4 min read
Pulse Check: Emerging Technology in October 2019
Posted by
The Momenta Team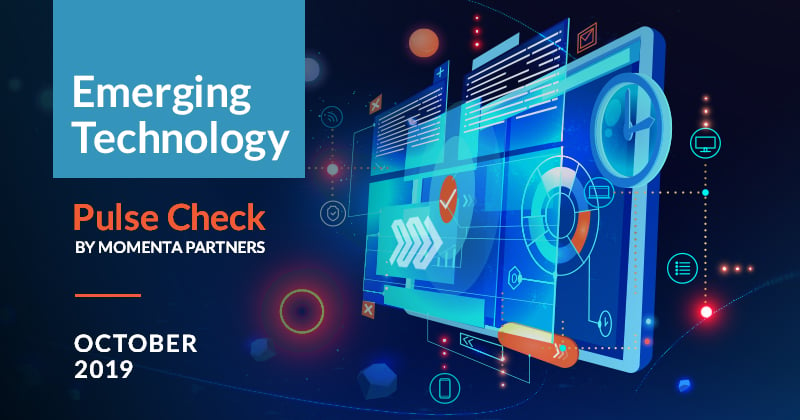 The Momenta Pulse Check series highlights recent developments in Digital Industry. Pulse Checks are designed to help you keep track of the rapidly changing and growing global Digital Industry. Our weekly Pulse Checks delve into one of four categories: Digital Industry, Emerging Technology, Talent and Ventures.
This week's Pulse Check is focused on Emerging Technology. As businesses increasingly rely on digital, we want to help you keep pace with the advancements propelling industries into the future. In this Pulse Check, we highlight several solution launches related to IoT edge connectivity. We also look at a recent partnership aimed at optimizing manufacturing operations, a new 5G-ready service, and an IoT chip announcement.
New IoT connectivity launches
On September 25th, Amazon Sidewalk, a new low-bandwidth, long-distance wireless protocol, at its annual hardware event in Seattle. The company is developing to connect all of the IoT devices in and around your house.
On October 22nd, IoT solutions and connectivity company Aeris announced the launching of its new Fusion IoT Network. Aeris describes Fusion as one of the first 5G prepared IoT solutions. The company advertises Fusion as eliminating connectivity silos, enabling technological and network flexibility. Highlighted Fusion benefits include administration optimization, seamless updating, cost reduction, and security protections as additional. Google Cloud Platform has been chosen as Fusion's infrastructure provider.
New IoT edge service launches
On October 16th, edge connectivity/as-a-service solutions provider Rigado announced the launch of its new Edge Connect Platform. Rigado advertises its new platform as providing a configurable and secure means for efficiently filtering data and transporting it from sensors/devices to physical or cloud systems.
On October 17th, IoT and M2M solutions provider Sierra Wireless announced the launch of Octave, an edge platform for industrial IoT (IIoT). Octave enables industrial enterprises to seamlessly transmit data from edge to cloud and pull, organize, and utilize equipment generated data. The service assists with industrial asset monitoring and tracking. Octave offers robust security features including an encrypted network for data transfer and edge security monitoring and updating.
On October 23rd, Verizon and SAP announced a collaborative, co-development effort for an edge data solution. The solution will combine Verizon's networking capabilities (e.g. 5G) and SAP's edge and IoT services (e.g. Leonardo IoT). The companies are aiming to create a solution that enables enterprises to process generated data immediately, providing real-time asset insight.
Efficient edge connectivity is integral to creating more sophisticated IoT ecosystems that enterprises can truly draw benefit from. The edge enables robust and actionable device/sensor data gathering and deep asset insights.
Panasonic and IBM Japan announce partnership
On October 15th, IBM Japan Ltd. and Panasonic Smart Factory Solutions Co., a subsidiary of Panasonic Corporation, announced a partnership to launch a high-value-added system to enhance semiconductor manufacturing processes. The co-developed system will provide data analysis and help manufacturing companies enhance the overall equipment effectiveness (OEE) of semiconductor manufacturing operation. Benefits that will be provided include engineering process reduction, product quality stabilization, and overall manufacturing efficiency.
Technological collaboration between prominent companies is a boon for digital innovation. Given its reliance on legacy technologies, manufacturers are ripe for drastic digitalization and similar partnerships will help bring about the industry's digital overhaul.
Qualcomm Technologies to develop chip for Azure Sphere IoT
On October 15th at its 5G summit in Barcelona, Qualcomm Technologies Inc., a subsidiary of Qualcomm, announced it would be developing the first cellular chip optimized and certified for Microsoft Azure's IoT dedicated Sphere. Security is key to the chip, with Qualcomm Technologies emphasizing its hardware-level security and automatic connectivity to Azure Sphere security cloud services.
Chips are integral to making things "smart", and enhancements like this help drive the IoT ecosystem forward. While this chip is designed specifically for Azure, if successful, its specifications could perhaps be utilized in future developments.

Momenta Partners encompasses leading Strategic Advisory, Talent, and Venture practices. We're the guiding hand behind leading industrials' IoT strategies, over 200 IoT leadership placements, and 25+ young IoT disruptors.  Schedule  a free consultation to learn more about our Connected Industry practice.