Dec 12, 2019 | 6 min read
Pulse Check: Digital Industry
Posted by
The Momenta Team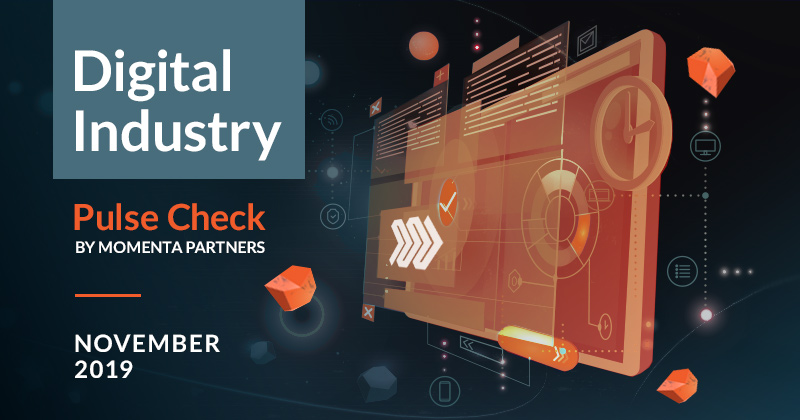 Momenta Partners' Pulse Check series highlights recent and notable Digital Industry developments. Our weekly Pulse Checks are designed to help keep you abreast of the persistent evolving trends within the global Digital Industry. As enterprises increasingly embrace and rely on digital, we want to help you keep pace with the innovations and occurrences propelling entire industries into the future.
In this Digital Industry Pulse Check, we highlight a notable Wi-Fi 6 trial, a new report on IoT in manufacturing, the FCC's recent proposal, and notable venture developments.
The Wireless Broadband Alliance completes Wi-Fi 6 trial
On December 5th, the Wireless Broadband Alliance (WBA) announced that it had successfully conducted a phase one Wi-Fi 6 infrastructure and services trial at the Mettis Aerospace factory in the United Kingdom. Founded in 2003, the WBA is a global consortium of wireless operators and technology providers that seeks to help in Wi-Fi's continued advancement while working to optimize Wi-Fi user experience.
The trial successfully evaluated several significant Wi-Fi 6-enabled uses including 4K video, large-scale file transferring, messaging, voice & video communication, IoT sensors, and mixed reality. Low latency operations were strong with recorded speeds at 700 Mbps over a 80 MHz channels. According to the WBA, the trial demonstrated Wi-Fi 6's readiness for challenging industrial environments and its capability to deliver machine monitoring and optimization, downtime reduction, and factory floor communications. It is worth noting that previous Wi-Fi tests in the same setting had failed.
Wi-Fi 6 is based on the IEEE 802.11ax standard and has potential to be a key facilitator of IoT proliferation. Wi-Fi 6's lower battery consumption capabilities are touted as especially beneficial to IoT. The Wi-Fi Alliance announced the rollout of its Wi-Fi Certified 6 standard in September. The successful factory testing signifies that the potential of IoT in industrials has yet to be fully realized, with increased possibilities potentially forthcoming.
A recent study forecasts significant growth in manufacturing IoT
A recently released report from Fortune Business Insights has predicted massive growth in the manufacturing IoT market over the next several years. The study estimates that the manufacturing IoT market will increase to $136.83 billion by 2026, which represents a sharp rise over their 2018 estimate of $27.76 billion. The study further forecasts that predictive maintenance solutions will lead manufacturing IoT market share.
New Federal Communications Commission (FCC) proposal for 5.9 GHz band
On November 20th, FCC Chairman Ajit Pai announced a proposal to reallocate spectrum within the 5.9 GHz band. In 1999, the FCC allotted 75 megahertz in the 5.9 GHz band specifically for Dedicated Short-Range Communications (DSRC). However, despite the initial promise of DSRC as a key enabler of vehicle communications, according to Pai, DSRC has been minimally adopted and slowly developed. As a result, Pai's proposal entails the FCC allocating the lower 45 MHz of the 5.9 GHz band for unlicensed mediums such as Wi-Fi. The upper 20 MHz will be appropriated to a new 5G-friendly automotive communication technology called Cellular Vehicle to Everything (C-V2X). Upon releasing the proposal, the FCC had yet to decide on how the remaining 10 MHz would be used.
Following the announcement, disparate reactions were expressed by stakeholders. The U.S. Department of Transportation released a statement highlighting its preference for all 75 MHz to remain dedicated to transportation safety communications while several automotive associations also voiced displeasure. Conversely, the 5G Automotive Association (5GAA), a consortium of connectivity/network providers and automotive companies, lauded the proposal for its commitment to C-V2X. The ongoing proposal debate and its subsequent outcomes will undoubtedly have ramifications on the development of the connected vehicle space.
Chrysalix Venture Capital announces second close for fund
On December 5th, Chrysalix Venture Capital announced a second close for its global RoboValley fund. The fund invests in early-stage companies creating technologies for intelligent systems, resource productivity, and environmental solutions. Focus sectors include chemicals, construction, energy, manufacturing, mining, and mobility. As a result of this close, the fund is nearing its goal of $120 million.
Fund investors are diverse and include a mix of Fortune 500 companies, family offices, financial institutions, and universities. Notable fund participants include Caterpillar Inc., Hyundai Motor Company, Mitsubishi Corporation, and PETRONAS.
IOTech Systems receives Series A Funding
On November 19th, IOTech, an Edinburgh, U.K.-based IoT/edge platform company announced it had raised $7.5 million in Series A funding. The round was led by Dell Technologies Capital. The investment will help IOTech expand its operations internationally and enhance its product delivery.
IOTech was founded in 2017 and provides real-time edge solutions for industrial IoT (IIoT). The company is a member of Linux Foundation's EdgeX Foundry open source platform for IoT edge computing.

Momenta Partners encompasses leading Strategic Advisory, Talent, and Venture practices. We're the guiding hand behind leading industrials' IoT strategies, over 200 IoT leadership placements, and 25+ young IoT disruptors.  Schedule  a free consultation to learn more about our Connected Industry practice.