Jun 2, 2020 | 5 min read
Momenta's Take #6
How Robots Keep Humans Healthy in the Pandemic
Posted by
The Momenta Team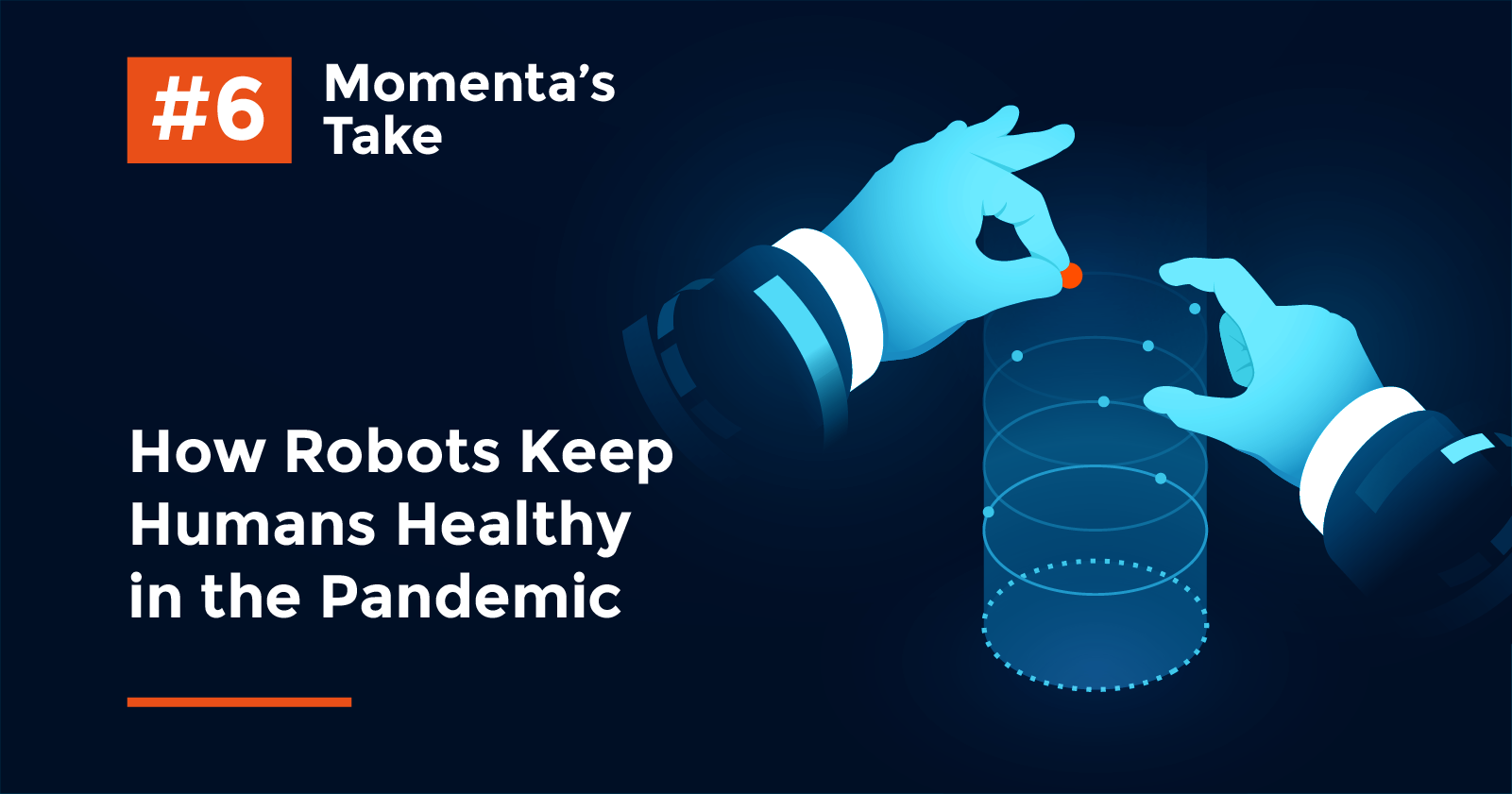 It's no secret that robotics and AI have been prominent themes for industries looking to adopt digital business practices in recent years. Notably, the pace at which many manual tasks were being replaced by machines led to widespread concerns that technological unemployment could create significant economic headwinds in the years to come. As the COVID-19 pandemic began to spread across the globe, it became clear that robotics could play a key role helping to contain the spread of the novel coronavirus by maintaining social distancing.
In late March, a group of leading robotics scientists published an editorial in ScienceRobotics calling for increased funding and research into different ways that robotics could help with the pandemic: "Robots have the potential to be deployed for disinfection, delivering medications and food, measuring vital signs, and assisting border controls. As epidemics escalate, the potential roles of robotics are becoming increasingly clear… COVID-19 could be a catalyst for developing robotic systems that can be rapidly deployed with remote access by experts and essential service providers without the need of traveling to front lines." The sentiment has ben taken to heart across the board, with a broad rush to develop and deploy robots in different ways.
Using robots to disinfect hospitals
One of the most risky but essential tasks in the pandemic has been to keep hospitals and other health care facilities clean and disinfected. One of the most innovative ways to accomplish this with minimal human involvement has been through autonomous/remote controlled disinfecting robots. Danish firm UVD Robots makes that can disinfect patient rooms and operating theaters in hospitals. Each robot employs a mobile array of powerful short wavelength ultraviolet-C (UVC) lights that emit enough energy to literally shred the DNA or RNA of any microorganisms exposed to them.
Assisting nurses in critical tasks
Nursing is the most physical-contact intensive role in health care, and robotics are helping carry out mundane tasks while freeing up nurses to focus on the personal interactions of care. The TUG robot and the RoboCourier provide hospital transport of medical devices, drugs, laboratory specimens or sensitive supplies, carrying racks, carts or bins to nurses while saving time. Robotics and AI are even automating the drawing of blood, or making phlebotomists' jobs easier. Blood-drawing robots like Veebot can automate the entire process, while or vein scanners such as VeinViewer or AccuVein reduce the whole process of drawing blood to about a minute.
Keeping children and educators safe in schools
One of the big challenges for schools in the pandemic is managing the safety of students and teachers meeting in person in large groups. There are a number of ways that robotics are helping with this. RobotLab has developed robots that help in three ways – by checking for fever at the school entrance and alerting staff if a deviation from standards is found; educating and demonstrating best practices and positive hygiene in an interactive way, and cleaning and disinfecting classrooms, common spaces, and high-traffic areas like door handles and lockers.
Delivering supplies in critical areas
Robotic delivery vehicles and Unmanned Aerial Vehicles (UAV) can help reduce the load on overstressed logistics networks while reducing person to person contact. Startup Nuro has developed autonomous pods that can deliver medical supplies, controlled by a remote operator to give healthcare workers access to the payload. Drones from startup Zipline are transporting COVID-19 tests in Ghana. Alphabet's drone division Wing has been testing a delivery services in Virginia, while drone startup Skydio has been doing highway bridge inspections in Ohio, keeping workers safely distanced from one another. The startup Refraction is testing self-driving robots in Michigan that are making 50 to 100 deliveries a day.
Enforcing social distancing restrictions
One of the innovative uses of drones and robotics has been to enforce social distancing restrictions. Police agencies are increasingly relying on drones to perform policing while socially distancing. In recent weeks, several law enforcement agencies have unveiled drones that broadcast announcements at parks, beaches and homeless camps to enforce stay-at-home orders and social-distancing guidelines. In Italy, police use drones to check on citizens who have tested positive for COVID-19. Police in India use drones to track large gatherings and monitor narrow roads that police cars can't reach. Drones flying over beaches broadcast health warnings in France.
It's becoming clear that the COVID-19 pandemic has accelerated the adoption of robotics, UAVs and drones in myriad scenarios – and what's emerging is that robotics are empowering humans rather than replacing their jobs at this point. Watch the impact of robotics to touch additional industries as countries around the world look to go – safely- back to work.

Momenta Partners encompasses the leading Strategic Advisory, Talent, and Venture practices for Digital Industry. We're the guiding hand behind leading industrials' IoT strategies, over 200 IoT leadership placements, and 40+ young IoT disruptors.  Schedule  a free consultation to learn more about our Connected Industry practice.