Feb 27, 2020 | 4 min read
Digital Industry Pulse Check #13
Posted by
The Momenta Team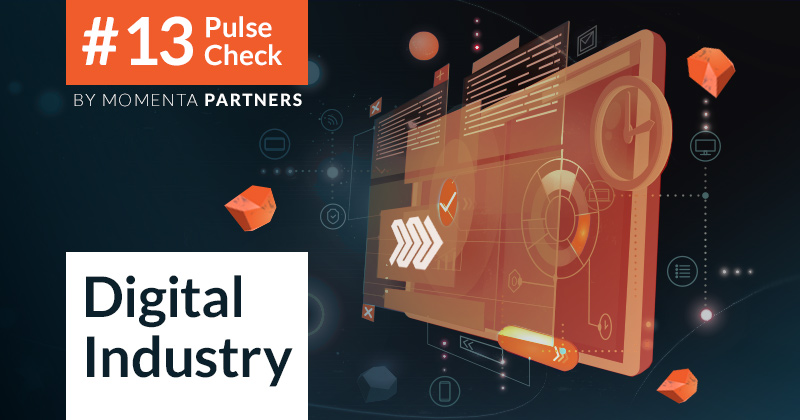 Momenta Partners' Pulse Check series highlights recent and notable Digital Industry developments. Our monthly Pulse Checks are designed to help keep you abreast of the evolving trends within the global Digital Industry. As enterprises increasingly embrace and rely on digital, we want to help you keep pace with the innovations and occurrences propelling entire industries into the future.
In this Digital Industry Pulse Check, we look at a recently released IDC forecast, a network launch from U.S. Cellular, and two new notable investment raises.
SentinelOne receives Series E investment
On February 19th, endpoint security provider SentinelOne announced it had raised $200 million in a Series E investment. The round was led by venture capital and private equity firm Insight Partners and the investment pushed the company's valuation to $1.1 billion. SentinelOne has more than 3,500 global customers.
SentinelOne's platform offers a robust set of security features that provide threat prevention, detection, response, and remediation. SentinelOne Ranger, the provider's IoT security product, offers comprehensive protection by turning endpoints into threat detection and defend sensors. As IoT usage continues to grow, so too will the number of connected endpoints and sensors, underscoring the need for dedicated and robust security.
IDC releases smart cities forecast
IDC recently released a spending guide wherein it estimated that $124 billion would be spent globally on smart cities in 2020. The figure represents a 18.9% increase over 2019 spending. According to IDC, energy and infrastructure – driven by smart grids – accounted for one-third of smart city use cases.
IDC further estimates that public safety is predicted to represent 18% of total spending and that transportation will account for 14%. Spending originating in the United States, China, and Western Europe is expected to represent 70% of the total with Latin America and Japan experiencing fastest spending growth.
FogHorn announces Series C raise
On February 25th, industrial edge intelligence provider FogHorn announced it had received a Series C investment of $25 million, bringing the company's total amount raised to $72.5 million. The round was led by Korean industrial giant LS Corp. and included investments from Intel Capital, Dell Technologies Capital, Saudi Aramco Energy Ventures, GE Ventures, Honeywell Ventures, Robert Bosch Venture Capital, March Capital Ventures, and Darling Ventures. According to FogHorn's CEO, the investment round will help with the company's growth in east Asia.
FogHorn provides edge intelligence software for industrial and commercial IoT applications. The provider advertises its solutions as ideal for OEMs, systems integrators, and customers operating in various industrial sectors. The company provides two primary products: Lightning Edge AI and Lightning Mobile.
For industrial enterprises, edge computing offers key capabilities that can greatly improve operational efficiency. Data generated from assets can be more seamlessly and accurately analyzed at a "local" level. Investments in industrial edge should be expected to increase in the near future as the technology's benefits become more apparent and implementation becomes more widespread.
U.S. Cellular launches LTE-M network
On February 7th, U.S. Cellular announced that it had launched its LTE-M network across over 90% of its cell sites. The provider touts its LTE-M network as ideal for asset and fleet management, smart metering, and tank monitoring IoT solutions. U.S. Cellular anticipates that all of its cell sites will be LTE-M-enabled by Q2 2020.
Low power wide area network (LPWAN) connectivity is necessary for large-scale IoT operations, and LTE-M cellular networking – a type of LPWAN – is a key enabler of IoT's increasing capabilities and proliferation. For U.S. cellular (the United States' fifth-largest carrier) the network launch is undoubtedly essential to establishing any kind of competitive positioning in the domestic IoT services market, especially given the IoT undertakings of its large rivals.

Momenta Partners encompasses leading Strategic Advisory, Talent, and Venture practices. We're the guiding hand behind leading industrials' IoT strategies, over 200 IoT leadership placements, and 25+ young IoT disruptors.  Schedule  a free consultation to learn more about our Connected Industry practice.