Nov 1, 2020 | 5 min read
Digital Insights Newsletter: November 2020
Rounding the Corner – Beyond the Pandemic into the Roaring 20's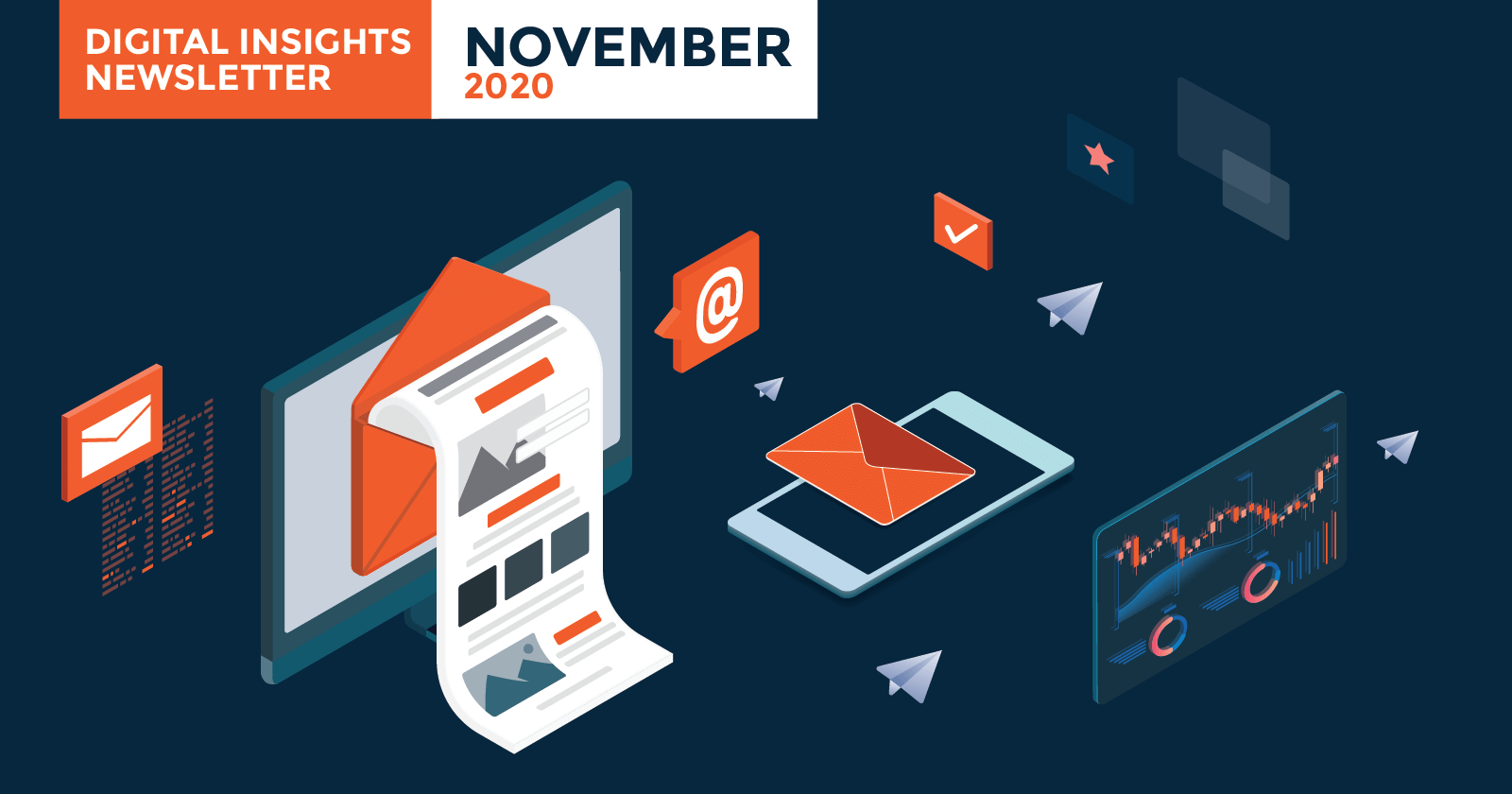 In late October 2020, we're headed into cold-weather season in the Northern Hemisphere with a resurgence of new cases of COVID-19 in Europe and the U.S. The imminent availability of vaccines and new therapeutics are boosting confidence that the pandemic is increasingly manageable given appropriate precautions, though it's unlikely there will be any sudden loosening of restrictions either way.
Travel restrictions still remain across the developed world, and further, there are signs that the long-anticipated "second wave" is already fueling new restrictions on gatherings. Germany and France have announced new closures of bars and restaurants, and it appears we are headed for a new round of lockdowns across Europe and the UK. While conditions differ across the US, it's likely that states are not likely to backtrack in meaningful ways heading into the winter. Financial markets have been anticipating a solid recovery in fundamentals, but uncertainty over additional stimulus has resulted in additional choppiness.
The US Presidential election is currently dominating news cycles, and there will be significant ramifications for businesses depending on which candidate wins. Industries that could face meaningful impact from policy changes include oil and gas, manufacturing, semiconductors, and agriculture. Travel, entertainment, and hospitality-related businesses are not likely to see any sudden shifts of fortune, so it's prudent to assume current conditions will be the status quo.
The "newest normal" of the past several months is likely to persist well into 2021 and beyond, so businesses need to plan accordingly. What does this mean for Digital Business? Ultimately the pandemic will pass, and it will be critical to staying focused on the secular trends that will define the hyperconnected "Roaring 20's". 5G is already expected to accelerate the adoption of Industrie 4.0 initiatives across the manufacturing sector, according to a recent paper Digital Transformation in Manufacturing: Key Insights & Future Trends from the Industrial Internet Consortium.
Digital transformation continues to accelerate, as businesses across all sectors ramp up. Microsoft's recent IOT Signals Report surveyed 3,000 decision-makers and found that enterprise IoT adoption surged in the last year from 85% to 91%, as businesses move from exploratory to more mature stages of projects. The effects of the pandemic appear to be more than offsetting the economic disruption, with 31% of enterprises increasing their investment in IoT due to Covid-19, twice as many as those decreasing investment. Vodaphone's 2020 IoT Spotlight report found that that 78% of the 1,639 businesses surveyed responded that IoT was key to maintaining business continuity during the pandemic. 62% of respondents believe that organizations that fail to embrace IoT will have fallen behind within five years. Digital investment continues to soar, with the number of hyperscale data centers tripling since 2013.
With Digital Business adoption showing no signs of slowing, cybersecurity remains a paramount priority for organizations of all sizes. Breaches and hacks remain a constant backdrop, but initiatives by Microsoft and other firms to address Machine Learning threats are helping to stay ahead of emerging challenges. While the near-term challenges remain, there's no doubt that solid underlying economic fundamentals provide great opportunities for organizations that embrace Digital Business initiatives ahead of the competition.
The "newest normal" of the past several months is likely to persist well into 2021 and beyond, so businesses need to plan accordingly. Choices made now can strengthen your company's competitive position when the crisis subsides.
There has been an incredible development in the sophistication of channel strategy as so much of today's technology sector is based on complex solution selling.
Join Momenta's Strategy Partners and their guest, Keith Shea, Advisor Corporate Development from Lynx Software Technologies as they discuss the best practices for successfully creating and executing a partner and channel strategy program for Digital Industry.
Momenta delivers digital innovation, growth and leadership across energy, manufacturing, smart spaces and supply chain. As deep Digital Industry Practitioners, we can help you grow in ways no other company can through one-stop advisory, M&A, executive search and venture capital services. Feel free to schedule a call to explore your company's digital potential.