May 17, 2021 | 5 min read
Digital Insights Newsletter: May 2021
Rebound Pains Drive Innovation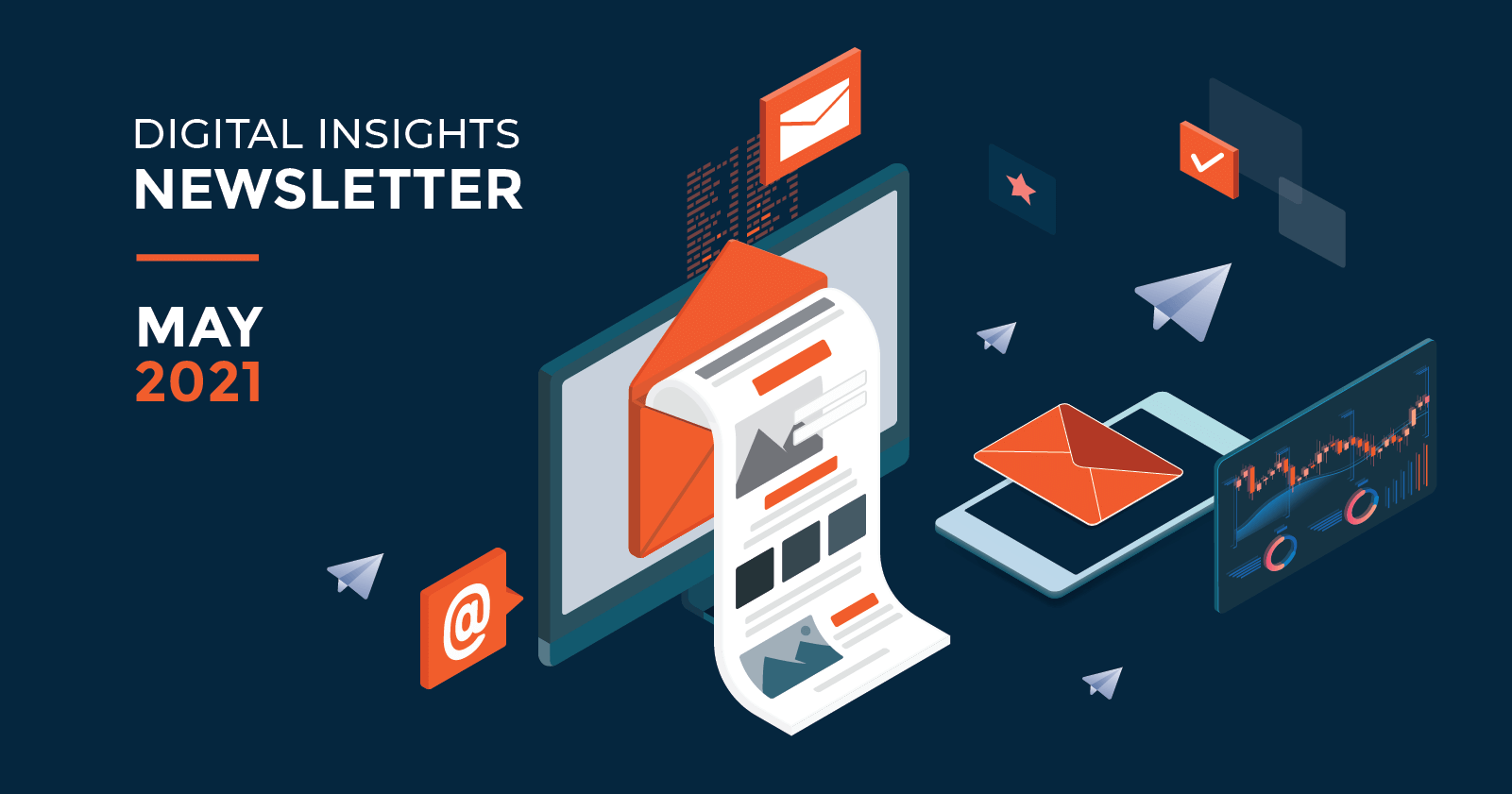 Rebound into Growing Pains
As of mid-May 2021, the rebound from the pandemic is in high gear in the U.S., with Western Europe following close behind (although India is tragically struggling through a terrible wave of variant infections). The financial markets, as usual, have anticipated a robust recovery while capital markets activity remains active.
The first quarter of 2021 saw record-breaking capital raises from IPOs across the globe, with enthusiasm for SPACs continuing unabated. Resurgent enthusiasm for all things crypto has recalled the most recent mania of 2017-2018, with prominent market strategists cautioning of a "speculative fever" gripping the markets. Nearly half of American adults have been fully vaccinated, and consumers flush with savings are increasingly looking to splurge on new purchases.
However, with the positive outlook for business prospects come multiple challenges from the powerful snapback in demand. Businesses are finding it increasingly difficult to find new employees, and manufacturers are facing critical shortages from semiconductors to components to composite materials – creating production delays in automobiles, building materials, and consumer goods (though no shortages of toilet paper this year!). The combination of short supply and fiscal stimulus is driving the highest rates of inflation for housing, energy, and consumer goods in years.
Inflation Rears its Head – What Does this Mean?
In April, the Consumer Price Index in the U.S. increased by 4.6%, with the global semiconductor shortage behind the surging prices for used cars – up a record 10% from March – with rental car costs nearly doubling. Food prices have increased 10-20% for some staples, and lumber has increased almost 400% over the past year. Housing prices have grown so much that they offset the increasing purchasing power of low-interest rates – with tight housing supply expected to last well into 2022. For consumers, this means cutting back on purchases or digging deeper into savings. Still, businesses will need to incorporate rising prices into their planning – how they price their products and services, what types of hedging they can use to protect themselves. While the Fed expects the "transitorily hyperinflationary" landscape to be temporary, there's no guarantee that prices will deflate.
Constraints Create Openings for Innovation
With a tight labor force, supply shortages, rising prices, and various, sundry disruptions emerging (such as the Colonial Pipeline hack and Suez Canal blockage) – this creates opportune conditions for imaginative innovations. While the challenges of the pandemic compelled rapid innovations around healthcare delivery, therapeutics and vaccine development, telework, and other areas needed to address the extraordinary demands of COVID-19, the shortages spawned by the robust recovery are helping to drive powerful new waves of innovation.
There is a new generation of investment in battery technologies challenging natural gas as a power source. Vistra Corp., which owns 36 natural-gas power plants, doesn't plan to buy or build anymore and instead is investing over $1 billion in solar farms and battery storage units in an effort to avoid becoming "the next Blockbuster Video." The semiconductor shortage is driving hardware companies to innovate around both the constraints of a supply chain dependent on a few manufacturers of components and facing the limits of Moore's Law – and this has engineers looking at ways to reduce the number of components and move more functionality into software. Manufacturers are looking at ways to incorporate embedded computer vision on the factory floor.
Standards are also advancing in connected industry – with tech giants Apple, Google, and Amazon collaborating on the new Matter standard focused on secure smart home devices. IoT security is a vast area of focus across the industry, with multiple initiatives underway to improve baseline security for connected devices. The rollout of additional new standards from the LoRa Alliance should help to accelerate the deployment of larger scale Industrial IoT deployments.
Innovation is often the child of mothers of invention – driven by necessity. But as always, we're part of interesting – and exciting times – as we invest in and build the world ahead.
---
Momenta is the leading Digital Industry venture capital firm accelerating digital innovators across energy, manufacturing, smart spaces, and supply chain. Led by deep industry operators across its venture capital, strategic advisory, and executive search practices, Momenta has made over 50 investments, with notable exits to SAP, PTC, and Husqvarna Group. Feel free to schedule a call to explore your company's digital potential.