May 18, 2021 | 3 min read
Annoucement
Momenta expands Investment in Edge Impulse, participating in $15M Series A Round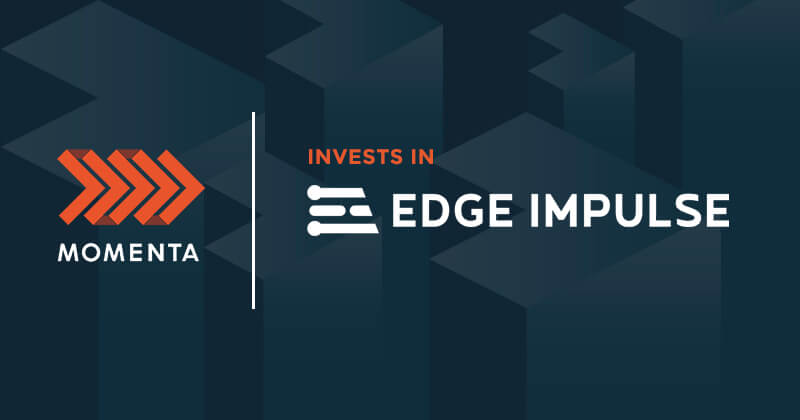 Momenta and fund partner Advantech are pleased to announce an additonal investment in Edge Impulse, the leading platform for developing intelligent devices using embedded machine learning.
The $15m Series A Round is led by Canaan Partners, along with return backers Acrew Capital and Fika Ventures, and welcoming Knollwood Investment Fund.
Since Momenta's Seed Round investment, founders Zach Shelby and Jan Jongboom have cemented Edge Impulse's position as the standard for edge intelligence. Over the last year, they've supported over 20,000 projects built on their easy-to-use and extensible platform. With a deep experience base in embedded intelligence, they can work across the smallest of processors up to higher performance devices like the recently announced NVIDIA Jetson Nano.
Momenta believes embedded machine learning represents a step-change technological shift in sensing capabilities. Edge Impulse enables developers to add these capabilities to their Digital Industry applications, making Digital Transformation rollouts across industry more intelligent, easier to implement, and more cost-effective.
Today, almost 99% of sensor data goes unused given the cost to transmit this back to applications. Edge Impulse solutions leverage all sensor data by reading and processing these at the edge, making intelligent decisions, and transmitting back outcomes and actions. Recently at the TinyML Summit 2021, Momenta Principal Lee Carter was joined by Zach and Michael Azoff of Kiasco Research to discuss the Market Opportunities in TinyML.
Jerry O'Gorman, Head of Industrial IoT for Advantech North America, writes "Edge Impulse brings truly powerful machine learning capability even to resource-constrained edge devices. This will be a game-changer for the proliferation of smart sensing and effective AI at the edge. As the leading developer of intelligent IoT systems globally, Advantech sees adding intelligence to constrained devices as a strong market enabler for all of Industry 4.0".
"We are on a mission to enable all developers and engineers to make use of machine learning on embedded compute," says Zach Shelby, Co-founder and CEO of Edge Impulse, "unleashing data-driven engineering value across industrial, logistics, infrastructure and health."
This is the first investment from Momenta's AIoT Ecosystem Fund, a $50M target fund launched in partnership with Advantech, the global leader in industrial PCs. Aimed at early growth stage companies at the intersection of Artificial Intelligence (AI) and the Industrial Internet of Things (IoT). The AIoT Ecosystem Fund delivers venture capital investment and direct value creation to innovators in North America and Europe.
About Edge Impulse
Edge Impulse is on a mission to enable developers to create the next generation of intelligent devices using embedded machine learning in industrial, enterprise, and human-centric applications. Machine learning at the very edge will enable valuable use of the 99% of sensor data that is discarded today due to cost, bandwidth, or power constraints. The founders believe that machine learning can enable positive change in society and are dedicated to supporting applications for good. Sign up for free at edgeimpulse.com.
__________
Momenta is the leading Digital Industry venture capital firm accelerating digital innovators across energy, manufacturing, smart spaces and supply chain. Led by deep industry operators across its venture capital, strategic advisory and executive search practices, Momenta has made over 50 investments with notable exits to SAP and PTC.
Schedule a short call to learn more about our Digital Industry Venture practice.