Aug 10, 2021 | 5 min read
Momenta's Take #38
Industrial Tech Investment Rebounds
2021 The best year yet for Venture Capital!
Venture Capital investment in industrial technology has not reached the scope, scale, and valuation of hot growth sectors such as e-commerce and biotech, but in the wake of the global pandemic, the importance of industrial automation and related innovations is seeing a resurgence of investor interest.
According to Crunchbase, venture capital flowing into industrial automation space this year has already topped $1.4 billion in 104 funding deals, positioning the pace of investing to exceed last year's $1.7 billion in funding in 191 deals.
So far, 2021 is on track to be the best year for the sector since there was more than $2 billion in venture investment in 2016.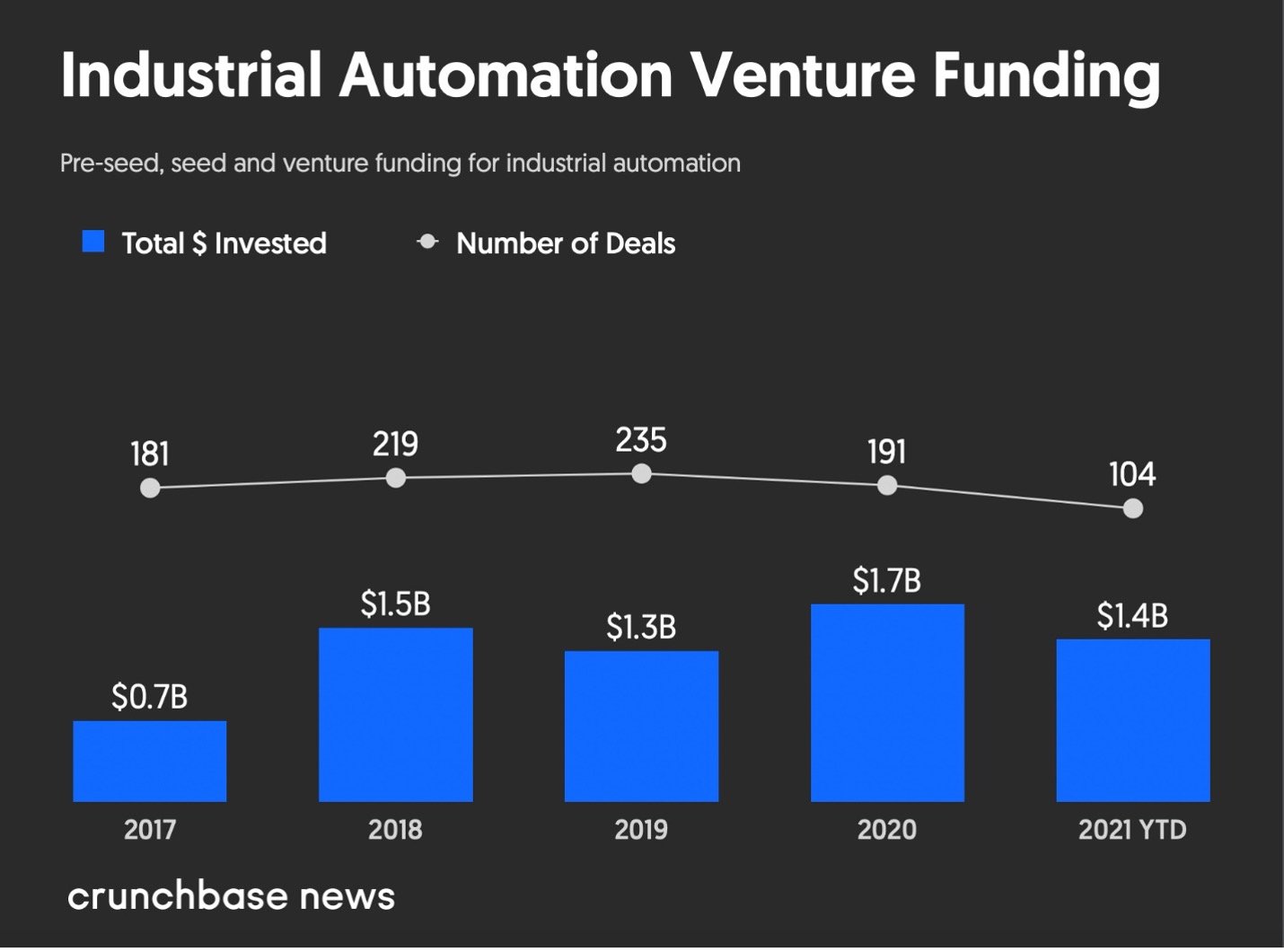 Historically, the adoption of industrial technology innovations tended to ramp slowly, as the fundamental ethos of operational technology is reliability and resiliency (which is why it's not uncommon to find control systems and protocols that are decades old). Adding IT to operational tech has been a deliberate process, with the biggest challenges coming from distinct cultures of OT and IT.

As Businesses Open Wallets, VCs Funding Follows
The pandemic was a catalyst to accelerate Digital Transformation and Digital Business initiatives. The combination of supply chain disruptions and workforce challenges has fueled corporate interest in automation solutions, resulting in growing deal pipelines for startups – and boosting confidence of VCs and private equity investors. There are several key areas of investment in industrial technology: data analytics, autonomous operation. Robotics and Supply Chain, and the size of investment rounds are getting larger. An analysis by Baker Tilly finds that the investments in industrial automation raised in different funding rounds has increased by 800% over the past five years. Notably, the amount raised has grown, and the number of rounds, indicating the sector is not stagnating in maturity but is still in a growth phase.

In early August, Third Wave Automation (specializing in autonomous technology focused on revolutionizing the warehouse forklift) closed a $40 million Series B investment. Berlin-based freight-forwarding company Sennder raised a $160 million Series D in January. In May, Norway-based industrial IoT data platform Cognite closed on a $150 million Series B. Wilmington, Massachusetts-based warehouse robotics company Locus Robotics announced a $150 million Series E in February. In June, MachineMetrics, an industrial data startup that elevates manufacturing performance through autonomous machining, has raised $20 million in Series B financing.

Exits Fuel Interest in New Companies
2021 has also seen a healthy pickup in industrial M&A. Agriculture equipment giant John Deere announced the acquisition of Bear Flag Robotics in early August for $250 million, the second major robotics acquisition since it acquired Blue River Technology in 2017. In June, Hyundai completed the $880 million acquisition of a controlling stake in Boston Dynamics, the robotics company best known for its staggeringly capable robots designed to mimic the motions of humans and animals. In June, Zebra Technologies announced the $290 million acquisition of Fetch Robotics, a developer of autonomous mobile robots for logistics.
Momenta's Take -
Investing for the Future
Momenta Ventures has been focused on early-stage investing in companies that address critical pain points in key industrial sectors, including energy, transportation, smart spaces, and manufacturing. Recently Momenta was included as one of the top Switzerland-based Venture firms of 2021. With decades of practitioner experience, the Ventures group applies perspective informed by working to scale and transform industrial businesses with the declining cost of computing, storage, and communications, the increasing power of analytics, AI. Machine Learning techniques, the capital efficiency of seeding and growing a startup has never been so favorable. The historic reticence of traditional industrial firms to embrace disruptive changes has been shaken loose by the pandemic, and now the deliberate intent to embrace Digital innovation is driving new demand for startups – and investors. As a specialist in identifying promising Digital Industry startups and entrepreneurs, Momenta Ventures views the surge of interest in the space as encouraging validation of our core investment thesis.

Momenta encompass leading Strategic Advisory, Talent, and Ventures practices with over 250 IoT leadership placements, 150 industry clients, and 50+ young IoT disruptors in our portfolio.  Schedule  a free consultation to learn more about our Digital Industry practice and services.