Oct 29, 2020 | 4 min read
Digital Industry Insight #40
How Technology is Shaping Leadership Roles of the Future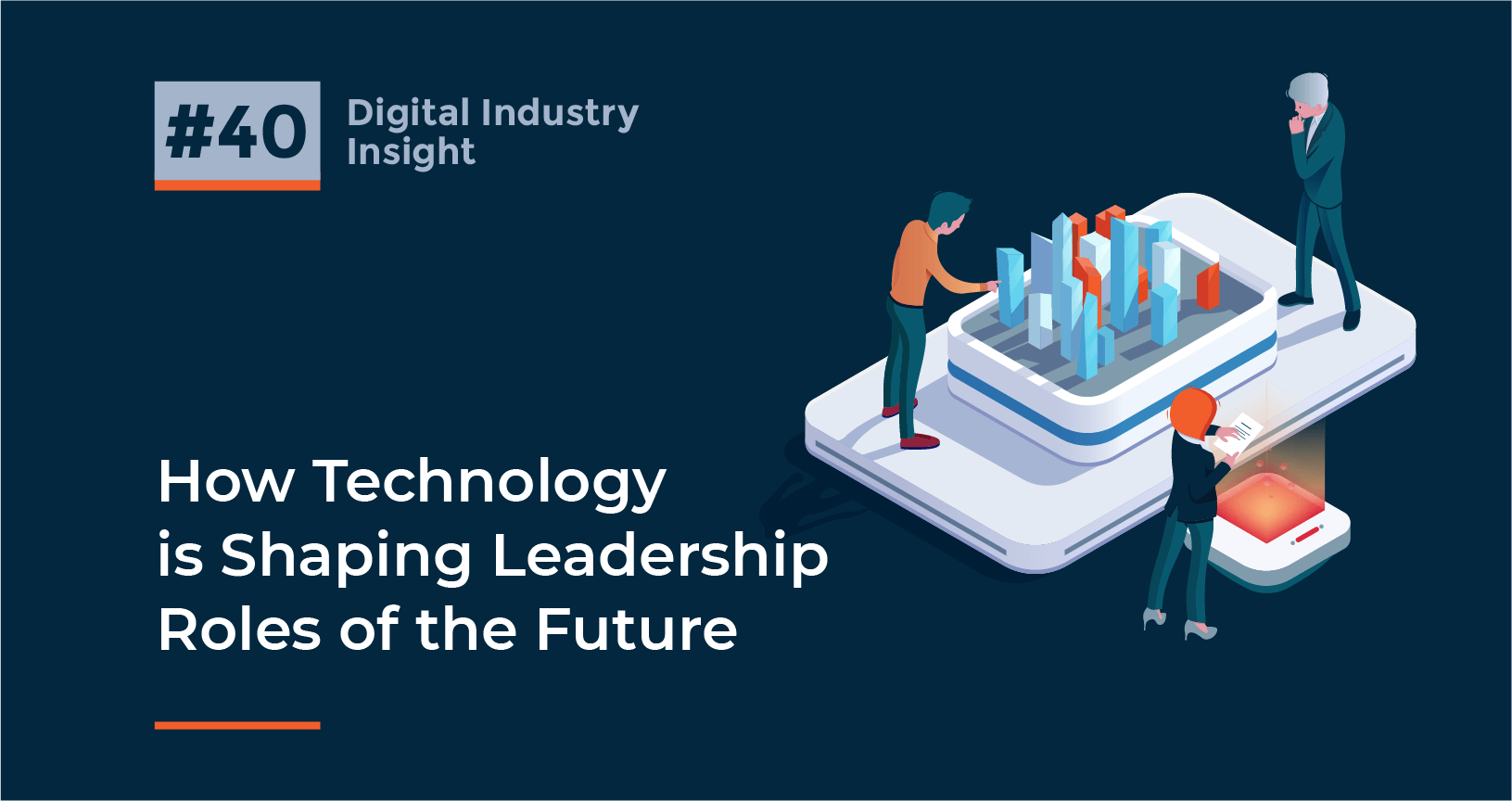 Technology plays a powerful role in shaping how we interact, how we live, work and connect with one another. Ever since the emergence of the personal computer in the 1980s, the role of technology in the workplace has gained a greater role in business from operations to front office to senior management. With the evolution of mobility, collaboration technologies and advanced analytics, workers and managers can be more productive and more effective than ever. The rapid pace of technology innovation is a boon to users, but an ongoing challenge for organizations, and particularly for leaders to stay ahead of the curve.
The most successful global leaders understood how to leverage technology in managing the business and leading people. Technology can help to build teams and track progress across divisions and geographies. With an emerging arsenal of connected devices, artificial intelligence, and cloud services, there is a greater ability for distributed and remote teams to collaborate efficiently and drive successful results.
Leaders in today's most successful organizations need to stay on top of technological advances and use them effectively to drive results. Some key tech tools and trends utilized most effectively are:
Analytics and Performance Management


Ever since Tom Davenport's book Competing on Analytics, leaders in business across all industries have been embracing business analytics technologies. The technology has evolved from the Executive Dashboard systems of the 1990s to today's big data-driven applications.

There is now more data available than ever generated by activities of people in the business, and aligning understanding of data with business context and analytical tools is critical to drive competitive advantages.
Operational Visibility


The ongoing trend of digitalization means that an increasing number of paper-based and manual processes become digital, and the rise of IoT technologies (sensors, low-power connectivity and cloud computing) mean that businesses can track, analyze and manage processes across the supply chain, on the factory floor, and across remote facilities.

The COVID pandemic of has been a catalyst to accelerate many digitalization initiatives, and effective leaders should be well versed in the capabilities and potential of new tools and applications.
Distance Collaboration


In the recent past, real-time collaboration was practical only in person or over the phone – with exchange of documents through emails or portals often clunky and unreliable. The COVID-19 pandemic has propelled Zoom meetings into the forefront of business and education – but there are advantages and disadvantages to collaboration technologies. Effective leaders need to know how to manage the shortcomings of remote conferencing to drive the most productive use of time. Additionally, it is incumbent to take advantage of the range of collaborative platforms such as Microsoft Teams, Slack, Atlassian and many others to match the best technology to the circumstances.
Remote Workforce




Related to collaboration is the availability of remote workforce tools and platforms.

VPNs and remote access platforms such as Citrix have been around for decades, but what had been used mostly for contingencies in case of disruption is now foundational to daily business.

Effective leaders understand how to work with a remote workforce, and how to use communications tools to manage projects and people together.

Strategic Vision -

Communications and Amplification


With the explosion of communications mediums such as mobile, text, social media, email and other electronic channels, leaders need to be able to leverage the best approach for the message.

Communicating the strategic goals is critical to align the organization to common purpose, and with the distributed nature of pandemic-era work, the successful leader will learn how to best make use of the right tools at the right times.
We've barely touched on the vast array of technologies at the disposal of workers and managers today, but what doesn't change is the need for effective leaders to stay informed and up to date with how the ever increasing tools and applications at our disposal can be used most effectively to drive growth, operational effectiveness and motivated teams.

Momenta is the leading Digital Industry retained Executive Search firm delivering impactful leadership across energy, manufacturing, smart spaces and supply chain. We have placed more than 200 leaders globally in Fortune 100's and venture-backed startups, including digital leadership roles at Hitachi, United Technologies and C3.ai. Let's connect and discuss how Momenta can help you take your business to the next level.