Sep 8, 2020 | 3 min read
Momenta Ventures Invests in Pulse Industrial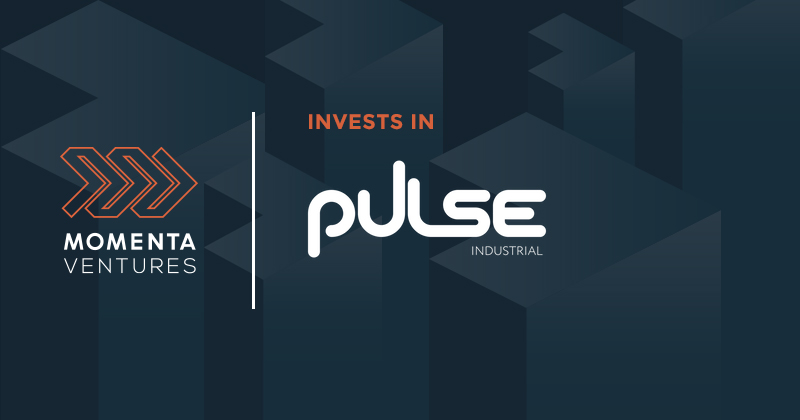 Momenta Ventures is pleased to announce its investment in Pulse Industrial, a Toronto-based, industrial sensing company focused on the steam trap monitoring market.
Pulse has developed a device with an intelligent grouping of sensors that can accurately detect failed traps for a fraction of the cost of current solutions. The device's small form factor allows the monitors to be placed in the tough environments steam traps tend to be located. By implementing the solution, device manufacturers can monitor far more steam traps than before at a high accuracy, giving them more insights into their operation and significant savings.
Thomas Uhlenbruck, CEO and Founder of Pulse, was inspired to create the company's unique sensing solution after observing the efficiency and reliability impacts caused by steam-trap leaks and failures. When traps are "failed open" manufacturers lose hundreds of thousands of dollars due to energy loss, while traps that are "failed closed" can potentially cause end-product and system damage due to excessive heat in the process. One plant manager we talked to stated they lost about $50 worth of energy for each hour a trap is open, and that on average, about 20% of steam traps failed each year, some not being caught for weeks at a time.
Thomas writes "We are thrilled to be joined by such an experienced group of investors. There is so much room for innovation in the industrial sector, especially in these steam-using facilities, and we are ecstatic to be supported by a group that shares this vision".
Ken Forster, Executive Director of Momenta Ventures notes: "Pulse Industrial is a Digital Industry disruptor, creating new digitally-powered efficiencies and capabilities on existing assets. Their steam trap monitoring demonstrates the power of low power wide area (LPWAN) communication using LoRaWAN® and edge computing to create powerful in-plant and in-building solutions."
Marc Pegulu, Vice President IoT Strategy and Products at Semtech writes: "Pulse Industrial's innovative steam tap sensors leverage the LoRaWAN protocol's networking advantages to improve efficiency, reduce environmental impact and optimize processes. With leadership from companies such as Pulse Industrial, we expect to see the continued growth of the LoRa® ecosystem at large, and increased popularity of LoRaWAN as the connectivity of choice industrial IoT."
This investment is the sixth out of Momenta Ventures' second Digital Industry Fund, intended to accelerate innovative industry solutions powered by edge technologies and Low Power Wide Area Networks.
About Pulse Industrial
Pulse Industrial is digitizing industrial steam systems with smart, easy to deploy sensors. More specifically, Pulse provides real-time alerts for failures in 'steam traps', which would otherwise go unseen. By managing these failures, industrial plants can reduce energy loss, reduce CO2 emissions, and even avoid downtime on chemical production. To learn more, please visit https://www.pulseindustrial.ca.
About Momenta Ventures
Momenta Ventures is the investment arm of Momenta Partners, the leading Digital Industry Growth Partner firm. Led by deep  industry  practitioners with strong entrepreneurial and corporate pedigree, Momenta Ventures has made over 40 investments,  with notable exits to SAP, PTC, and Husqvarna Group. Momenta Ventures operates two Digital Industry funds, focused on Seed and Series A investments in Digital Energy, Manufacturing, Smart Spaces,  and Supply Chain.  Momenta's newest fund focuses on  Industrial Edge including LPWAN-powered  Digital Industry innovation. For more information, please visit ​https://momenta.vc​.
_____________
Momenta Ventures doesn't just finance companies; we help founders achieve lean, smart and sustained growth driving to an orchestrated and valuable exit.
Schedule
a short call to learn more about our Digital Industry Venture practice and our two funds.