Jan 28, 2020 | 5 min read
Momenta Ventures Invests in SST Wireless, Industrial Monitoring Using LoRa® Based Sensors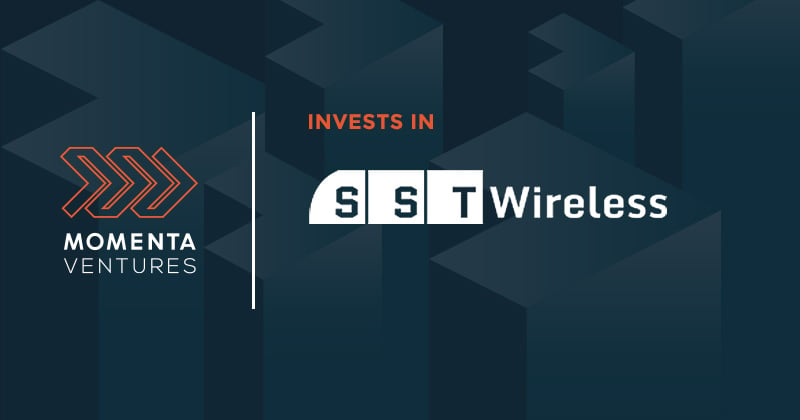 Momenta Ventures is  pleased  to announce an investment  in  SST Wireless, a leading provider of wireless, industrial-hardened, condition-monitoring sensors.  Based in British Columbia, Canada, SST's sensors are used to increase worker safety, reduce downtime, extend machinery service life, and help  conserve  resources such as water and energy.
For over a decade, SST has provided reliable wireless sensor technologies that are used in some of the most extreme industrial environments.  Led  by CEO and Industry Veteran, Christopher Chong, the company has three main product lines:
Tire Pressure Monitorin

g

Systems

 

(TPMS) for both on the road (trucks

and

buses), and

o

ff the

r

oad (heavy machinery)

assets

;

High Temperature Senso

r

 

capable of handling up to 200

o

C / 392

o

F

.

 

Currently being used for safety and efficiency for forestry as well as overheating of equipment

; and

Vibration

 

Sensor

 

with built-in intelligence to allow equipment

users

to make real-time decisions on

equipment

maintenance

.

It can be used to monitor a variety of machines including motors, pumps

,

compressors, and drive shafts. 

 
The investment will be used to develop and commercialize a new line of LoRa-based industrial sensors; making real-time, industrial-grade condition monitoring and analytics available to all industrial customers. By combining SST's strong sensing technology with the power of the LoRa's Low Power, Wide Area (LPWAN) wireless communications, these products are industrial-ready, simple to set up, and can operate anywhere; bringing the power of digitization to all customers. SST's services include utilizing the data from these sensors in aggregated form to better serve customers with predictive maintenance and other analytic tool sets. 
According to  Ken Forster,  Momenta Ventures' Executive Director:  "SST is bringing key building blocks for what we call 'Digital Industry', the digitization of energy, manufacturing, smart spaces and transportation / logistics. We believe that LPWAN communications such as that provided by LoRa and LoRaWAN is a key enabler. We're pleased to fund the marriage of both in SST's next offering."
According to  SST  CEO  Christopher Chong:  "We are very excited to join Momenta Ventures as a portfolio company and look forward to leveraging their unique focus and expertise in Industrial IoT and LoRa / LoRaWAN based initiatives. We are already benefiting from our relationship with Momenta's subject matter experts to execute on our growth strategies."
About  SST 
SST engineers, manufactures and distributes industrial wireless sensor technologies and services to remove the barriers to Industrial IoT for any size of organization by delivering simple, easy to deploy sensors & gateways. The benefit to our customers is immediately evident with new insights into machine condition over time. SST is delivering on the promise of the Industrial IoT through the aggregation of machine data to shorten the time to meaningful analytics that increases safety, reduces downtime and minimize environmental impact of industry. http://www.sstwireless.com.
About Momenta Ventures
Momenta Ventures is the investment arm of Momenta Partners, the leading Digital Industry Growth Partner firm. Led by deep  industry  practitioners with strong entrepreneurial and corporate  pedigree, Momenta Ventures has made over 30 investments,  with notable exits to SAP, PTC,  and Husqvarna Group. Momenta Ventures  operates  two Digital Industry funds, focused on Seed and Series A investments in Digital Energy, Manufacturing, Smart Spaces,  and Supply Chain.  Momenta's  newest  fund focuses on  Industrial Edge including LPWAN-powered  Digital Industry innovation. For more information, please  visit ​https://momenta.vc​.

Momenta Partners encompasses leading Strategic Advisory, Talent, and Venture practices. We're the guiding hand behind leading industrials' IoT strategies, over 200 IoT leadership placements, and 30+ young IoT disruptors.  Schedule  a free consultation to learn more about our Connected Industry practice.