Aug 20, 2020 | 4 min read
The Sound of Water - Momenta Ventures Invests in Conservation Labs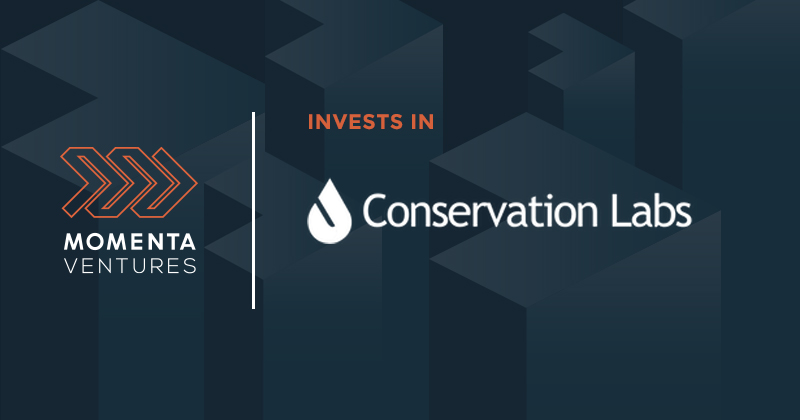 We are excited to announce that Momenta Ventures has invested in Conservation Labs, developer of the H2know smart water monitor.
Lead by founder Mark Kovscek, Conservation Labs has developed a low cost, non-invasive smart water technology. The H2know platform consists of two elements, an easy-to-install acoustic sensor, and a proprietary machine learning platform.
The sensor fits over a pipe as it enters a property and from that single location measures and classifies water flow and detects leaks. It includes a microphone that is affixed to the pipe and captures sound data resulting from water usage in the property.
The sound measurements captured by the sensor are analyzed using machine learning and converted to water flow estimates and insights. The platform detects leaks in real time, provides insights into water usage, and can craft custom conservation recommendations.
Mark Kovscek: "We are a team of data scientists and engineers passionate about helping people and improving the environment for future generations. We are excited to disrupt the industry with our innovations in machine learning and audio processing. H2know is the most affordable, actionable, and flexible smart water technology in the market."
Conservation Labs addresses a massive problem: In US homes alone there are an estimated 2 trillion gallons of unwanted or unneeded water used every year. 15-20% of water use in the built environment is due to leaks and unwanted use while municipal system leak estimates range from 10-30%. H2know provides insights that help reduce unwanted water usage as well as preventing damage from catastrophic water damage.
"In a typical mid-rise multi-family property, we can create over $40,000 in value a year and in a restaurant, about $10,000. At a household level, our goal is to create $440 in value annually" says Mark Kovscek.
The company has recently introduced their new design for the sensor and has started selling the system with partners. Initial target markets are multi-family real estate, food services, and hospitality.
"It is very impressive how Conservation Labs can disaggregate sound information to measure and understand water usage. Industry partners confirmed to us that the information is 100% accurate, matching their professional water audit information. The insights that H2know provide are extremely valuable to contribute to water conservation, reduce costs, and avoid damages" notes Ben Steven, Associate Partner at Momenta Ventures.
"We are very excited to join the Momenta Ventures family," added Mark Kovscek, Conservation Labs Founder and CEO. "Their deep digital experience and relationships, ranging from IoT to enterprise software, is so important as we work to digitize the globe's water use and create a more sustainable future. Their investment and support of our mission is an important affirmation."
Momenta Ventures invests alongside RET Ventures, Serra Ventures, Mountain State Capital, Irish Angels, Grouse Ridge, and others.
About Conservation Labs
Conservation Labs mission is to enable cost-effective and sustainable water use. We invented a way to understand water flow with machine learning. H2know™ by Conservation Labs delivers actionable water insights, leak alerts and custom conservation recommendations with a low cost and easy to install sensor and app. Conservation Labs is a graduate of the Alexa Accelerator, powered by Techstars. Please visit https://conservationlabs.com or email at info@conservationlabs.com for more information.
About Momenta Ventures
Momenta Ventures is the investment arm of Momenta Partners, the leading Digital Industry Growth Partner firm. Led by deep industry practitioners with strong entrepreneurial and corporate pedigree, Momenta Ventures has made over 40 investments with six exits. Momenta Ventures operates two Digital Industry funds, focused on Seed and Series A investments in Digital Energy, Manufacturing, Smart Spaces, and Supply Chain. For more information, please visit ​https://momenta.vc​.
_____________
Momenta Partners encompasses leading Strategic Advisory, Talent, and Venture practices. We're the guiding hand behind leading industrials' IoT strategies, over 200 IoT leadership placements, and 40+ young IoT disruptors with 6 exits.  Schedule  a free consultation to learn more about our Digital Industry practices.