Nov 11, 2020 | 8 min read
Momenta Ventures Announces Seed Round Investment in WasteHero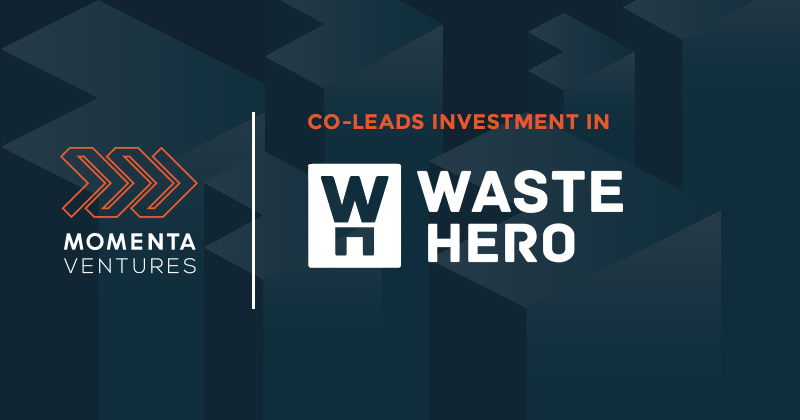 Momenta Ventures, is excited to announce our investment in the Seed Round of  WasteHero, an  Aarhus,  Denmark-based smart waste management solution provider.  We are pleased to be joined by  Circles & Squares and Anorak Ventures.
WasteHero is an end to end IoT-enabled waste collection solution powered by smart sensors and a routing algorithm allowing cities and businesses to more easily manage and collect waste. Businesses save money with more efficient pickups without overflowing bins, or too many pickups, and are able to meet green initiatives set by city and country governments. Cities, meanwhile, save money on inefficient routing of pickups, excess CO2 emission while avoiding overflowing bins of customers or contaminated streets due to trash being left out.
According to Value Market Research, the Smart Waste Management Market is expected to grow to $3.4B by 2024 and potentially $4.66B by 2026 according to Research and Markets. This growth is primarily thought to be motivated by a few different drivers:
Maturity of wireless IoT offerings through technologies like LPWAN and cities' willingness to adopt "Smart Solutions"

Environmental initiatives through companies' ESG goals or mandated by government regulation



The combination of these two drivers can speed development of the Smart Waste market fairly quickly. Current waste collection through standard pickup schedules creates inefficiencies with both overflowing bins or bins that have no need to be picked up. WasteHero solves these issues through their innovative industrialized wireless sensor that can sense the fill level of bins even in tough environments while maintaining years-long battery life by communicating via Low-Power Wide Area Networks such as LoRaWAN®. This, in connection with their intelligent collection routing algorithm, helps businesses and cities alike efficiently manage their waste collection.
Lee Carter, Principal of Momenta Ventures notes: "Solutions such as WasteHero are the key to moving Smart City initiatives forward around the globe. In order to operate at maximum efficiency, cities and businesses must be able to digitize all of their assets. Waste management presents a compelling business case to start or continue their digital journey."
Hussam Mansour, CEO at WasteHero writes "We couldn't think of a better venture to partner up with than Momenta Ventures when it comes to the connected industry. Their deep expertise in digital transformation across industrial sectors are in alignment with WasteHero's mission to digitize the waste management industry for a sustainable future. We are very excited for what the future brings."
Marc Pegulu, Vice President IoT Strategy and Products at Semtech writes: "WasteHero's innovative waste management solution leverages the long range and low power advantages of LoRaWAN to not only improve waste and recycling services for a cleaner and more aesthetically pleasing city, but also enable cost-saving measures for productivity and municipal resource allocation."
This investment is the  seventh  out of Momenta Ventures' second  Digital Industry Fund, intended to accelerate innovative industry solutions powered by edge technologies and Low Power Wide Area Networks. 
About WasteHero
9 out of 10 bins are emptied too early or too late. Inefficient pickups where bins are half empty waste time, money and resources. WasteHero's devices monitor activity, including bin fullness, temperature and fill rates to identify waste generation patterns. Data from bins are collected on the platform, which produces real-time analysis of every trash bin and deploy haulers only when needed, reducing CO2 emissions and collection costs by as much as 50%. WasteHero provides solutions to smart cities, waste management companies, municipalities, campuses and businesses in over 30 countries. To learn more about WasteHero, please visit https://www.wastehero.io/en/.
About Momenta Ventures
Momenta Ventures is the investment arm of Momenta Partners, the leading Digital Industry Growth Partner firm. Led by deep industry practitioners with strong entrepreneurial and corporate pedigree, Momenta Ventures has made over 40 investments, with notable exits to SAP, PTC, and Husqvarna Group. Momenta Ventures operates two Digital Industry funds, focused on Seed and Series A investments in Digital Energy, Manufacturing, Smart Spaces, and Supply Chain.  For more information, please visit ​https://momenta.vc​.
_____________
Momenta Ventures doesn't just finance companies; we help founders achieve lean, smart and sustained growth driving to an orchestrated and valuable exit.

Schedule

a short call to learn more about our Digital Industry Venture practice and our two funds.