Jul 7, 2020 | 5 min read
Momenta Invests in EquipmentShare, A Disruptor in Construction Equipment Rental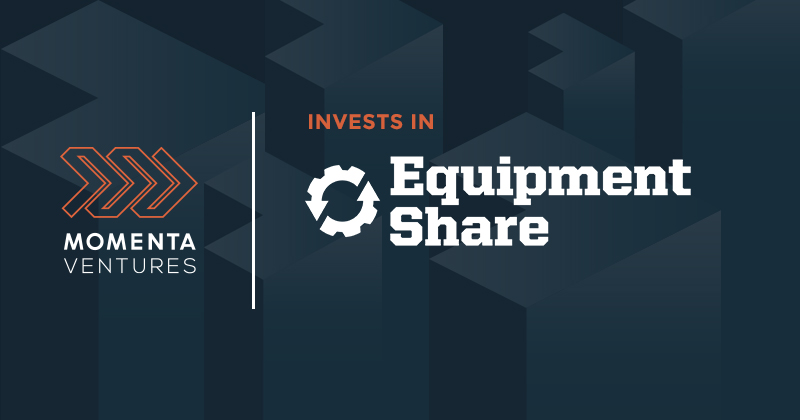 Momenta Ventures is pleased to announce its investment in EquipmentShare.
EquipmentShare is a leading provider of solutions that restore visibility and transparency across constructions job sites so contractors can get more accomplished.
Founded in 2014 in Colombia, MO by brothers William and Jabbok Schlacks, EquipmentShare is among the fastest growing construction technology companies and now operates in 52 yards across 21 states in the U.S. and Canada.
The company's mission is to offer contractors a better way to manage mixed construction fleets leveraging technology solutions to work smarter and more efficiently and increase productivity.
EquipmentShare's advanced telematics platform provides a range of equipment management solutions:
Track is an advanced telematics tool that enables customers to connect their equipment, track where and how it is used, and provides insights to improve utilization, productivity, and efficiency.
Rent is EquipmentShare's own fleet of equipment. Customers can select from a large and modern fleet of equipment, which also comes backed with Track to provide insights to the client that helps optimizing equipment use.
Own manages, monetizes and services your equipment.
Momenta joins investors including Y Combinator, Insight Partners, Romulus Capital, Trifecta Capital and Sound Ventures in supporting EquipmentShare to drive the digital transformation of the construction industry.
From Momenta's Ben Steven: "EquipmentShare provides a unique way to make asset ownership significantly more lucrative and productive. We are excited to be an investor in a company that continues to disrupt and redefine the way construction companies operate."
William Schlacks, President of Equipment Share states: "We have been working with the Momenta Partners Team for a long time and are excited to have Momenta Ventures as an investor on-board as well. Their deep industry knowledge is unique and helpful and provides additional resources for EquipmentShare's mission to disrupt the Construction Equipment rental market."
About EquipmentShare
EquipmentShare is dedicated to helping contractors with technology enabled services that impact contractors' bottom line. EquipmentShare enables the measurement of the construction environment with its Track technology. This data is used to provide insight and control over a historically chaotic environment that is in desperate need of this holistic solution.
To learn more about EquipmentShare and ES Track, visit www.equipmentshare.com.
About Momenta Ventures
Momenta Ventures is the investment arm of Momenta Partners, the leading Digital Industry Growth Partner firm. Led by deep  industry  practitioners with strong entrepreneurial and corporate pedigree, Momenta Ventures has made over 40 investments,  with notable exits to SAP, PTC, and Husqvarna Group. Momenta Ventures operates two Digital Industry funds, focused on Seed and Series A investments in Digital Energy, Manufacturing, Smart Spaces,  and Supply Chain.  Momenta's newest fund focuses on  Industrial Edge including LPWAN-powered  Digital Industry innovation. For more information, please visit ​https://momenta.vc​.
_____________
Momenta Partners encompasses leading Strategic Advisory, Talent, and Venture practices. We're the guiding hand behind leading industrials' IoT strategies, over 200 IoT leadership placements, and 40+ young IoT disruptors.  Schedule  a free consultation to learn more about our Digital Industry practices.