May 27, 2019 | 6 min read
Insights
From Bubble to Reality: Tracking Progress at NYC's Blockchain Week 2019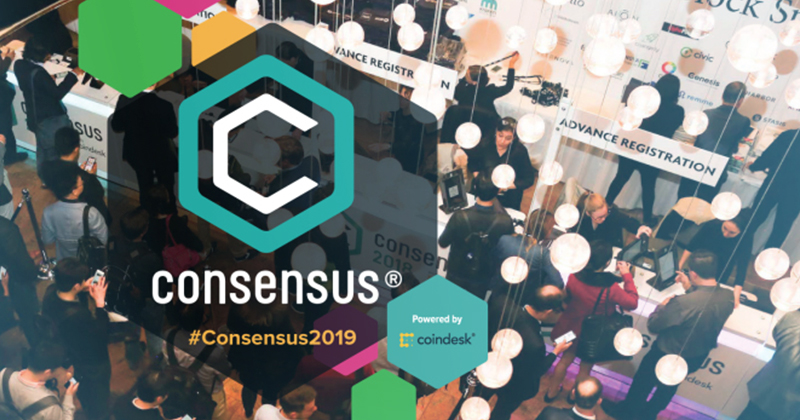 In what has become an annual tradition, New York City is host to a flurry of conferences about blockchain and digital assets in mid-May. This year we attended Consensus, the largest conference in the industry with over 5,000 attendees sponsored by Coinbase along with several other related events. The unique characteristic of blockchain, in contrast to other categories of emerging technology, is the component of finance – that the technology supports the creation of new means of exchange and store of value fuels hype and speculation to an extent unparalleled.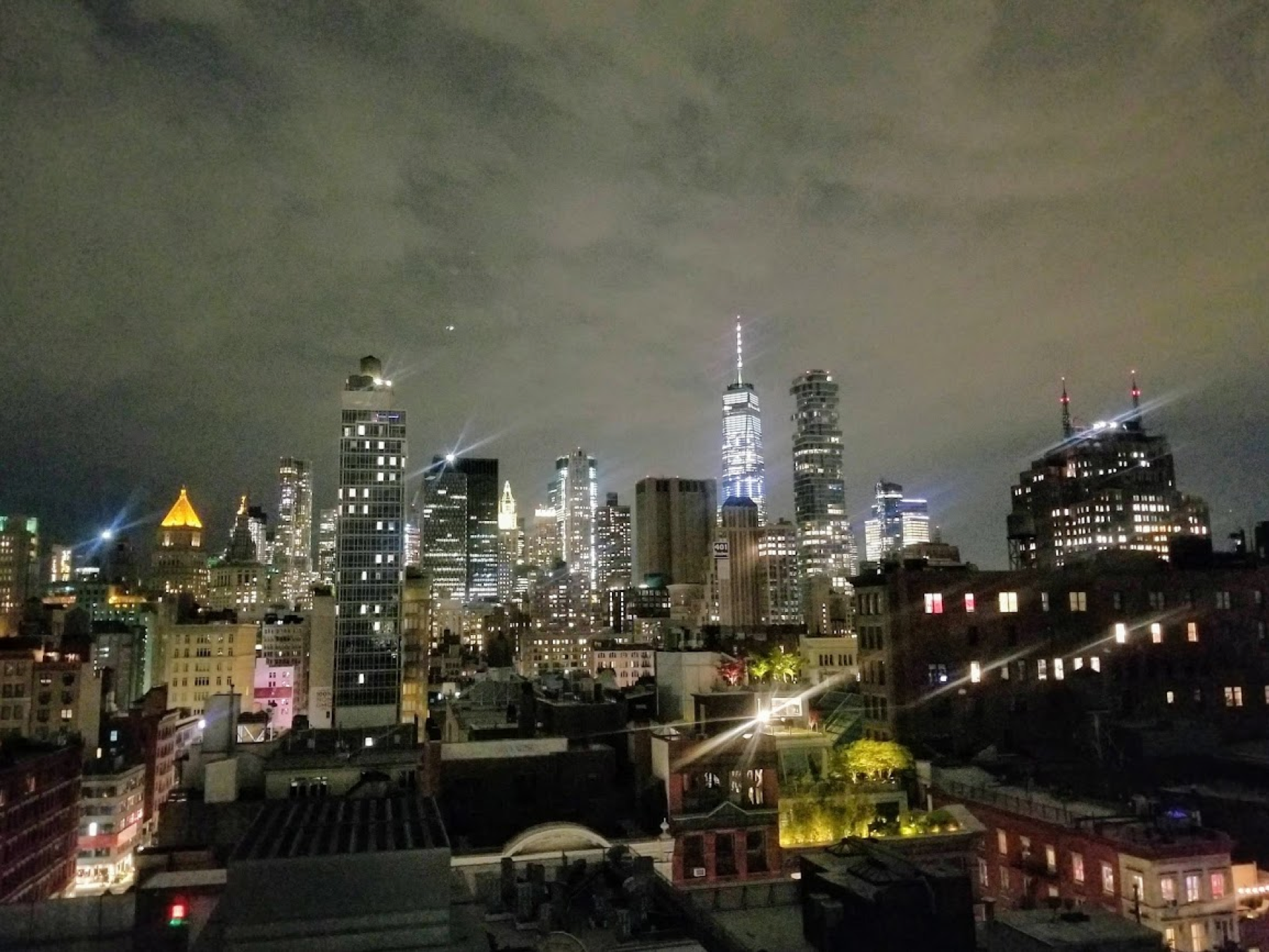 The past year has seen much of the industry struggling to come to grips with the collapse in crypto currency prices; many projects that had raised funding in ICOs (Initial Coin Offerings) did so in Ether (the Ethereum currency), Bitcoin or other currency. Many of these startups lacked basic treasury management and failed to covert their cryptocurrency funds into fiat (US Dollars, Euros etc.) before the collapse in prices, leaving many scrambling for cash and ultimately resulting in a shakeout – the "Crypto Winter".
A necessary and inevitable phase of innovation asset bubbles, the collapse in prices has washed away scammers, neophytes and shady characters, leaving core teams focused on developing product rather than trying to get rich. Reminiscent of the collapse of the first Internet bubble, the past year has seen a lot of technological progress and resilient interest in core concepts around decentralization and blockchain enabled applications. With Bitcoin price emerging over $8,000 in May (an over 100% increase from the beginning of the year) the tone was becoming more bullish, though tempered by realization that a significant pullback is possible at any time. One big change in the environment is the dearth of projects looking to do token-based fund raising; in a return to normalcy we heard far more discussion of traditional equity-based fund raises as investor tone downshifts from speculative to fundamental. There was a lot of discussion of enterprise adoption of blockchain during the week – big system integrations including Deloitte, PwC and E&Y had large and visible presence at Consensus, and there were several developments that were significant.
Marking steady industry adoption
There's growing momentum around the use of blockchain in different industries. The automotive industry is one area where there is a lot of interest. Last year, the IBM Institute for Business Value released a study showing that of 1,314 automotive executives surveyed across 10 countries, 62% believe that blockchain will be a "disruptive force" in the automotive industry within three years. In April, IBM received a patent for a blockchain application that will manage data from the vehicle and surrounding infrastructure and interactions for autonomous vehicles, following up on a similar patent by GM. Bosch announced that it has been developing car charging ports with software built on Ethereum. The City of Austin announced it was partnering with IOTA Foundation to develop a secure transportation initiatives leveraging the IOTA DAG (Directed Acyclic Graph) technology. Blockchain startup Filament is working with the University of Nevada, Reno on an autonomous vehicle research initiative to develop new standards for blockchain-based connected devices.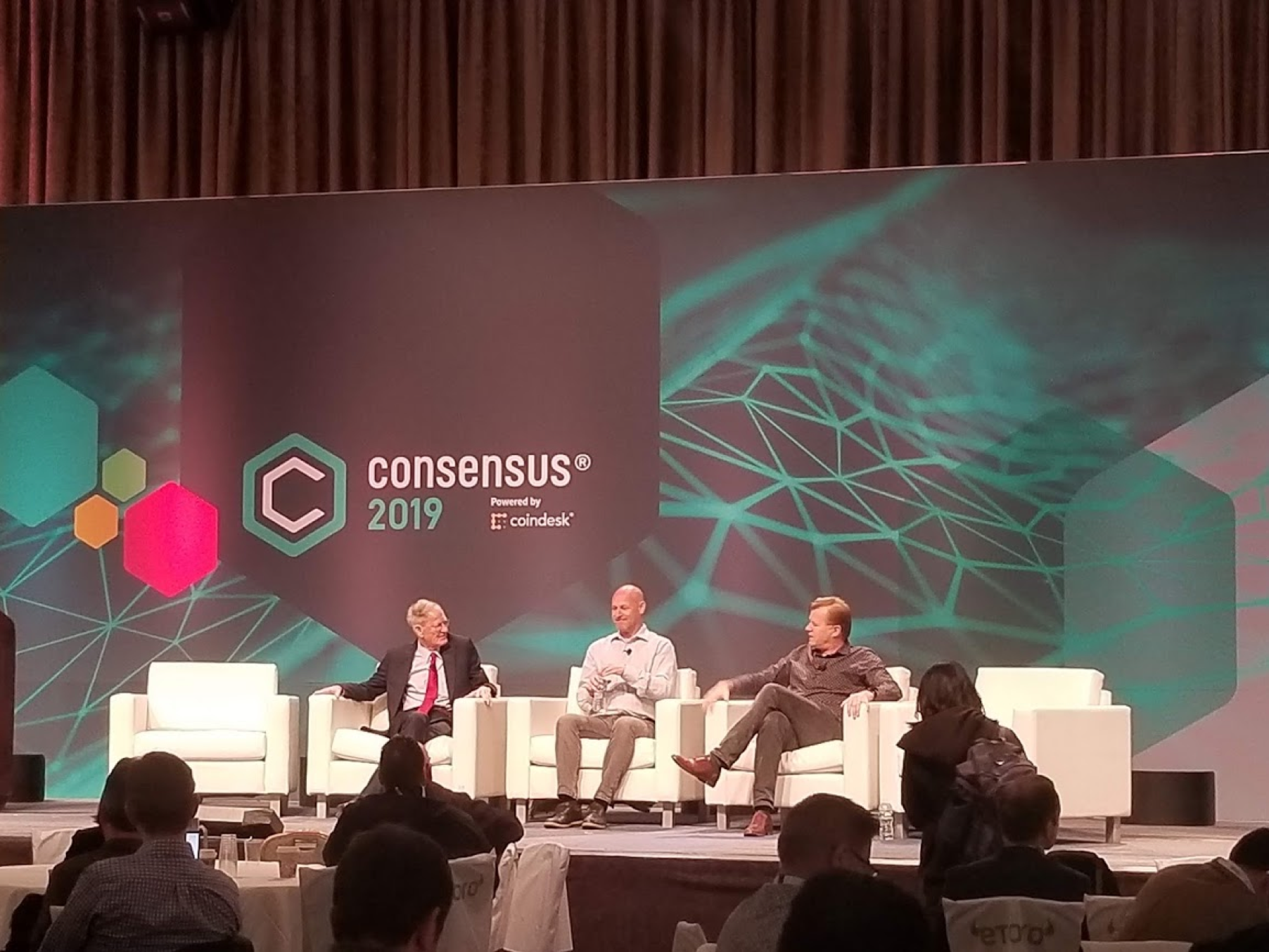 Author and investor George Gilder, CEO of ConenSys Joe Lubin and author Michael Casey share the stage at Consensus.
Corporate support appears to be growing
There was a lot of discussion around the topic of enterprise adoption, particularly Microsoft's announcement of a project that would enable users to control their own identity security built on the Bitcoin blockchain. This is an important development largely because most of the enterprise identity projects to date have been built around private blockchains, notably Hyperledger, and Microsoft's efforts to harness the biggest public blockchain project represents a meaningful development. ABN AMRO, the Dutch Bank, has announced it's been working with Accenture to develop Forcefield, a standalone platform to leverage blockchain technology for the supply chain, communicating with IoT devices, sensors and chips to monitor goods that can be used as collateral for loans and payments.
Growing institutional support for digital assets key to enterprise adoption
With rampant speculation in altcoins washed out, there was growing interest in the use of cryptocurrencies for payment, store of value and use in established applications. For businesses looking to accept payments in cryptocurrencies, the challenges of custody have been a significant obstacle. Coinbase's CEO Brian Armstrong announced that the company's custody services currently had over $1 billion under management, and the involvement of financial firms like Fidelity and other banks is lending legitimacy to the markets. The reason this is important for enterprise adoption is that for broader embrace of the value transfer capabilities enabled by blockchains, along with more sophisticated smart contracts, there's need for underlying faith in the ability to secure and store digital assets – and the growing institutional-grade offerings for investors pave the way for broader adoption by corporations as well.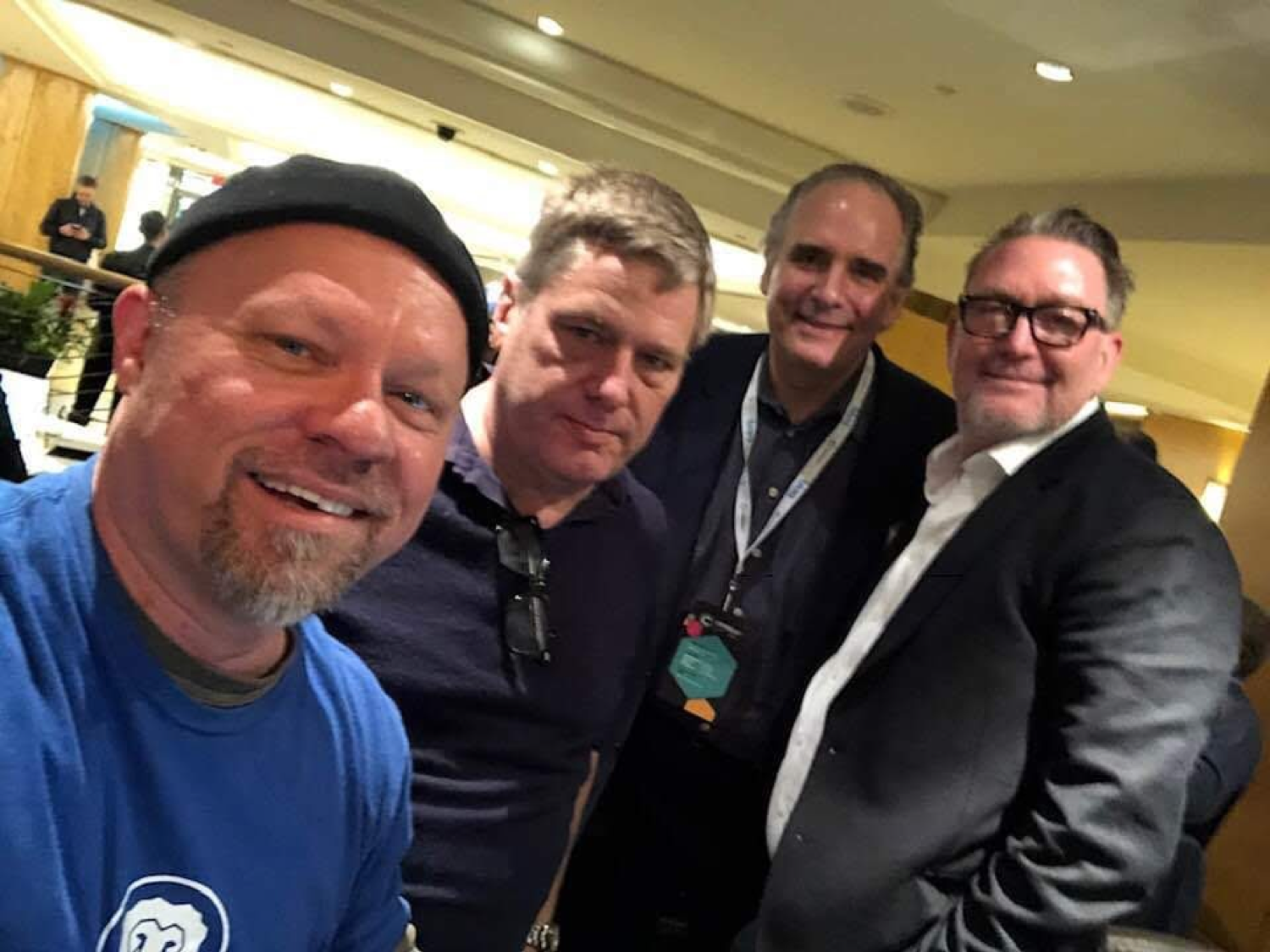 Momenta podcast guests Mark Jeffery (Guardian Circle), Fred Krueger (EOS Lynx), Ed Maguire and Richard Titus at Consensus
Innovation continues apace in 2019
While the unrealistic hype around crypto as a vehicle to fast riches has faded, there's still a lot of optimism about the potential for new projects to create economies based on fairness, openness and transparency. Supply chain, smart cities and autonomous vehicles remain the most popularly cited potential use cases for blockchain, but users are looking for real results with demonstrable business value that can be sustainable over time. Advances in performance are coming from projects like EOS, Tron, Stellar, Ethereum and the Bitcoin Lightning Network, promising viability for enterprise production use cases in the not too distant future. Attendees at 2019 Blockchain Week were less interested in chasing unicorns than finding the right horse to go the distance.

Momenta Partners encompasses leading Strategic Advisory, Talent, and Investment practices. We're the guiding hand behind leading industrials' IoT strategies, over 200+ IoT leadership placements, and 25+ young IoT disruptors. Schedule a free consultation to learn more about our Connected Industry practice.