Oct 22, 2020 | 4 min read
Digital Industry Insight #38
Seeing Beyond Crisis – How Great Leaders Guide to Post Pandemic Success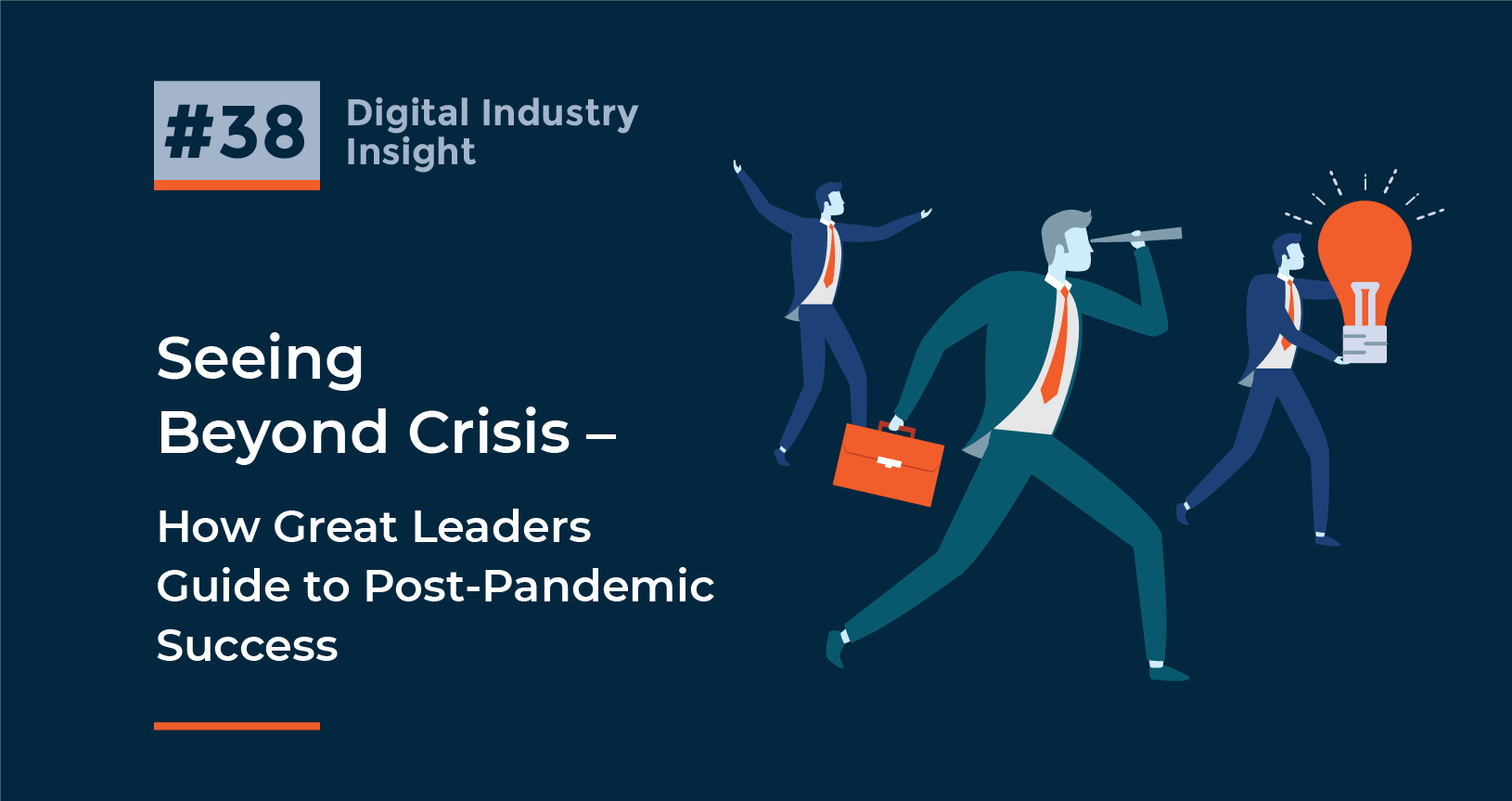 There is no question that the Great Pandemic of 2020 has been the most challenging period for developed countries in most people's lifetimes. Nearly every sector of the economy has been forced to adapt to upheavals – travel restrictions, sudden changes in demand, safety concerns for workers and customers, supply chain disruptions, regulatory restrictions and more. The pandemic has forced an acceleration of digital transformation, seeing some businesses prosper (like Amazon and other e-commerce companies – and grocery stores) while a wave of layoffs, furloughs and bankruptcies sweeps across sectors like travel, hospitality, entertainment and retail.
The good news is that the worst has passed while therapies and vaccines are on the way. Economies are reopening and businesses need to adapt to new post pandemic realities that include permanent changes in consumer behavior, a decisive shift toward work from home arrangements, and growing migration away from densely packed cities to the suburbs. Leadership needs to adapt to a post-pandemic world, and we explore a few dimensions of the changes leaders will need to make.
Managing Changing Human Needs
Effective leaders will need to balance the needs of employees to account for the new dynamics of the pandemic. According to Harvard Business Review, best practices include:
Ensuring working conditions are as safe as possible for employees and clients. This involves trade-offs around capacity, protective health measures, compliance with local regulations and health guidelines.

Enabling as many employees as possible to return to work, while providing maximum flexibility for those that must deal with health, child care and elder care challenges.

Communicating clearly and effectively with employees, both furloughed and on the payroll, dealing with the financial hardships that being out of work can face and actively reinforcing the value of employees back on the job.

It's critical to treat furloughed employees with sensitivity and respect, maintaining regular contact – to ensure they are ready to reengage again when business picks up.
Maintaining focus on the core mission of the company. Even when business models change or changing conditions compel different approaches and processes, the focus on basic principles and culture can sustain an organization through rapid and sometimes fundamental changes.
Leadership itself will be subject to change, as new skills and priorities become apparent in the post-pandemic environment. BCG talks about how becoming a bionic company that blends human and technological capabilities will be critical to success in the 2020s. In order to meet the challenges of the coming decade, transformative leadership will need to rethink the art of the possible, according to BCG.
Embracing Technology to Create New Opportunities
Effective leaders will need to understand the dynamics of exponential change, and the potential of new technologies to chart new paths for their organizations. New techniques such as real-time reminders, gamification, rapid feedback loops, and other nudge tools can help to transform culture and employee behaviors and drive new directions for their business. Leaders also need to be tech-savvy and lead by demonstration their command of new technologies. Real-time tools can allow for immediate feedback and rapid course corrections, resulting in a far more agile business culture than ever before.
Leaders also need to shift how they recruit, hire and build their teams. Because of the accelerating pace of new skills needed in the workplace, it becomes more important to chose people for their character, not their existing skills. Businesses will need to assume that upskilling becomes a greater part of their responsibility, while keeping employees aligned around a central culture and mission.
Radical Transparency for Positive Growth
Post-pandemic, the importance of transparency becomes increasingly more important for leaders. With workforce locations distributed and far less in person interaction occurring, transparency is critical to building trust between leadership, employees, partners and customers. Technology provides the means to deliver transparency – through specialized apps, dedicated websites and channels, and collaboration platforms. While there are challenges to achieve cohesiveness of culture with so much reliance on virtual interaction, effective leaders can inspire and motivate by establishing regular cadences of communication and continuous feedback.
The light at the end of the tunnel is approaching post-pandemic, but the complexion and makeup of the workforce will look a lot different in the 2020s. Embrace your core mission, evangelize vision, inspire by example and make the most of the powerful tools at your disposal – and focus always on the customer.

Momenta is the leading Digital Industry retained Executive Search firm delivering impactful leadership across energy, manufacturing, smart spaces and supply chain. We have placed more than 200 leaders globally in Fortune 100's and venture-backed startups, including digital leadership roles at Hitachi, United Technologies and C3.ai. Let's connect and discuss how Momenta can help you take your business to the next level.