Feb 7, 2020 | 5 min read
Digital Industry Pulse Check #12
Posted by
The Momenta Team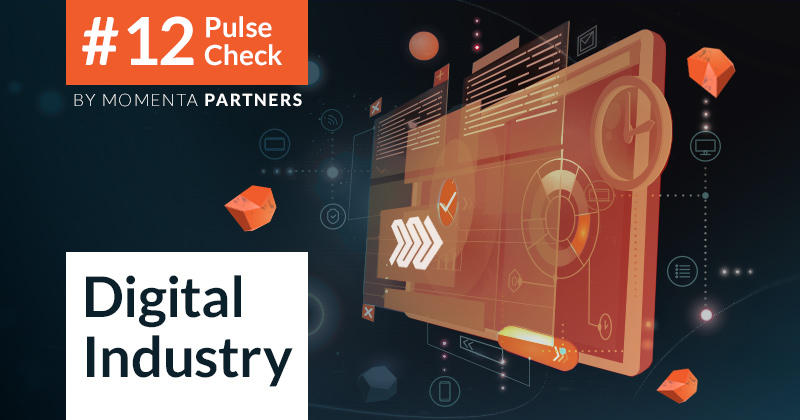 Momenta Partners' Pulse Check series highlights recent and notable Digital Industry developments. Our monthly Pulse Checks are designed to help keep you abreast of the evolving trends within the global Digital Industry. As enterprises increasingly embrace and rely on digital, we want to help you keep pace with the innovations and occurrences propelling entire industries into the future.
In this Digital Industry Pulse Check, we look at a new Cisco security solution, a recent venture raise from Seeq, two notable acquisitions, and an industry collaboration.
Cisco unveils new industrial IoT (IIoT) security solution
On January 28th, Cisco revealed a new IIoT security platform for both information technology (IT) and operational technology (OT). The new solution provides increased visibility and collection of data from the edge, which Cisco asserts will help enterprises with digital efforts. The solution includes Cisco Cyber Vision, which provides comprehensive asset monitoring and security, and Cisco Edge Intelligence, which enables seamless edge data extraction to multi-cloud and on premises destinations.
The effective convergence of IT and OT is especially important to the digital efforts of industrial enterprises as it enables expansive physical asset monitoring and more robust and actionable data collection. Cisco's new solution is thus a notable and timely addition to the industrial space as digital transformation efforts continue to accelerate within the sector.
Seeq announces Series B funding
On January 14th, Seeq, a provider of manufacturing and IIoT analytics solutions/software, announced it had received a $24 million expansion of Series B funding. The round was led by Saudi Aramco Energy Ventures, the ventures arm of Saudi Aramco. The raise follows a 2018 Series B investment of $23 million led by the Altira Group. The new funds are being directed towards the company's expansion of its development, marketing, and sales efforts in addition to increasing international presence.
Seeq provides a suite of analytical products that are catered to an array of industrial sectors including oil & gas, chemical, energy, and mining. Continued investments in the company affirm the notion that for industrial organizations, sector specific data analysis capabilities have yet to mature but are on the verge of significantly expanding.
Insight Partners acquires Armis
On January 6th, global venture capital firm Insight Partners announced the acquisition of enterprise IoT/device security company Armis for $1.1 billion. Armis provides security for managed, unmanaged, and IoT devices, offering device insights and threat intelligence. The company operates in the finance, healthcare, manufacturing, retail, and smart city sectors. Armis will continue to function autonomously but will have the resources of Insight at its disposal.
As enterprise IoT continues to proliferate, security vulnerabilities, breaches, and concerns have all increased. The Armis acquisition signifies the growing urgency regarding the necessity of robust enterprise IoT security.
Wind River completes acquisition
On January 14th, Wind River, an intelligent edge/IoT software provider for various sectors including industrials, announced it had acquired Star Lab. Star Lab is an embedded systems cybersecurity provider that provides an array of services dedicated to Linux security. The acquisition will enable Wind River to further boost security for Linux. Wind River president and CEO Jim Douglas touted the security and Linux capabilities of both his company and Star Lab as a boon to providing increased value.
IEEE IoT Initiative and the IoT Community announce collaboration
The IEEE IoT Initiative and the IoT community recently announced a joint effort to advance digital transformation for IIoT. Launched in 2014, the IEEE IoT Initiative promotes collaboration around the development of IoT, bringing together those in the engineering and technology spaces. The IoT Community advertises itself as the largest IoT CxO community and focuses on the adoption of commercial IoT.
The partnership will entail the sharing of commercial, standardization, and technical insights and information to help advance IoT development. The intended result of the collaboration is to establish robust IoT thought leadership. Given the relative newness and continuing rapid development of IoT, especially within industrials, collaborations that promote the sharing of findings, information, and capabilities are important to advancing IoT technologies and uses.

Momenta Partners encompasses leading Strategic Advisory, Talent, and Venture practices. We're the guiding hand behind leading industrials' IoT strategies, over 200 IoT leadership placements, and 25+ young IoT disruptors.  Schedule  a free consultation to learn more about our Connected Industry practice.