Jan 3, 2020 | 5 min read
Digital Industry Pulse Check #11
Posted by
The Momenta Team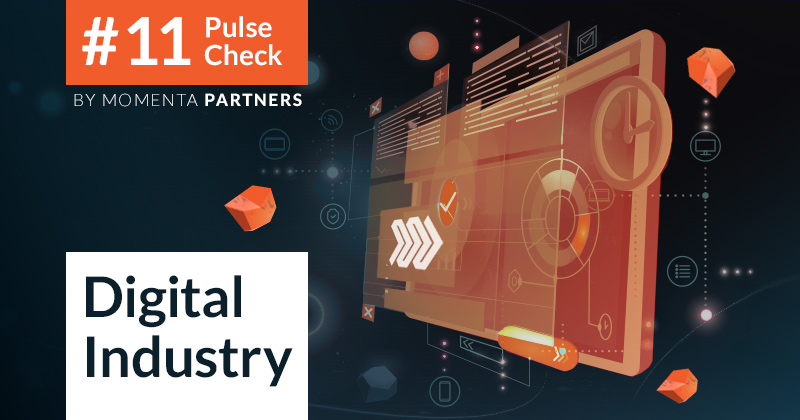 Momenta Partners' Pulse Check series highlights recent and notable Digital Industry developments. Our weekly Pulse Checks are designed to help keep you abreast of the evolving trends within the global Digital Industry. As enterprises increasingly embrace digital and rely on its capabilities, we want to help you keep pace with the innovations and occurrences propelling entire industries into the future.
In this Digital Industry Pulse Check, we highlight recent notable venture announcements, a U.S. Air Force cybersecurity contract decision, and a co-developed IoT worker safety solution.
Atmosic Technologies announces Series B funding
On December 19th, Atmosic Technologies, a provider of low-power wireless connectivity solutions for IoT, announced it had completed a Series B raise of $28.5 million. This funding brings the company's total raise to $49.5 million since its founding in 2016. Atmosic provides solutions to an array of sectors including auto, healthcare, home, industrial & enterprise, personal, and smart cities.
The investment will be primarily directed to further product implementation of Atmosic's M2 and M3 Series Bluetooth 5 system-on-a-chip solutions. Using its Lowest Power Radio and On-demand Wake-up technologies, Atmosic's M2 and M3 Series solutions are advertised as providing 10-100 times lower power. M3 also offers Controlled Energy Harvesting which further improves battery operation.
Machfu raises Series A investment
Machfu, a provider of industrial IoT (IIoT) edge intelligence platforms and applications recently announced it had received $3.75 million in Series A funding. The funds will be directed towards the company's efforts in the smart grid and oil and gas sectors and the expansion of its undertakings in the industrial sector. It is worth noting that Machfu also received a "Small Business Innovation Research" (SBIR) Phase II extension grant of $1 million from the United States Department of Energy in September 2019.
Machfu's IIoT gateway helps connect industrial controllers and sensors to backend systems and the cloud, helping integrate industrial protocols with cloud-based applications. Machfu also offers its MACH-IO (input/output) gateway which enables multiple pieces of equipment to communicate with an information processing system.
Xage receives USAF security contract
The United States Air Force (USAF) recently announced that it has chosen Xage Security to help provide security solutions for its cybersecurity and digital transformation. Xage uses blockchain technology to deliver cybersecurity solutions for industrial operations and IoT. The company's solutions will be used by the USAF to evaluate and control mission cybersecurity in real-time, secure chain of custody and communications, and further enable new models for multi-domain command and control.
The Phase-1 contract was given through the AFWERX, a USAF program dedicated to instilling a culture of innovation within the service branch. The USAF's selection of Xage solutions provides significant credibility to utilizing blockchain as a cybersecurity tool, even in the context of critical operations. Furthermore, it is notable that industrial/IIoT cybersecurity solutions are expanding outside of traditional uses. For providers of these services, there appears to be potential for penetrating additional markets.
Companies collaborate on IoT workplace safety solution
Arrow Electronics, Geniatech, and ON Semiconductor recently announced a jointly developed proof-of-concept IoT solution for improving workplace safety. Named MuSeOn 1.1, the solution is a multi-sensor-online wearable that provides various environmental readings including air quality, humidity, pressure, and temperature and is integrated with wireless and the cloud to provide real-time monitoring. MuSeOn 1.1 uses RSL10 – a Bluetooth 5 radio system-on-ship – and five industrial-grade sensors to provide the low-power solution.
Given the amount of heavy machinery/assets utilized by industrial organizations and the complex operating environments, worker safety is a preeminent issue within the sector. In addition to helping optimize core operations, digital transformation could help drastically improve workplace safety for industrials. It will be interesting to monitor how IoT-powered work safety solutions continue to be developed and implemented across industrial enterprises.

Momenta Partners encompasses leading Strategic Advisory, Talent, and Venture practices. We're the guiding hand behind leading industrials' IoT strategies, over 200 IoT leadership placements, and 25+ young IoT disruptors.  Schedule  a free consultation to learn more about our Connected Industry practice.