Dec 20, 2019 | 5 min read
Insights
Digital Industry Pulse Check
Posted by
The Momenta Team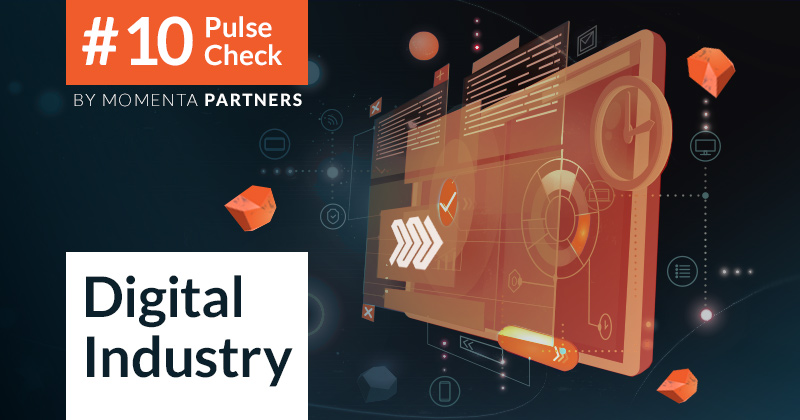 Momenta Partners' Pulse Check series highlights recent and notable Digital Industry developments. Our weekly Pulse Checks are designed to help keep you abreast of the persistent evolving trends within the global Digital Industry. As enterprises increasingly embrace and rely on digital, we want to help you keep pace with the innovations and occurrences propelling entire industries into the future.
In this Digital Industry Pulse Check, we highlight a spectrum debate, new solutions from Sight Machine, a venture announcement, and two recent reports pertaining to digital.
Ligado Networks and the NTIA joust over 5G spectrum
In June 2019, Ligado Networks, a connectivity and technology solutions provider focused on industrial IoT (IIoT), petitioned the FCC for swift action regarding the release of mid-band spectrum for the continued advancement of 5G. Ligado, which provides 5G IIoT connectivity/networking and solutions, has asserted that increased mid-band spectrum availability is integral to the U.S.'s drive to 5G.
However, on December 6th, The National Telecommunications and Information Association (NTIA) – a part of the federal Department of Commerce (DOC) – responded to Ligado in a letter to the FCC. The NTIA asserted that adequate amounts of spectrum are available for 5G. Ligado subsequently declared that the NTIA's response should serve to prompt the FCC to rule on its initial spectrum request.
It will be interesting to monitor how the Ligado situation resolves and how the FCC's broader handling of mid-band spectrum impacts 5G in the United States. As 5G connectivity and capabilities continually expand and usage subsequently increases, more spectrum will be required. More mid-band spectrum is considered especially essential to developing a successful 5G ecosystem and FCC commissioner Jessica Rosenworcel has specifically stressed mid-band's importance to 5G.
Sight Machine introduces manufacturing solutions
On December 10th, Sight Machine, a provider of digital and analytics solutions for manufacturing, announced a new platform and several vertical offerings. The company's new next-gen Manufacturing Data Platform (MDP) will provide customers with increased control and visibility over their environments, enabling quicker production issue identification.
Sight Machine's new vertical solutions are specifically catered to the chemicals, packaging, and paper & tissue industries. These offerings will provide sector-specific capabilities for machinery, processes, and output, as well as deliver predictive and prescriptive analytics. In its press release, the company noted that it is working on solutions specifically tailored for other sectors as well.
A bevy of advanced industrial technological solutions and products are available in market and sifting through the drastically increasing number of options can be challenging for enterprises. However, being able to implement solutions tailored to specific sub-sectors – like Sight Machine is now offering – will most assuredly help enterprises in their move towards digital transformation.
Gartner report predicts significant growth for enterprise IoT drones
A recently released Gartner report forecasted that in 2020, enterprise IoT drone shipments would increase to 526,000 units, representing 50% growth over 2019. The report further forecasts that by 2023, the number of enterprise drones shipped would total nearly 1.3 million.
Notable in the study was Gartner's forecasting that construction monitoring drones will represent the largest sub-segment for all shipped. Gartner projects that construction drone shipments will total nearly 510,000 in 2023, up from around 141,000 in 2019.
Augury receives investment from Qualcomm Ventures
On December 12th, Augury, a provider of asset/machine health solutions, announced it had received an $8 million investment from Qualcomm Ventures. This funding follows Augury's January 2019 $25 million Series C investment and the company has raised a total of $51 million since inception. Using AI, Augury's solutions deliver visibility, performance insight, diagnostics, and predictive analytics for industrial assets and machinery.
ABI Research projects substantial growth for digital factories
Last week, ABI research released a report that projects massive growth in digital factories. ABI estimates that digital factory revenues will grow from $59 billion in 2019 to $375 billion in 2030. ABI also notes that while the majority of the 260 million total digital factory connections are currently fixed line, by 2030, its projected 5.5 billion connections will be mostly wireless.
According to ABI's estimates, intelligently connected hardware will experience the most drastic growth, with revenues increasing from $200 billion in 2019 to $800 billion by 2030. ABI further predicts that analytics and data services will grow from $11 billion in 2019 to $185 billion in 2030.

Momenta Partners encompasses leading Strategic Advisory, Talent, and Venture practices. We're the guiding hand behind leading industrials' IoT strategies, over 200 IoT leadership placements, and 25+ young IoT disruptors.  Schedule  a free consultation to learn more about our Connected Industry practice.