Mar 10, 2020 | 4 min read
Digital Industry Insight #12: Digital Transformation Progress is Slow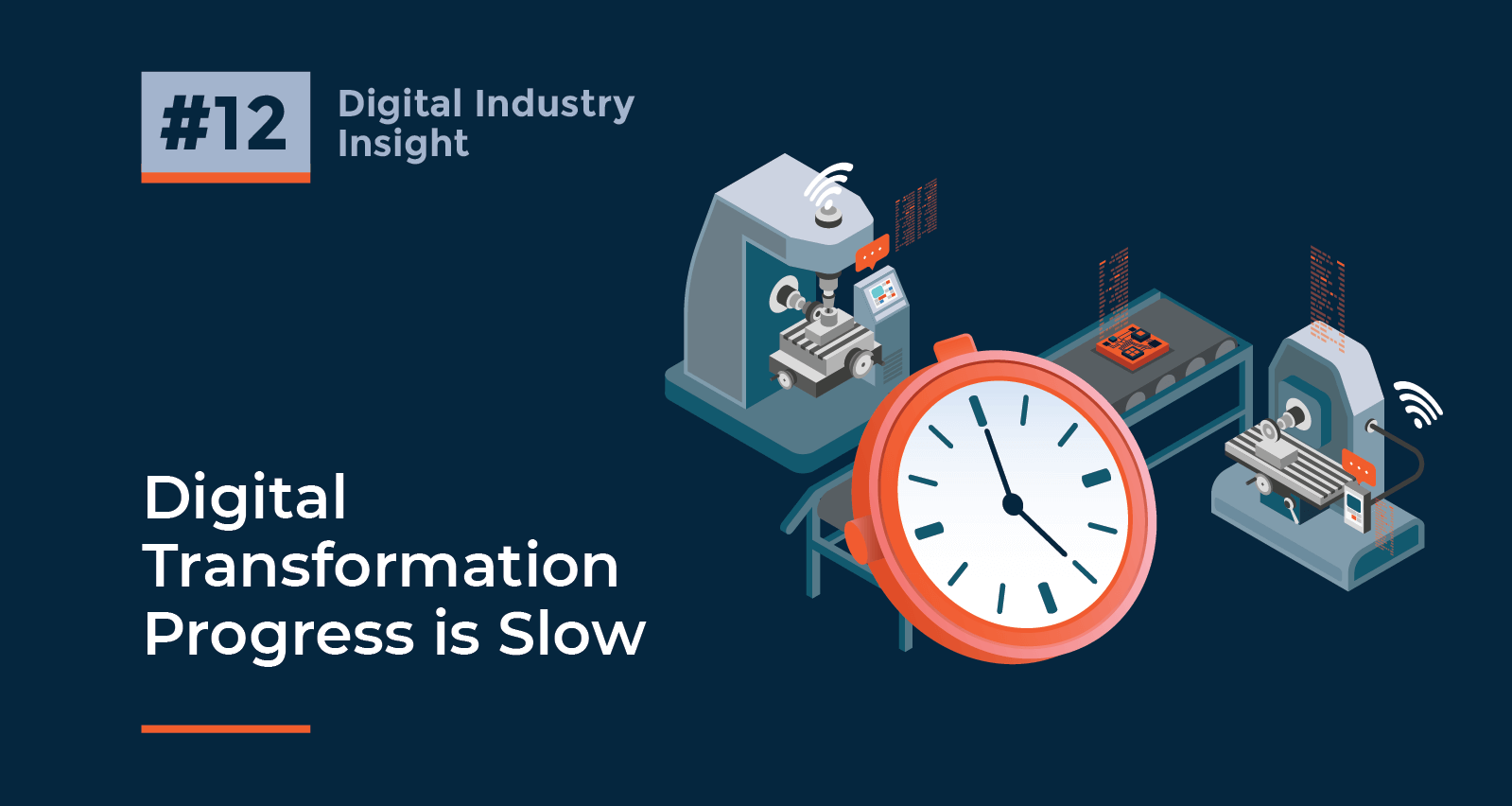 To gain a better understanding of where the industrial sector is today, we conducted a global survey of Chief Digital Officers (CDOs) and other executives to assess their digital transformation (DT) readiness and progress. The survey covered large, medium, and small organizations across a range of industries in the energy, mining, and manufacturing sectors (see Figure 1). In the first part of our discussion on the survey results, Digital Transformation Objectives Vary Significantly, we noted that over 90% of respondents had established a DT strategy. Today we will look at how far along on the journey they are and what benefits have been realized.
In what category would you put your organization?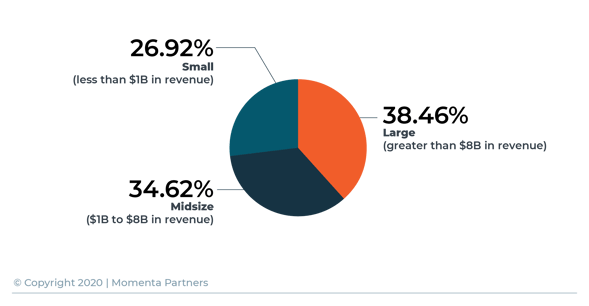 In response to "How would you rate your digital transformation progress?", less than 20% of respondents claimed to have already transformed parts of their business with digital technology. Approximately 15% have formulated their strategy but not started the journey and around 58% are in the process of implementing their strategy. As expected from our own interactions with clients, none of the respondents claimed to have a completely data-driven organization. On the positive side, very few – less than 8% – report having no enterprise DT strategy at all.
How would you rate your digital transformation progress?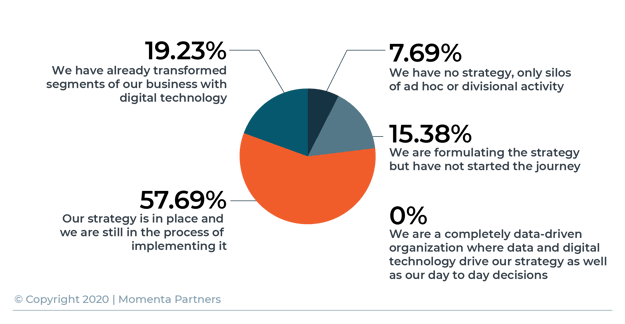 Fully 80% of respondents have already seen some benefits from their DT initiatives. This aligns with the responses from the previous question where, as we saw, 20% have already transformed parts of their business and 60% are in the process of implementing their strategy. The benefits realized vary significantly with most claiming more than one benefit. More than half of organizations which have seen a benefit claim a reduction in operating costs. This response was most prevalent in heavy process industries such as oil & gas and chemicals as well as in mining and utilities. Improved reliability of operations (40%) was reported as a benefit across a wide range of industries possibly reflecting the increased deployment of sensors and software to monitor a wide range of equipment in recent years. Increased customer satisfaction was also reported by 40%, most notably by manufacturers and utilities. Notably, only 12% of respondents reported an increase in market share. This was mainly limited to chemical and equipment manufacturers.
Have you already seen benefits as a result of digital transformation? If so, which of the following benefits have you seen? Check all that apply.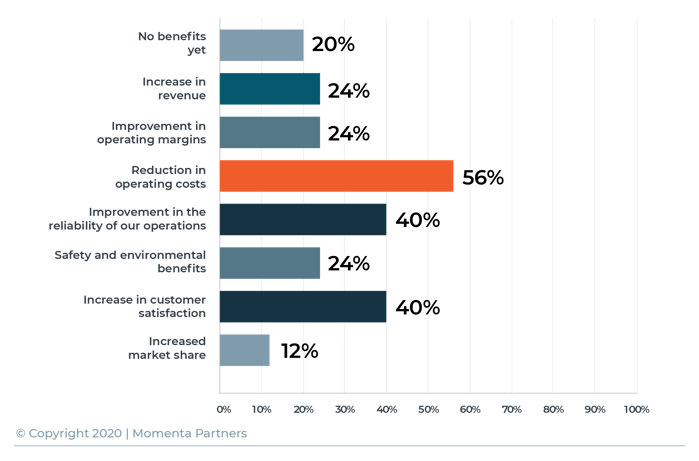 For those respondents that have not received any benefits, fully three quarters report that they are simply not far enough along in the process. Interestingly, some of these respondents have already identified which benefits they expect to receive in the next 1-3 years, and this is reflected in the previous question responses. One respondent commented: "We have started to see benefits in the areas of where execution is initiated with agile methodology. In many areas, we expect to realize benefits in 1-3 years." Almost 20% are not expecting any net benefits from their DT strategy; they are simply investing to stay even with the competition. Surprisingly, given all the anecdotal evidence to the contrary, only 6% reported organizational constraints and legacy systems stand in the way of benefit realization. Ask almost any consultant who has worked with clients in this area and they will tell you this remains one of the key barriers to success. Of course, the clients themselves may not feel that way!
If you have not seen any benefits (or the benefits you expected), which of the following reasons would you apply to your organization?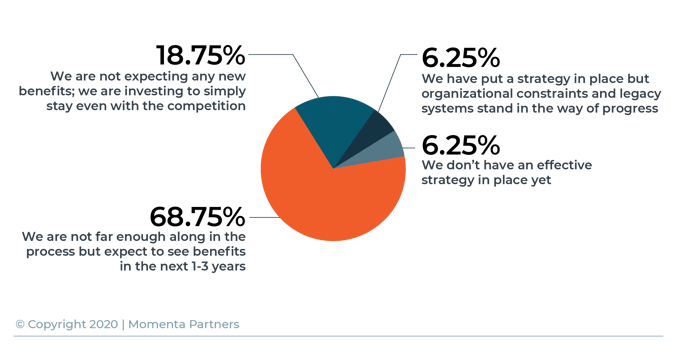 How each organization's digital journey progresses and elicits results will, quite obviously, vary. However, it is promising that such a large majority of those surveyed have benefited from their DT strategies, despite many still in the midst of the process. The digital journey may seem arduous and lengthy, but the survey results show that benefits can be achieved along the way and provide support to ongoing investments.
Those respondents who have yet to realize DT benefits should be sure to maintain strategic agility, ready to re-route if efforts are objectively not producing. Investing in digital for the sake of competitive positioning is smart, but capital alone is not enough, nimble strategy must be concurrently embraced. The rapid development of technologies means that even organizations experiencing DT success should be wary of complacency, as to remain competitive, enterprises should always be looking ahead.

Momenta Partners encompasses leading Strategic Advisory, Talent, and Venture practices. We're the guiding hand behind leading industrials' IoT strategies, over 200 IoT leadership placements, and 25+ young IoT disruptors.  Schedule  a free consultation to learn more about our Connected Industry practice.